The first thing that comes to our mind when we talk about EV is "Future". The revolutionary electric vehicles are today the hot topics all over the world. The electric vehicle companies in India today are smarter enough to lure their audiences into buying their versions of the latest cars full of hybrid technologies. 
The Indian electric vehicle sector has the potential to become the world's largest electric vehicle industry by 2030. India is expected to attract an investment opportunity of USD 206 billion by 2030 for developments in various EV segments.
Here we will discuss all the top electric vehicle companies in India which are currently dominating the Indian Electric Vehicles market.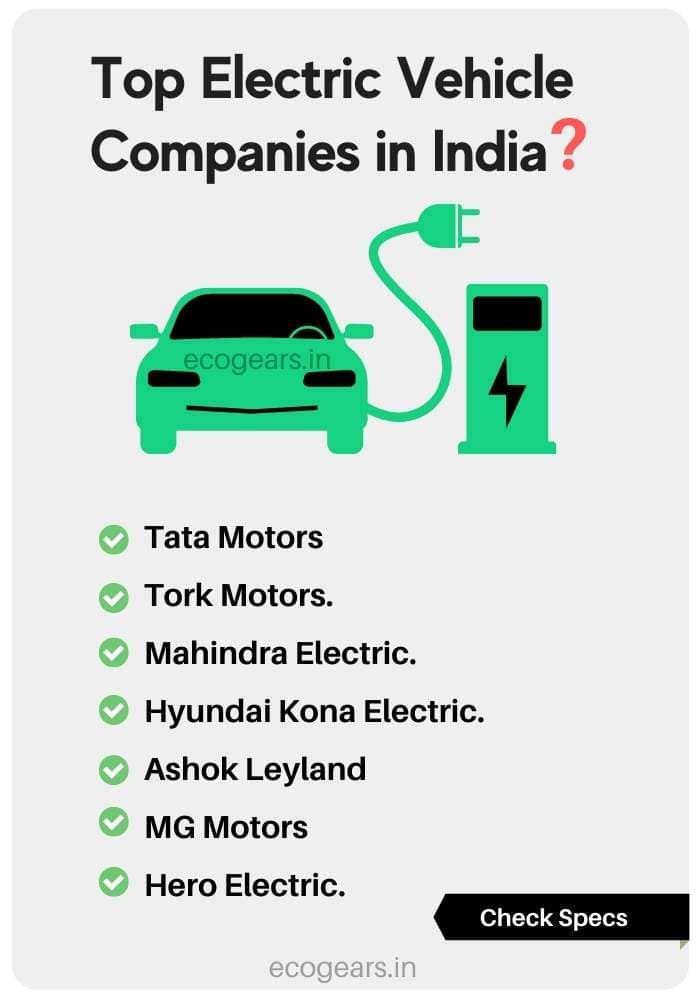 Read below to know more about the top Electric vehicle companies in India and their current stock prices.
Electric Vehicle (EV) Segment in India.
The Electric Vehicle market in India is segmented based on the type of vehicles and the power source for the vehicles.
Here we will talk about 'major electric vehicle companies and manufacturers in India' which are currently dominating the Indian Electric Vehicles Market.
Some of the important EV segments in India are as follows:
EV Two-Wheeler companies/manufacturers in India.
Electric Vehicle three-wheeler companies/manufacturers in India.
Electric Car companies/manufacturers in India.
Electric Vehicle battery manufacturers/companies.
Electric Vehicle charging station providers/companies in India.
Current scenarios of EVs in India.
Although the growth of the EV market in India didn't flourish as expected because of the pandemic, the government is still fighting hard to achieve the goals it set for 2030.
In terms of policy, the Government of India has decided to extend the FAME II (second phase of FAME policy) with an outlay of INR 10,000 crore by 2 years till 31 March 2024 to benefit the electric vehicle companies in India as well as the masses.
READ MORE: Electric vehicle subsidies and schemes in India
Being the world's largest untapped electric vehicles market, India recently allowed for 100% direct foreign investment under automatic route.
The 100% FDI has now created a pool of opportunities for investors to invest in the electric vehicle market in India for the production of EVs as well as the development of charging infrastructure.
According to CEEW-CEF, a total of 1,21,815 unit electric vehicles were sold by electric vehicle companies in India during FY 2021-FY 2022. Out of which 57,043 were 2-wheelers, 58,396 were 3-wheelers, 4,726 were 4-wheelers.
Out of the total EV sales during FY2020 – FY2022, Uttar Pradesh tops the list with 24% of the total EV sales registered in India, followed by Bihar and Karnataka with 8% and 7% respectively.
Electric Vehicle companies/manufacturers in India.
Whenever a new technology arises in a market, there has always been fierce competition amongst the companies to be at the top of it. This has been the case even among the electric vehicle companies in India.
Today the top Indian companies are investing in EVs without any hesitance. This shows that in the coming years the R&D will be more evolved with more and more electric vehicle companies, manufacturers, and startups joining this race.
READ MORE: UPCOMING ELECTRIC VEHICLE EVENTS IN INDIA
Although the race for being the best is pretty tough, there are a notable number of companies that deserve our attention.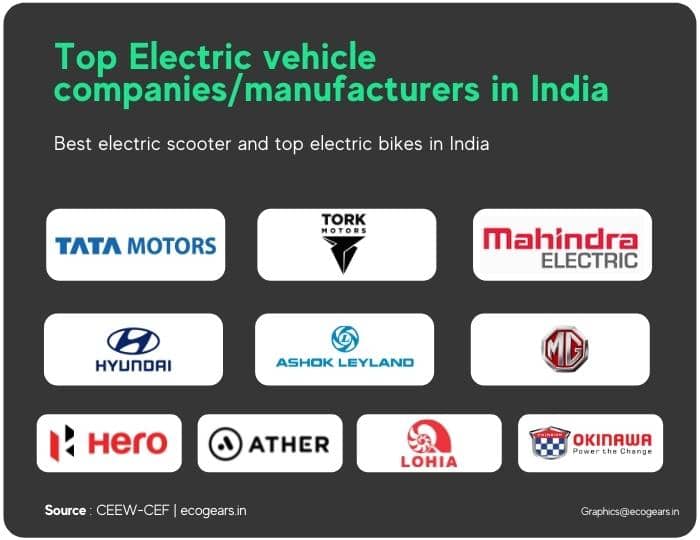 Top electric vehicle companies and EV manufacturers in India.
Tata Motors
Tork Motors.
Mahindra Electric.
Hyundai Kona Electric.
Ashok Leyland
MG Motors
Hero Electric.
Ather Energy.
Lohia Auto.
Okinawa Autotech
Here are the segment-wise top EV companies in India:
Electric two-wheelers companies/manufacturers in India.
Contributing about 90% of total electric vehicle sales in India, 2 Wheeler EVs are the backbone of the Indian EV domain. Apart from fuel prices, today the urban population is also facing a huge problem in terms of air pollution, hence EV is always a better option for the urban commute.
Recently, OLA has been in the news for its electric scooter launch. It was said that more than Rs 1000 Crore electric scooters were sold in just 2 days sale window. It shows the keen interest of Indians towards the switch to e-mobility.
Apart from OLA, there are other Indian electric two-wheeler companies/manufacturers which are currently doing a great job in the EV domain.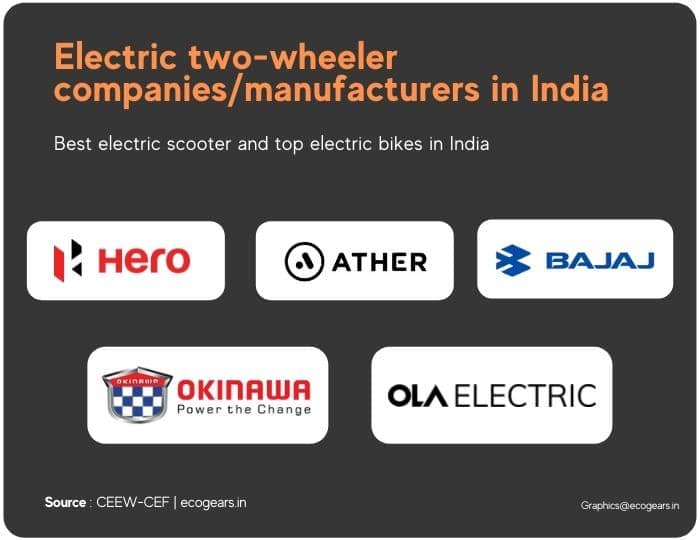 Following are the list of the best Electric two-wheeler companies and manufacturers in India:
Hero Electric
Being the largest electric two-wheeler company in India, Hero Electric as of today is the front runner for best electric scooters in India.
Flash, Optima, Photon, NYX, and Dash are some of the most popular scooters which are currently being sold by Hero Electric.
Hero Electric sold a total of 15,300 electric scooters in the first 6 months of 2021, in 2020 during the same period the number was just 3,270.
Recently Hero electric has announced that their premium electric scooter Hero AE-47 is ready for production but the pandemic has delayed its launch for now.
Some of the best hero electric scooters in India are :
Hero Electric NYX
Hero electric dash
Hero electric flash
Hero electric photon
Hero electric optima e5
Hero Electric is in the front row of electric two-wheeler companies listed in the stock market in India with a market cap of over Rs 53,000 crore, the current stock price of Hero electric is Rs 2700.
Ather Energy
In just a few amount time, Ather Energy has created a benchmark in setting up how a modern electric scooter should look like. Ather 450X electric scooter is one of the most technologically advanced scooters currently present in India.
According to FADA, retail sales of Ather electric scooters for July 2021 stand at 1,799 units which is 1,149% more than what it sold in the same period last year.
The updated Ather 450x electric scooter variant takes around 5.2 hours to full charge and the battery price is set to Rs 60,000, which is expected to reduce to rs 40,000 by 2022.
Currently, Ather energy produces two variants of electric scooters – Ather 450x and the Ather 450 plus. Ather energy's upcoming projects include the extended and updated variants of the Ather 450 product line.
Bajaj Auto
Being a household name in the world of mobility for the last 75 years, "Hamara" Bajaj has come a long way and now is competing beautifully even in the electric vehicle domain.
To pace up with the emerging electric scooter startups, Bajaj launched its very own electric scooter earlier in 2019. Bajaj has named its first electric scooter 'Chetak' (sounds familiar?)
Bajaj chetak specifications include 4080 W BLDC Motor, 60.3Ah battery, and a claimed ride range of 75/charge. Currently, the Bajaj chetak electric scooter's price in India is Rs 1.31 Lakhs
With a market cap of over INR 1 lakh crore, the current stock price of Bajaj electric two-wheeler company in India is Rs 3800.
Okinawa Autotech
Okinawa Autotech is a leading electric two-wheeler manufacturing company in India. Known for manufacturing two-wheeler electric scooters, Okinawa Autotech has launched 6 scooters till now and is planning to release the 7th model in India soon. In the first quarter of FY22 itself, Okinawa sold 15,000+ electric scooters.
The price of the base model Okinawa electric bike is Rs 60,000, whereas the top model variant Okinawa electric scooter is priced at Rs 1,07000.
There has been a huge demand for iPraise+, and Praise Pro in the market.
Available variants of Okinawa electric scooters:
Okinawa praise
Okinawa i-praise
Okinawa R30
Okinawa Ridge plus
Okinawa Lite
Ola Electric
Being the latest company to join the race, OLA has released its first electric scooter on 15th August 2021.
Ola Electric is now the direct competitor to Ather Energy, Hero Electric, Bajaj, TVS Motor Company, and many other EV two-wheeler manufacturing companies.
The company entered the electric vehicle market with two variants – Ola electric S1 and S1PRO, which are priced at Rs 97,703 and Rs 1,27,667 respectively.
On day 1 the company sold scooters worth Rs 600 crore, on day 2 the amount crossed Rs 1100 Crore.
Ola electric scooter specifications include a 2.98kW Lithium-ion battery, 8500W motor with automatic transmission, and a top speed of 90Kmph. The Ola electric scooter takes around 5 hours to fully charge.
Electric car companies in India
Long term savings and environmental benefits are the reasons for the massive rise in demand for electric cars in India and the growth of electric car companies in India
This massive shift to electric mobility in India made a tremendous impact on the electric car company in India share prices recently.
Now let us discuss various electric car companies which are currently doing wonders in the Indian EV market.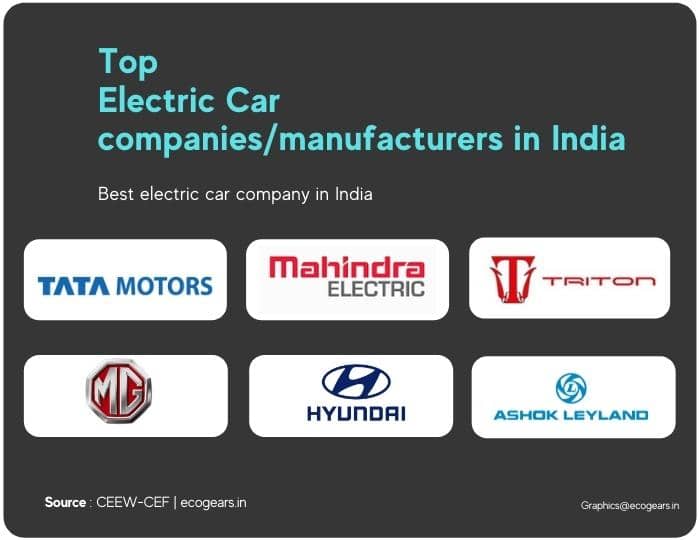 Following are the best Electric Car companies/manufacturers in India :
Tata Motors
With over 70% of the market share, Tata Motors is currently the leading electric car manufacturer in India with its manufacturing units in Jamshedpur and Lucknow.
Since the launch of its latest model Tata Nexon EV, the electric car company in India has said that it has already sold over 10 thousand cars all over the country.
According to the Times of India, the company is planning to launch 10 new Tata electric car models by 2025.
A total of Rs 150 million is already invested by the company, this shows that the company today is more focussed on electric mobility and has accepted it as an only means of mobility at least in terms of road transport.
Tata motors electric car company share price in India is at INR 484.85
Mahindra Electric
The electric revolution in India was started with the iconic Mahindra electric car Reva relaunched in the year May 2010 after acquiring from RECC. Mahindra dominated the electric car market for a long time in India with its iconic Mahindra e-Verito which comes at a price of Rs 10.4 Lakhs.
Mahindra electric's upcoming project includes the iconic Mahindra electric car xuv300 supposed to launch in early 2022.
Currently, the share price of Mahindra and Mahindra electric is INR 885.0
Over the year Mahindra launched several electric vehicles in different segments like electric vans, electric autos, and e-three wheelers like Mahindra E2o.
Triton
Triton is a US-based EV company that has currently entered the Indian market by unveiling the latest Triton model H SUV in Hyderabad. Recently the electric car company in India has said that it is ready to set up a manufacturing plant in Telangana.
Triton Model H is the first SUV to be launched by Triton Electric car company in India.
Triton electric vehicle India is priced at Rs 35 lakhs with a range availability of 1200 Kms when fully charged with a Triton hyper charger which takes around 2 hours.
According to reports, Triton Electric Vehicle India is all set to invest INR 2100 Crores in Telangana for its Ultra Modern Electric Vehicle Manufacturing unit.
It is expected that more models of Triton electric vehicles would be released in India in the near future.
MG Motors
Originally a British company, MG Motors has recently started selling electric vehicles in India too with the Launch of MG ZS electric car in India.
With its latest variant MG ZS EV in demand, the electric car company in India has started seeing spikes in its sale. The Price of MG ZS EV starts at Rs. 21.00 Lakhs for the base model and Rs 24.78 Lakhs for the higher variant.
MG ZS Electric vehicle provides a mileage of 340 Kms/Full charge which takes around 4-5 hours to fully charge with a medium charger and 1 hour with a fast charger.
Aston electric SUV is another electric EV which MG is planning to launch after a few months.
Hyundai
Electric vehicles have been doing wonders for Hyundai recently. This year in 2021, the company has sold more than 70,455 Hyundai electric cars in India. Hyundai Kona electric price in India starts at Rs 23.78 Lakhs
It was stated by the Hyundai electric that although the sale of Hydrogen fuel cell vehicles was down, both all-electric (BEV) and plug-in hybrid (PHEV) sales were actually growing pretty fast and especially the Plug-in hybrids which are currently booming in the electric vehicle.
If we see by sale percentage, both all-electric is up by 75%, Plugin Hybrid is up by staggering 399%, total plugins is also up by 114%.
Hyundai Kona electric's specifications include a 39.7kW battery, 452kms driving range/full charge, charging time takes around 45 minutes to reach 80%.
Ashok Leyland
The big news came from the Hinduja Group flagship firm Ashok Leyland this year back in August when they decided to invest up to USD 200 million (nearly Rs 1,500 crore) in its electric vehicles segment through its UK-based arm Switch Mobility.
Already having secured over 2000 electric bus orders, Ashok Layland electric bus and Switch Mobility will be launching eLCV (ELECTRIC LIGHT COMMERCIAL VEHICLE) in India by the end of the year 2021
Ashok Leyland electric cars' specifications include a 200HP motor, 44 seats, and hyper charging technology.
Ashok Leyland to date has not shown interest in electric cars and is only focused on stronghold busses and light vehicles.
Electric three-wheeler companies/manufacturers in India.
While people discuss the electric two-wheelers and four-wheelers being on the rise, they certainly forget that today in every part of our country E rickshaws have become the basic mode of short-distance transportation.
Today every busy town is filled with these three-wheeler electric vehicles. Hence, in the electric three-wheeler sector, the competition is increasing among the manufacturers. Here are the top electric three-wheeler companies in India.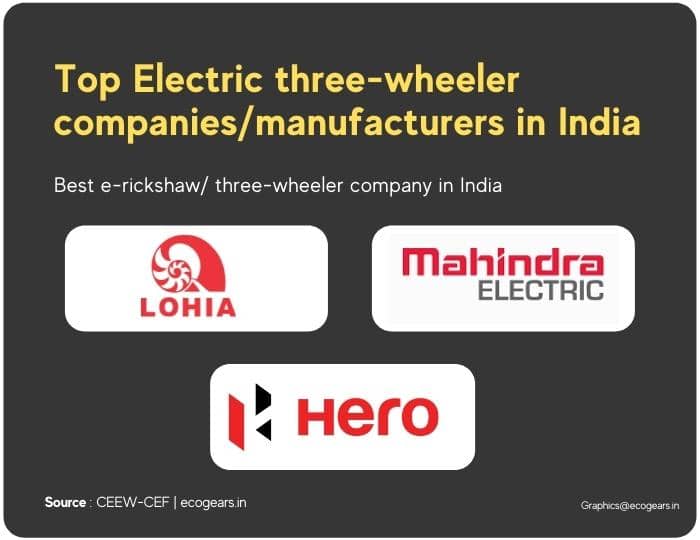 Lohia Auto
Being a member of SIAM (Society of Indian Automobile Manufacturers) and one of the founding members of SMEV (Society of Motor Vehicle Manufacturers), Lohia Auto has come a long way since its establishment in 2008.
Famously known for its 3 wheeler electric vehicle, Lohia Auto currently has launched a total of 7 different electric rickshaws in India.
With an annual growth of 16 percent, the E rickshaw market of Lohia Auto is expected to grow to one million units by 2025.
Although the recent pandemic has affected Lohia auto sales in the 2020-2021 period, the company still managed to make sales of more than INR 500 crores.
Mahindra Electric three-wheeler:
Mahindra Electric is not only a frontrunner in 2 wheeler and 4 wheeler EV domain but also has a respectful position in 3 wheeler domain.
The Mahindra alfa mini and the Electric Mahindra Treo are two of the first Mahindra electric auto-rickshaws launched by the company in India.
The Mahindra E Alfa is already in demand in some of the busiest cities of the country. Mahindra electric rickshaw is priced at Rs 2.74 Lakhs in India.
Hero Electric three-wheeler
Although prominently being a two-wheeler manufacturing company, Hero Electric debuted in 3 wheeler electric vehicle domain with 'Raahi' E-Rickshaw in 2015. The hero e rickshaw is pricked at Rs 1.4 Lakhs in India
It is expected that more Hero electric will launch more electric rickshaws in the near future.
Electric vehicle battery manufacturers in India.
With the rise of electric vehicles across India, there is an increased demand for electric vehicle lithium-ion batteries in India. Every company is on the lookout for the best electric vehicle battery manufacturers in India. With the enormous demand for electric vehicle batteries, the electric vehicle battery manufacturer stocks in India raised up exponentially.
Lithium-ion batteries being the heart of electric vehicles is now an interest for all the EV battery manufacturers in India. Here we will discuss top-listed electric vehicle battery companies in India and how the demand creation has made an impact on the stocks of these EV battery manufacturer companies in India.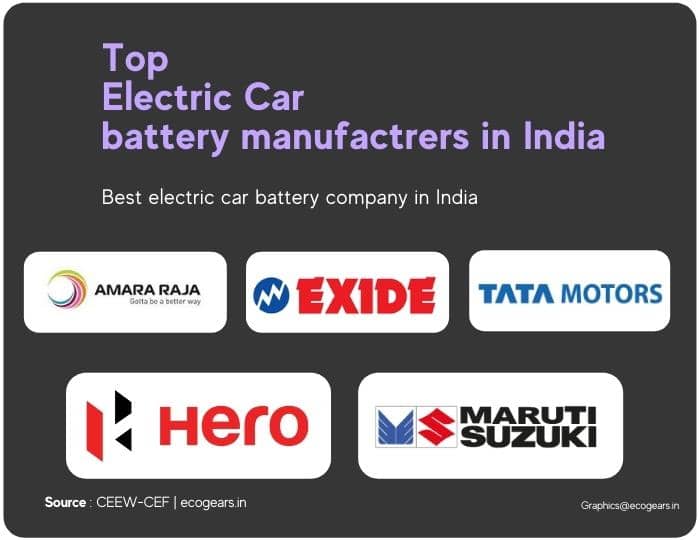 Here is the list of top electric vehicle battery manufacturers in India.
Amara Raja Batteries
Being one of the top automotive batteries manufacturers in India, Amara Raja Batteries recently developed a technological hub to develop electric vehicle lithium-ion batteries in Andhra Pradesh.
A 38% rise was reported by the company for the quarter that ended on March 31, 2021.
The net profit increased to ₹189 crores from ₹137 crores for the January-March quarter of FY 2019-20.
With the growing demand for electric vehicle batteries, Amara Raja Battery stocks are currently at INR 682.00 as of November 2021
Exide Industries
Being the frontrunner in batteries manufacturing companies in India, Exide Industries makes batteries for all categories such as automotive, industrial, and submarines.
As an EV battery manufacturer, Exide industries with its innovative R&D made a major impact in the electric vehicles battery manufacturing segment in India. Currently, the stock price of Exide industries is at INR 172.98
Exide EPIQ, MATRIX, MILEAGE, EEGY are some of the important batteries used in electric vehicles such as electric cars and SUVs.
Along with four-wheelers and two-wheeler batteries, the company also provides batteries for heavy commercial vehicles and e-rickshaws as well.
Tata Group
Tata Power/Tata Chemicals, Nothing is to be said and done for the Tata Groups because most of us know about it already. The company has been doing business for ages in India.
When the company decided to enter the world of batteries it made a separate segment in the name Tata Chemicals which will solely work in making electric vehicle batteries.
After signing an MoU with the Indian Space Research Organisation (ISRO) for the transfer of ISRO's lithium-ion cell technology, Tata Chemicals decided to build a manufacturing facility in the state of Gujarat. Currently, the stocks price of Tata chemicals is at INR 901.00 
If everything goes according to the plan then it is likely that the company will even export the cells outside India.
Hero Motocorp
Formerly known as Hero Honda, Hero Motocrop is today the largest two-wheeler company in the country.
The company now has decided to go beyond the two-wheeler electric vehicles and started manufacturing electric vehicle's batteries too.
The company is planning to produce more than 1 lakh EV battery packs annually.
Currently, the stock price of Hero Motocorp is at INR 2660.00
Maruti Suzuki
It might look weird to see the name of Maruti Suzuki in the list of battery manufacturing company but this is actually true.
Maruti Suzuki has joined hands with Toshiba and Denso to produce lithium-ion batteries for electric vehicles because the company has decided to make hybrid electric cars.
Although the project is not that big with respect to other companies listed above, still Maruti Suzuki has promised to serve 20,000 hybrid cars annually. Currently, the stocks price of Maruti Suzuki is at INR 7456.05
Electric vehicle charging station companies/providers in India.
Currently, the electric vehicle charging infrastructure still remains a barrier to EV adoption in India. But the recent supportive policies by the government have helped a lot to the electric vehicle charging station companies in India to develop the EV charging station infrastructure in the country.
Although the pandemic did affect the growth overall, now it is again going back to its track. Not in huge numbers but there are a few electric vehicle companies in India that are currently doing very well. Here we decode some of the electric vehicle charging station companies in  India.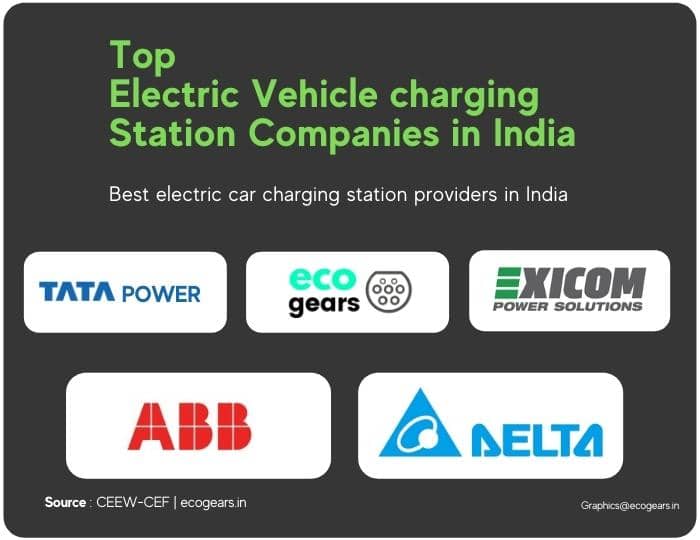 Following are the top listed electric vehicle charging station companies in India:
Tata Power
With almost over 300 EV charging points across 40 cities in India, Tata Power is currently the leader in the list of electric vehicle charging station companies in India.
Tata Power Mobile App: Tata power EZ, provides smart charging facilities to the users of their EV charging station.
Tata Power is now expanding its infrastructure to produce home chargers as well as public EV chargers.
Ecogears
Launched in the year 2017, ecogears currently lead the EV charging station installation category in India. The company as of now provides both AC slow and DC fast chargers with state-of-the-art software and mobile app solutions.
It recently launched a nationwide EV charging station map under the name of Ecomaps, which is expected to cater to the need of the hour to find a nearby charging station in India.
Exicom
This EV charging station manufacturer provides charging stations for all types of vehicles including heavy-weighted commercial ones.
Its Harmony multi-standard fast DC charger can be used for all-electric vehicles.
With 3 output connectors complying with CHAdeMO, CCS, and Type 2 AC, Harmony multi-standard fast DC charger provides flexibility to accommodate anywhere between 30kW-200kW.
ABB
ABB is a Swedish multinational corporation that started the manufacturing and installation of electric vehicle charging in the initial days of EV adoption in India. ABB manufactures both slow and fast AC/DC chargers for heavy commercial vehicles as well as public charging stations for commercial and private four-wheelers.
Recently ABB partnered with AUDI India and several third-party installers to develop the EV charging infrastructure in India.
Panasonic
Nymbus, a smart EV charging station is launched by Panasonic to cater rapidly growing electric mobility of the country.
Panasonic has joined hands with SmartE and Quick to establish an electric vehicle charging station in the Delhi NCR region.
With a target of 1 million vehicles envisioned by 2025, Panasonic is planning to expand its reach to over 30 cities all over India.
Delta Electronics India
By launching Mumbai's first DC fast charger Delta Electronics has created a buzz in the electric vehicle charging station companies in India
For the development of EV charging infrastructure, the company has joined hands with MG Motors.
The company offers EV charging equipment like Type 1, Type 2 AC chargers, as well as DC chargers like CCS CHAdeMO, DC001.
Top electric vehicle stocks to invest in:
Considering the growth of the electric vehicle ecosystem in India, it is the right time for investors to buy and hold the shares of major electric vehicle manufacturer companies in India. Not just electric vehicle manufacturers, the EV battery manufacturing segment flourished tremendously after the post-Covid-19 scenario.
The electric vehicle companies in the Indian stock market are rapidly topping the charts with the inflow of investments and growth of the sector.
Here is the list of top electric vehicle companies in the Indian stock market :
Mahindra & Mahindra Limited
Tata Motors
Greaves Cotton
Ashok Leyland
Minda Corp
Bharat Forge
Exide Industries
Amara Raja Batteries
Ecogears take
This enormous growth in the electric vehicles market in India could be possible because of supportive government policies and electric vehicle schemes in India.
With the incentives and schemes, owning an electric vehicle is much easier in India now. This gives a major boost to the electric vehicle companies and electric vehicle startups in India.
In order to achieve the goal set by GOI towards the switch to e-mobility, India will witness a major investment flow in the coming years. Because of the increased pace in the shift of mobility pattern, it can be regarded as the best time to invest in some of the best electric vehicle company's stocks in India.
FAQ
Which is the best electric car company to invest in India?
Considering the sale of more than 4763 Tata electric car units in FY2020-2021, Tata Motors is the best electric car company to invest in right now in India.
Which are the top electric car companies in India?
With the supportive GOI policies, many EV companies flourished which skyrocketed their sales. Tata motors lead all the electric car companies in India with 4763 sales in FY 2020-2021 period, followed by Mahindra electric with 3249 unit sales and MG Motors with 1102 units in sales.
Which is the best electric scooter company in India?
In regards to sales, Hero electric leads the electric scooter segment with 14763 units in sales. Considering the innovation and R&D, OLA Electric made history this year by making sales of Rs 600 crore on Day 1, on day 2 the amount crossed Rs 1100 Crore. 
Which is the top electric vehicle battery manufacturer in India?
With the increased demand for electric vehicle batteries, many automotive battery manufacturers shifted to mass production of Lithium-ion batteries for electric cars. Out of these manufacturers, Exide industries is leading in the Li-ion battery segment with the current stock prices at Rs 172.90
What are the best electric car stocks to buy in India?
Best electric car stocks to buy in India are determined based on the sales and innovation the company makes. Considering this, Tata motors leads the segment with current stock prices at INR 484.45, followed by Mahindra and Mahindra at INR 884.25 and Hero Electric at INR 2657.10
Which Indian company is making electric cars?
With the supportive government policies for EV companies, a lot of automobile giants have shifted to EV manufacturing. Some of the notable EV manufacturing companies in India are Tata Motors, Mahindra and Mahindra, Ashok Leyland, ecogears, and Hero electric.
When will Tesla launch in India?
Tesla has already entered India by registering the company under Tesla India Motors and Energy Pvt. Ltd. in Bangalore. But the company is still visiting government offices in India for licence and launch purposes.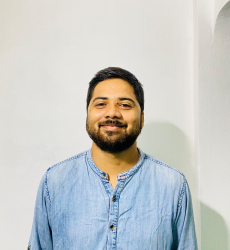 Latest posts by Himalaya Dhungel
(see all)