Toyota Kirloskar Motor and Toyota Kirloskar Auto Parts have jointly invested Rs. 4100 crore and Toyota Industries Engine have invested an amount of Rs. 700 crore for the localization of Ev components. Toyota's investment in India is likely to create 3500 jobs in the EV domain.
Highlights:
Toyota groups are likely to focus on localization of EV parts in India to avoid import duties.
The investment made by Toyota Kirloskar Motors and Toyota Kirloskar is to make various EV components in India.
On the 7th of May, Toyota Kirloskar Motor, Toyota Kirloskar Auto Parts, and Toyota Industries Engine India signed an MoU with the government of Karnataka to invest Rs. 4800 crore to make various EV components and powertrain in India.
Being one of the fastest-growing automotive industries in the world, the Indian EV market is currently priced at USD 1,434 billion in 2021 and is expected to reach USD 15,400 billion by 2027 with a CAGR of 47%.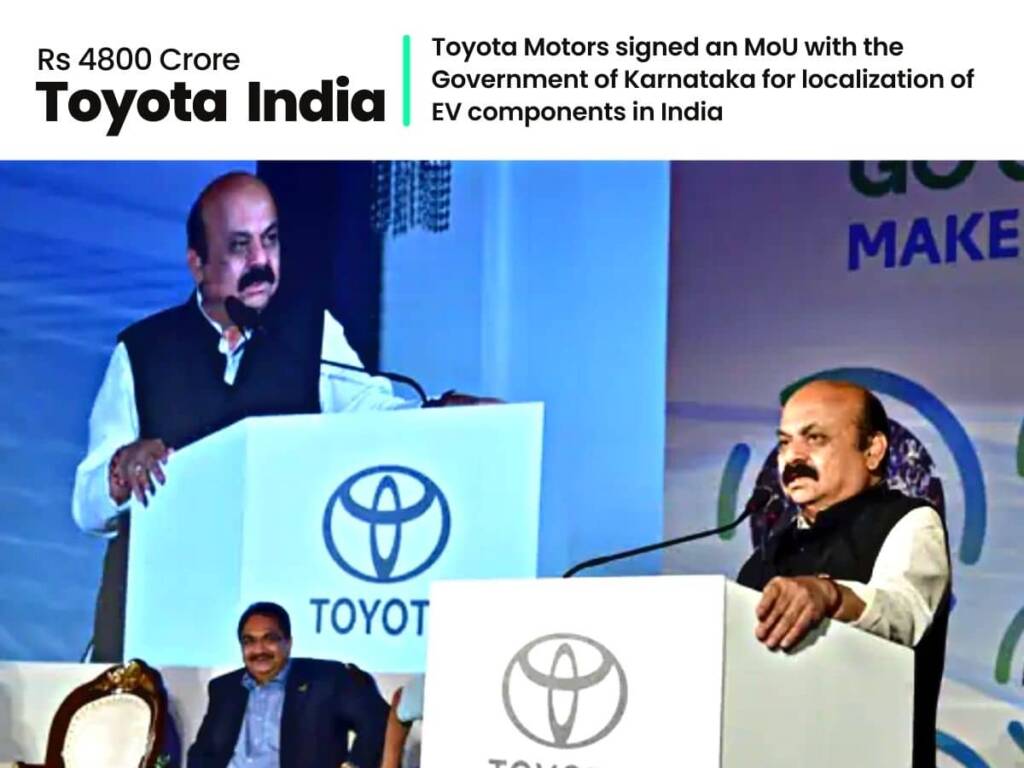 To promote local manufacturing and production of EV parts and powertrain components, Toyota groups aim to create around 3,500 new jobs in the nation. 
The MoU was signed between Karnataka CM, Basavaraj Bommai, and Vice-Chairman of Toyota Kirloskar Motor, Vikram S. Kirloskar. Additionally, the Minister of Large & Medium Industries, Dr. Murugesh R. Nirani was also present there.
READ MORE:
Electric Vehicle Battery Recycling Industry in India: Growth and Future
Tata Motors released a teaser of Tata Nexon Max EV: Battery, Price, Range
CM of Karnataka,  Basavaraj Bommai stated that" The main aim of this investment is to make Karnataka a full-on supply chain and EV components manufacturing hub globally. The MoU with the Toyota Groups is a major step towards sustainable development goal and to promote local manufacturing of EV component."
As, India is the world's largest unexploited electric vehicles market, which recently allowed for 100% direct foreign investment under an automatic route.
"The company is encouraging the local production and manufacturing of EV components, which will eventually create many employment opportunities." Said, Vikram S., Vice President of Toyota Kirloskar Motor.
The Company said, the technology used in EVs should be practical, also that should be sustainable, and suited for our Indian climate conditions, which will help us to reach the goal of reducing carbon emissions by the year 2030 in India as soon as possible. In the long run, the Japanese carmaker is aimed to work toward a carbon-free environment by 2050.
If the goals set for 2030 are met, the Indian EV sector would grow at a CAGR of above 48%.
The MoU signed between the Karnata government and Toyota groups states that this investment is done to make India an independent EV component manufacturing hub, which will clearly contribute to India's Make in India project and Atma Nirbhar Bharat.
The main aim of this investment is to encourage sustainable and eco-friendly tech, that will lessen the use of ICE-powered vehicle that creates emission, thereby polluting the environment.
This investment promotes local EV manufacturing and production of EV components and powertrain in India, which will eventually support make in India project.
The main focus of the Toyota group is to continuously reduce carbon emissions from the environment, as the group is working towards a carbon-free environment by 2050.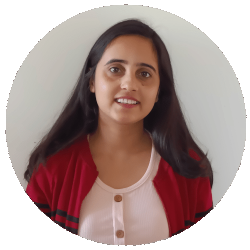 Latest posts by Sima Sharma
(see all)