MINI: Confirming the rumors, officials stated that the co-developed electric compact SUV from Maruti Suzuki and Toyota is expected to be manufactured in Maruti Suzuki's Ahmedabad plant. Maruti Toyota electric car is expected to launch by the second half of 2022.
Highlights:
Maruti Suzuki and Toyota partnered to co-develop compact electric SUV by mutual sharing of technology.
The Maruti-Toyota will launch the electric SUV in two battery variants- 48kWh & 59kWh
The venture settled to manufacture the SUV in Maruti's Gujarat plant.
Considering the climatic index, the global automobile shift towards electric vehicles has led many automobile giants to come together and form a venture for the R&D and manufacture of electric vehicles. Such ventures are formed in India too for the mutual share of technology, considering the nascent stage of the EV ecosystem in India.
One such venture was formed during the EV wave two years ago between Suzuki Motor Corporation and Toyota Motor Corporation for a financial alliance to develop electric vehicles and self-driving technology. Under the joint venture, both the companies were to co-develop multiple products including electric cars. 
As per reports, both the companies are set to develop an EV mega factory at Maruti Suzuki's Ahmedabad-based plant in Gujarat to manufacture electric cars for both brands.
Rumors were all over the internet about the launch of the electric variant iconic Maruti Suzuki's Wagon R. Clarifying to which, Kenichi Ayukawa, MD, and CEO of Suzuki said that the final decision is to be made by Suzuki Japan.
READ MORE: Fiat Panda's most affordable EV till date | Electric vehicles on subscription in India by Quiklyz
It is reported that the compact SUVs co-developed by Maruti and Toyota are expected to hit Indian roads by 2025. Derived from Toyota's 40PL electric architecture the electric SUV is expected to design on the skateboard platform, also known as 27PL.
Maruti-Toyota Electric Car: SUV
Under the venture, Maruti and Toyota are co-developing a mid-sized compact electric SUV, expected to hit the Indian roads later this year in 2022. The Maruti Toyota electric car is expected to have state-of-the-art features formed out of R&D from both companies.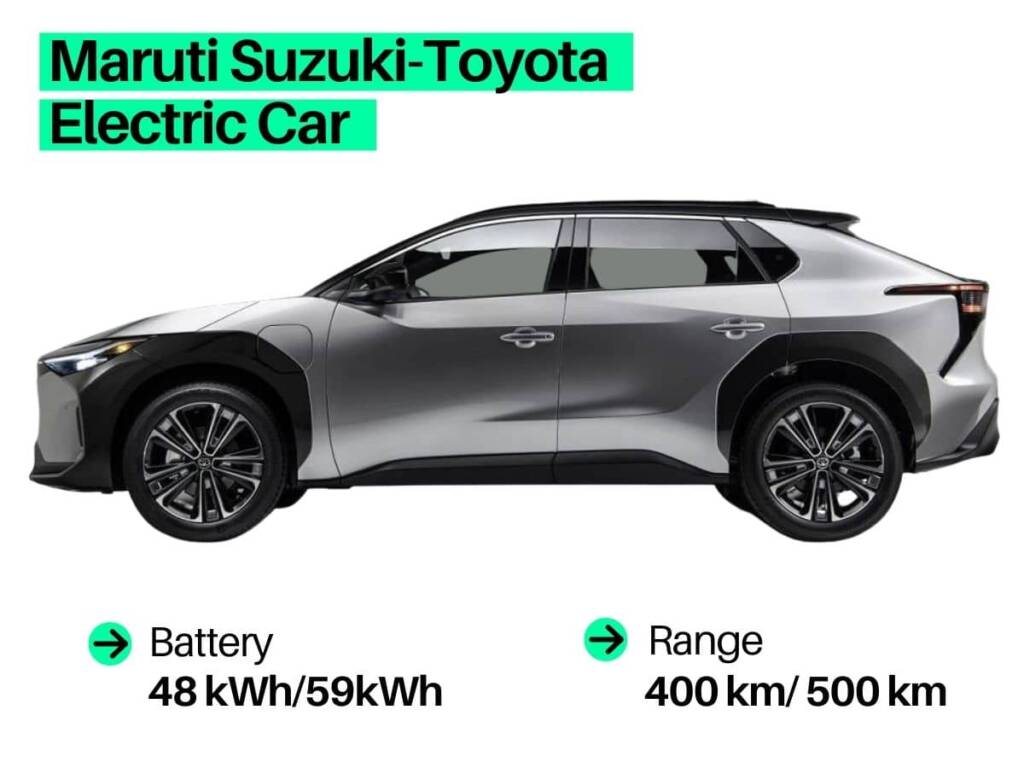 The official name of the vehicle is not yet revealed but the company mentions it in a codename as YY8.
The upcoming Toyota Maruti Electric SUV is reported to measure 4.7 meters long with 2.7 meters long wheelbase with a bigger battery pack to offer an extended long-range, considering the range-conscious buyers. 
Maruti's electric SUV will be launched with two battery variants – 48kWh and 59kWh. The 48kWh variant is expected to offer a range of 400km and the battery variant of 59 kWh is expected to offer a range of 500km respectively. The electric car with a battery variant of 48kWh produces a horsepower of 138 bhp and the car with a battery variant of 59kWh has a horsepower of 170bhp. It is also said that the new electric SUV is expected to come with an all-wheel-drive (AWD) system. 
Likely to launch in the second half of 2022, the co-developed mid-sized electric SUV from Maruti and Toyota is going to be a close competitor to Kia Seltos and Hyundai Creta.
Measuring 4.3 meters in length, the base for the new mid-size SUV will be Toyota's new Daihatsu New Generation Architecture (DNGA) platform. Nothing much is known about the propieratory engine in the SUV as of now. The newly developed Maruti and Toyota Electric SUV will come inbuilt with a 1.5L power petrol engine powered and strong hybrid technology, whereas the other expected specification in the car might include 1.2L of turbo petrol engine and 1.4L booster jet.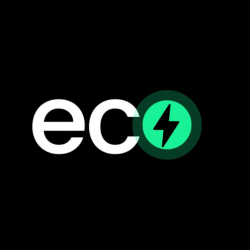 Latest posts by Ecogears Admin
(see all)