Setting up electric vehicle (EV) charging stations in India is a great way to accelerate the growth of the electric vehicle industry and meet the growing demand for charging options. As more and more people drive electric vehicles, there is a growing need for convenient and seamless EV charging stations in India.
Seeing the growth of EVs in India, you might be wondering how to set up an EV Charging station in India, don't worry, we got you covered. If you are interested in setting up an electric vehicle charging station, this article provides a comprehensive guide on how to do it. 
1. Choose a suitable location.
The location of an EV charging station is a key factor in its success. Look for a location that's easily accessible and visible and has a lot of foot traffic or vehicular traffic. Consider the following points while choosing a location for an EV charging station: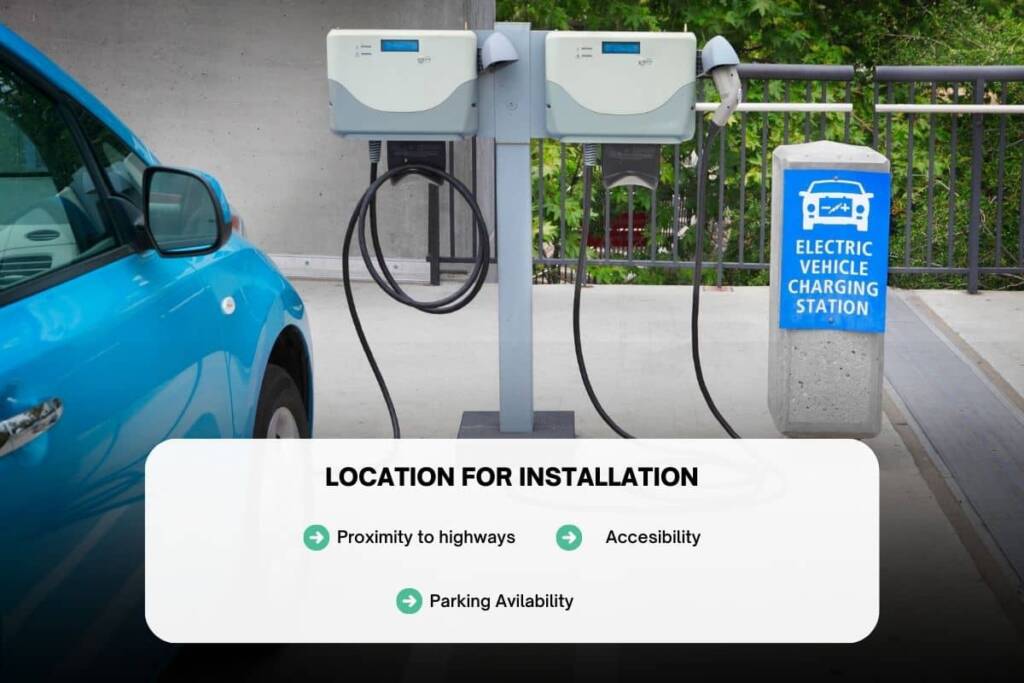 Proximity to highways
A location near major highways is ideal for setting up a public EV charging station as it allows EV owners to quickly navigate to the station and easily fast charge their vehicles during long trips.
Parking Availability
Make sure the location has enough parking space to accommodate EVs and customers who may need to park their vehicles while charging in a public EV charging station.
Accessibility
Choose a location that is easily accessible by all types of electric vehicles and make sure it has adequate signage to direct drivers to the charging stations.
Target Market
Consider who your target market is and what their EV charging needs are. Are you targeting EV owners who need a quick charge while running errands, or long-distance travelers who need a full charge?
Knowing your target market will help you choose the right type of charging station and determine its location. For example, if your target customers are long-distance travelers, you may want to place high-speed DC fast charging stations near major highways.
2. Decide the type of EV Charging Station
There are three types of charging stations for electric vehicles- Level 1, Level 2, and Level 3.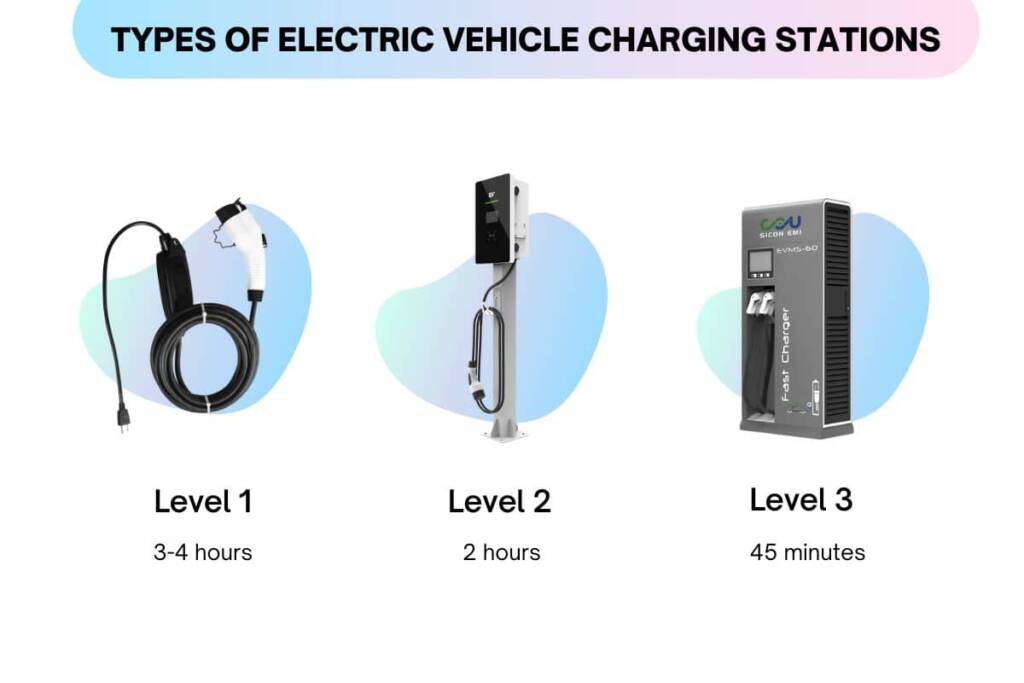 Level 1 EV Charger
The Level 1 charging station uses a standard 120V household outlet and is suitable for overnight charging at home. Level 1 EV charger is a quick and affordable way to do market research and location viability.
Level 2 EV Charger
Level 2 charging stations deploy 3.3kW-22kW AC EV chargers using 220V outlets, which can fully charge any EVs in about 4-8 hours. Level 2 Ev charging stations are found in the parking of shopping malls and college institutions.
Level 3 EV charger
Level 3 electric vehicle charging stations, also known as DC fast charging stations have either 30kW single gun or 60kW Dual gun DC fast EV Chargers and can charge an electric vehicle in 30 minutes or less.
When choosing the type of EV Charger in India, consider the needs of the target market, the cost, and the availability of electrical infrastructure near you.
3. Determine the cost to set up EV Charging Station
The cost of setting up an EV charging station in India can vary based on a number of factors, including the type of EV charger one wants to install, added infrastructure, additional transformers, or land leveling.
On average, cost to set up a Level 2 EV charging station costs between Rs. 40,000 – Rs. 65,000, while setting up a Level 3 Fast electric vehicle charging station would cost between 9 Lakhs – 18 Lakhs. Ongoing maintenance and operating costs also need to be considered while determining the cost to set up an EV charging station in India.
To help offset these costs, consider applying for government subidies and incentives, such as the FAME subsidy for Charge Point Operators and charging station infrastructure rebates from state-wise EV Policies.
4. Arrange DISCOM permission
Though setting up an EV charging station is delicenced, one needs to get in touch with the local electricity department to avail of the GOI subsidies and incentives for dc fast chargers. This may include building permits, and new electricity connections specific to electric vehicle charging.
You should also check with your local council or housing society to see if there are any regulations or restrictions for installing electric vehicle charging stations.
Informing the local DISCOM before setting up an EV charging station makes your charger eligible to avail of the EV charging station rebates and incentives.
5. Select a Charging Station Operator
Several companies offer EV charging solutions like hardware and installation services in India, and ecocharger is one of them. When choosing an electric vehicle charging station dealership, consider factors like cost reliability and customer support.
Ecocharger has a 24X7 customer support team of 27 people to assist customers on the road if they ever run into any problem while charging.
There are many CPOs and EV charging station contractors in India that offer electric vehicle charging stations in India under different business models.
CPOs like ecocharger provide reliable software uptime around the clock to offer a seamless EV charging experience to their customers.
6. Install the EV Charger
Installing an electric vehicle charging station requires careful planning and attention to detail, which will require the help of professionals like CPO technicians.
Key steps include: Preparing & leveling the site, getting the hardware ready, and connecting it to management software. Make sure the field is level and stable, and upgrade the electrical system if necessary.
Software plays a major part in the EV Charging business, as it manages and monitors all the charging stations under it.
Ecocharger technicians will connect the device to the electric system, configure the software and thoroughly test the charging station on-site by connecting it to a test vehicle to ensure proper operation and safety.
7. Determine the Charging Fees
One of the key factors in successfully operating an EV charging station business is determining the cost of charging per unit. You'll want to charge enough to cover your operating costs and make a profit out of it, but not so much that it deters customers from using your charging station.
Some factors to consider while setting charging costs include electricity costs, energy generation method, location of the charger, and target markets. You might also consider offering different pricing options, such as discounts for repeat customers or a flat fee for the full bill.
Currently, the cost of charging an electric vehicle per unit in India is Rs.15, set by electric vehicle charging station companies in India, considering the CPO receives a subsidy from the local electricity board
8. Financials of EV Charging station
Profit and loss from an EV Charging station depend on the type of charger deployed and the set charging costs. EV charging station offers ROI, much higher in the metros with a large number of EVs.
To calculate the profit from an EV charging station, we are assuming the charging costs to be Rs. 15 per kW. Each a 40kW battery and 10 cars come in your station daily
| Particulars | Units |
| --- | --- |
| Average Units consumed per day | 400 |
| Units consumed in a month | 12000 |
| Revenue per month from EV Charger | Rs. 1,80,000 |
| DISCOM charges including tax | Rs. 5 |
| Total DISCOM charges per month | Rs. 45000 |
| Total returns per month= CAPEX-OPEX | Rs. 1,35,000 |
| Yearly returns | Rs. 16,20,000 |
Financials of an electric vehicle charging station in India
Read more:
Financial projection of EV charging station in India
8. Market Your Charging Station
Once your EV charging station is up and running and the test charging sessions are done, it's important to market it to your target market to make them aware of your charging station.
This may involve creating a google location mark, google my business account, and using native advertising to attract potential customers so that your charging station comes up when they search for " electric vehicle charging stations near me" on search engines.
You may also consider partnering with local organizations and businesses to promote your charging station and offer a discount or incentive for using it.
With Ecochargers, we manage all the marketing and customer management by adding your charger to our nationwide database of EV chargers having a daily visit over millions.
9. Monitor and manage your charging station
To ensure the success and longevity of EV charging stations, it is important to monitor and maintain them regularly. This includes checking for any damage or malfunctions and performing regular maintenance such as cleaning and replacing parts as needed.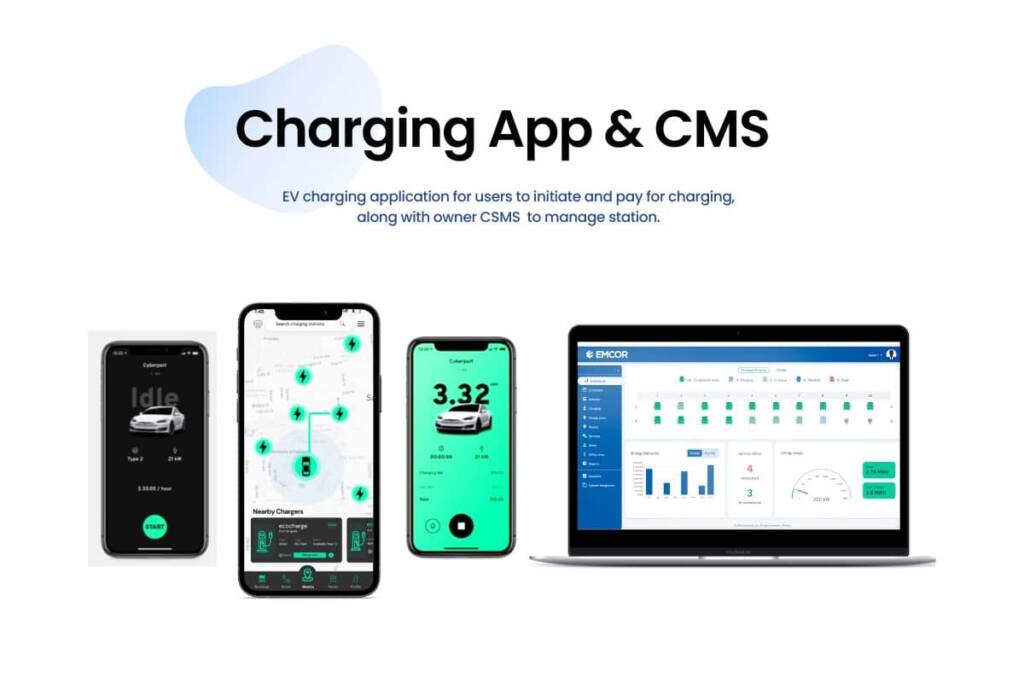 You should also periodically check and adjust your charges as needed, and collect and analyze data on usage and customer feedback.
Managing an EV charging station is super easy with ecochargers as our CSMS offers remote management and station control and customer support right from the dashboard.
Station owners can easily turn ON/OFF their EV charging stations right from their mobile app with just a click of a button.
With ecocharger EV charging station management software, managing an EV charging had never been so easy.
In conclusion, 2023 is the right time to invest in electric vehicle charging stations seeing the growth of EVs in India and the provision of GOI subsidies and incentives. With ecochargers, you can create a successful and profitable EV charging station business in India that offers a seamless EV charging experience to EV owners and industry-high returns to sub-CPOs.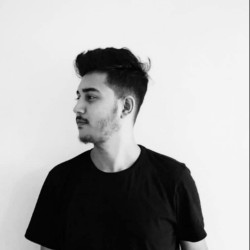 Latest posts by Abhishek Gautam
(see all)