Currently, there are three types of electric car charging based on the power rating and vehicle type: Level 1, Level 2, and Level 3 or DC fast charging.
Based on location electric car charging types: EV home charging and public EV charging.
DC charging is a faster option compared to inbuilt AC charging.
The most commonly used electric vehicle charger types around the world are Type 1, Type 2, CHAdeMO, and CCS.
With the evolution of electric vehicles, chargers and plugs have evolved alongside with an aim to provide a faster and hassle-free charging experience. We discuss some of the major advancements and types of electric car charging, plugs, and connectors below.
Electric Vehicles
Powered by electricity, an electric vehicle is one kind of commute gear that operates on electric motors with the help of power stored in batteries. Such vehicle can be seen as the replacement for the current generation vehicles with internal-combustion engine that generates power by burning a mix of fuel and gases.
It got great attention amidst the rising level of carbon footprint and other environmental impacts of air pollution from fuel-based vehicles.
To tackle all the problems Government launched the 'National Electric Mobility Mission Plan (NEMMP) 2020' to shift to the electric mobility ecosystem and upscale the domestic in-house production of electric vehicles.
EVs can be charged in any environment just by plugging into a source of electric power with the help of EVSE in public charging stations.
Types of electric vehicles
There are two major types of electric vehicles: BEVs and PHEVs. Despite their respective pros and cons, they all save us fuel and reduce the carbon footprint and pollution levels, unlike regular ICE combustion engines.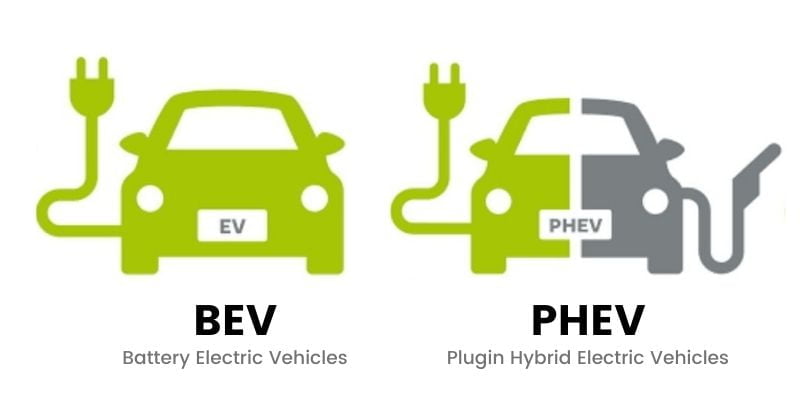 BEV
Battery electric vehicle runs entirely on battery which in turn provide power to electric motors. Electric power is stored in on board batteries with the help of BMS (Battery Management System) and EVSE. Charges with different types of electric car chargers.
Less noise, no exhaust
Can be charged overnight, slow charging time
For average distance travel
PHEV
Better for long distance travel, PHEV runs on both electric motor and gasoline engine. One can switch to traditional combustion engine if the battery runs out on longer trips.
Less noise, bit more maintenance
Smaller battery packs
Long distance travel
Types of electric car charging – based on location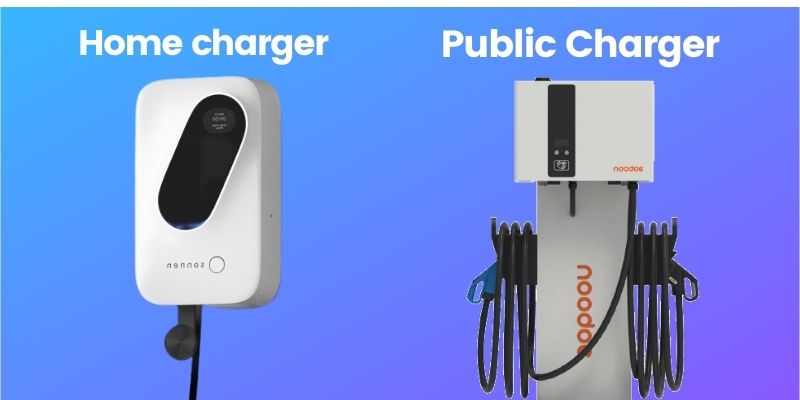 Electric car charging at home
You might be thinking- How to charge an electric car at home? Or what are the best electric car chargers for home?
In order to charge an electric car at home, one must install a home charging point that is faster and with great safety measures.
The home charging point can deliver a maximum charge of about 2.5 KW when it is connected to a 230V/15A single phase plug. Electric car charge points are placed normally near private parking zones with the EVSE mounted on the wall with an electric car charging socket. Electric car chargers for home are quite portable.
Check out best electric car charging station for home:
The recommended electric car chargers are IEC 60309, Industrial connector to be used from both ends normally gives 15-30 miles of range per hour of charge when charging at home.
Public electric car charging
The commercial charging station is a convenient option to charge electric cars while on the way. Public electric car charging stations are beneficial during long drives between cities and towns which require a network of public charging to extend the range of electric vehicles more than the normal range on would cover daily.
Read more from source. Here
It comes with several electric cars charging ports to facilitate faster and efficient EV charging in comparison to charging at home.
If you want to set up a startup of public electric vehicle charging station. Read this
Types of charging of electric cars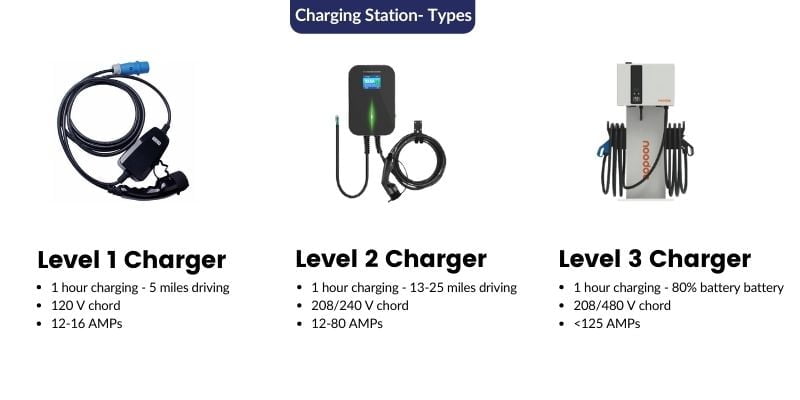 Level 1 EV Charging (120V)
Level 1 electric car charging is performed with the 120V AC power found normally in standard household outlets.
The level one charging equipment comes along with the car. One end of the portable charger is the three-pined household plug and another end is the connector that plugs into the vehicle during the charging process. This electric car charger type has a very simple installation procedure just like any household outlet. Depending on the battery type level 1 charging takes around 9-10 hours to fully charge a completely discharged battery
No or minimal installation cost, as it can be installed in any garage power outlet.
Pros
This electric car charger types are less costly.
Cons
Very slow charging, 9-10 hours for full charge
Level 2 EV Charging (240V)
Type 2 charging is done with a 240V AC plug and it requires the installation of home charging or public charging equipment
Found usually in residential settings, public parking areas, and in Highways as public charging stations.
The Level 2 charging equipment is able to charge all electric BEV and Plug-in Hybrid electric vehicles (PHEV). To start a level 2 charging station required an EVSE unit and high voltage bearable cables.
Depending on the battery type level 2 chargers take around 5-6 hours to fully charge a completely drained car battery.
Pros
Electric car charging time is low compared to level 1 charging.
This Can be installed for commercial purpose in Public parking area and shopping centers.
Cons
High Installation and operation cost and electric car chargers cost is high.
DC fast charging
Level 3 electric car charging equipment comes with the choice of CHAdeMO, SAE Combined Charging System (Combo/CCS), and Tesla Supercharger. DC fast chargers uses a 480V direct current (DC) plug.
DC fast charging charges an electric vehicle from 0%-80% in 30-40 minutes. The time required to charge an EV with DC fast charger will increase in cold weather. For now, not all vehicles support DC fast charging. Electric car charging station's cost is high.
Automakers provides three types of plugs to charge the vehicle with a fast charger-
CHAdeMO – Nissan leaf and Mitsubishi electric vehicles.
SAE Combined Charging System (Combo/CCS) – Current and upcoming electric vehicles.
Tesla Supercharger – tesla model vehicles.
Pros
Fastest charging time for continuity of longer journey.
Cons
Slows down the charging rate in cold weather.
The cost of installation is very high,
Potential buyers get will be confused due to a large number of plug types.
Want to install a charging station?
Talk to us
support@ecogears.in
Call us
+918473079681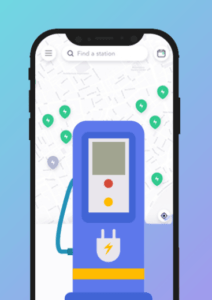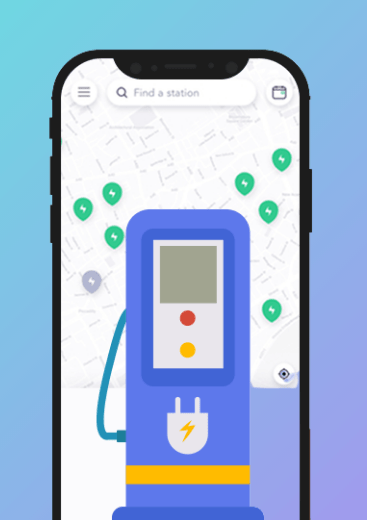 AC Electric Car Charging
AC charging is the most common method for charging electric vehicles.
AC charger's installation and the production cost are lower compared to fast DC chargers, so these are the commonly found chargers. Also, the cost of AC chargers is quite low compared to other models.
The AC charging of electric cars is mostly for parking spots or café's where the vehicle will stay parked for more than 30 minutes. Also, the lowered cost of charging makes the AC car charger the most popular charger for daily charging.
When charging with an AC charger the power from the EVSE gets converted to DC, inside the on-board charger inside the vehicle, and transferred to the battery.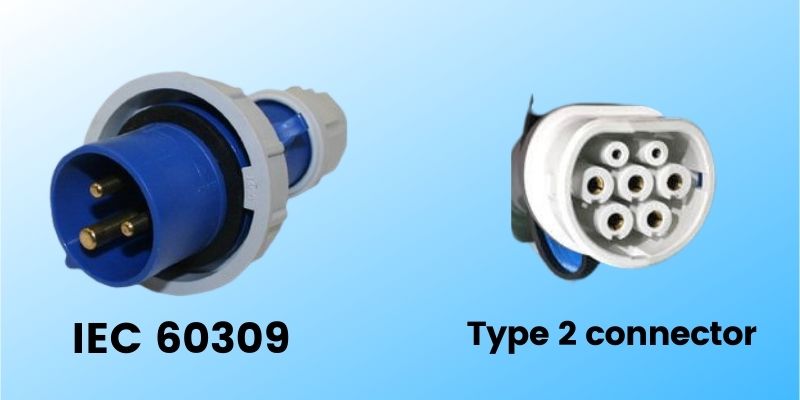 Types of AC electric car charging:
AC slow charging
Vehicles with a lower on-board charge rate of about 2.5KW or 3kW like 2 wheelers, 3 wheelers, and some 4 wheelers use this form of AC charging.
The charging time is almost 60 minutes to charge a 2-wheeler with AC slow charger with charge rating of 2.5KW-3KW, where as takes about 5-6 hours to charge 4-wheelers.
AC fast charging
Popular mostly In European countries, Vehicles which have on board chargers with higher power ratings (for example Tesla have a 16KW charger).
This form of charging port charges the vehicles at the rate of 7.2 Kw to 21 KW.
DC charging
Widely used by fast chargers at electric car charging stations, DC charging sends power directly to electric car's battery after conversion from DC fast charge port.
A DC charging draws a lot of power from the source, also the cost of installation, production, and operation is high. Resulting in higher tariffs for charging.
However, as it usually allows for much faster EV charging, it is the most preferred charging method by EV drivers.
One hour of DC charging through a DC charger gives a range of 100km or more, which makes it the most ideal charging type during long-distance trips for cars supporting DC chargers.
A network of fast DC chargers will make the adoption of electric mobility easy and at a faster rate.
DC charging facility is mostly found along highways, rather than at home or business locations.
Here are different types of DC fast charging electric car charging sockets: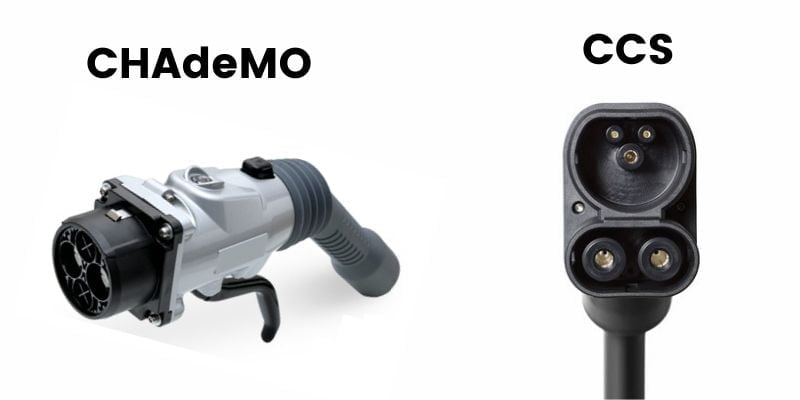 Level 1 DC Fast Chargers
Public off-board DC fast Chargers which have output voltage of 48V / 72V, with power outputs of 10 kW / 15 kW with maximum current of up to 200A. These are called Level 1 DC Chargers.
Level 2 DC Fast Chargers
Public off-board DC fast Chargers which have output voltage up to 1000V, with power outputs of 30 kW / 150 kW. These are called Level 2 DC Chargers. They charge electric cars at faster rate.
Types of electric car charging connectors & plugs
There are many different types of electric car charging cables based on the different types of power ratings in EV and the connector type. Electric car charging cables and plugs are an important part of your EVs, without which a journey cannot be planned. Here we will discuss the basics of electric vehicle charging cables and their types and also EV charging connector types.
Some of the basic electric car charging connectors and plugs are :
Type 1 EV connectors – 7.4 KW
Type 2 EV connectors – 43 KW
CHAdeMO plug – 100 KW
CCS plug – 350KW
Tesla Superchargers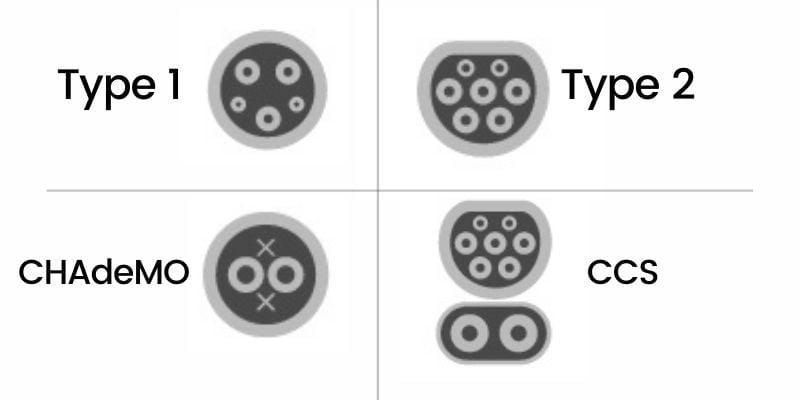 AC plugs
Type 1 plug
Type 1 EV charger/type 1 connector is a single-phase plug, allows you to charge your car at a speed of up to 7.4 kW
Type 2 plug
Type 2 EV charger/type 2 connector is a triple-phase plug, charging power rate is 22 kW at home, while public charging stations can have a charging power up to 43 kW. Type 2 electric car charging cable is also a kind of DC fast home charger.
DC plugs
CHAdeMO plug
Fastest charging system allows charging up to 100KW
CCS plug
Like type 2 plug with additional power contact for fast charging. Charges up to 350KW
Tesla Supercharger
Tesla superchargers for charging all of the high-end Tesla electric cars.
FAQ
Do all electric cars use the same 'universal' chargers?
No, there are different chargers for different vehicles, based on the battery type and charging rates the chargers differ.
What companies produce electric-car charging stations?
There are a lot of companies that produce electric-car chargers, some of them are –
Exicom
Masstech
Delta electronics
TATA power
Okaya group
What are the different types of EV chargers and sockets? electric car charger types?
Mainly there are three types of electric vehicle charging which are Level 1 (120V), Level 2 (240V) and DC fast charger.
How much do electric car charger cost?
EV chargers come in around 100$ for basic ones.
What are the different levels of electric car charging stations?
There are four levels of electric car charging: Level 1, Level 2, Level 3 or DC fast charging
What are the different types of electric car chargers and plugs?
There are lots of electric car charger types and plugs, some of which are Type 1, Type 2, CHAdeMO, and CCS
What are the different types of electric car charging connector and port types?
Based on the vehicle side and the charge point side socket connector types are of many kinds, some of which are: Type 1, Type 2, CHAdeMO, and CCS.
Are all car charging stations the same?
No, not all charging station the same. Charging station types depend on the power output and the vehicle type, which are Level 1, level 2 , and Level 3 or DC fast charging type.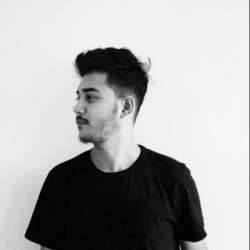 Latest posts by Abhishek Gautam
(see all)