Boom motors launches Corbett electric scooters in India, priced at Rs 86,999 and claims to have a range of 200kms.
Highlights:
4.6kWh battery capacity, top speed of 75kmph: eligible for FAME subsidy
Two variants launched – Corbett 14 (100kms Range) & Corbett 14-EX(200kms Range)
Exo-skeletal moped-like look with 7 years warranty.
The Coimbatore-based company, Boom Motors, launched its inaugural electric scooter, the Corbett, with bookings opening from November 12th, 2021. The new two-wheeler is available in two variants, the Boom Corbett 14 and Boom Corbett 14-EX, priced at Rs 86,999 and Rs 1,19,999, after introductory discounts of Rs 3,000 and Rs. 5,000 respectively. Claiming to be the most durable and rugged scooter in the Indian market, Boom Motors has some high hopes for Corbett. The initial token amount for booking has been set at Rs 499 for both variants and the company aims at starting delivery by January 2022.
READ MORE: State-wise EV Subsidies in India
On its launch, Anirudh Ravi Narayan, CEO of Boom Motors said, "The entire team at Boom Motors has worked non-stop and tirelessly over the past two years to bring this product to market in record time. We have localized supply chain not just to India, but inside Tamil Nadu for a significant portion of our parts, and have created hundreds of jobs in the process."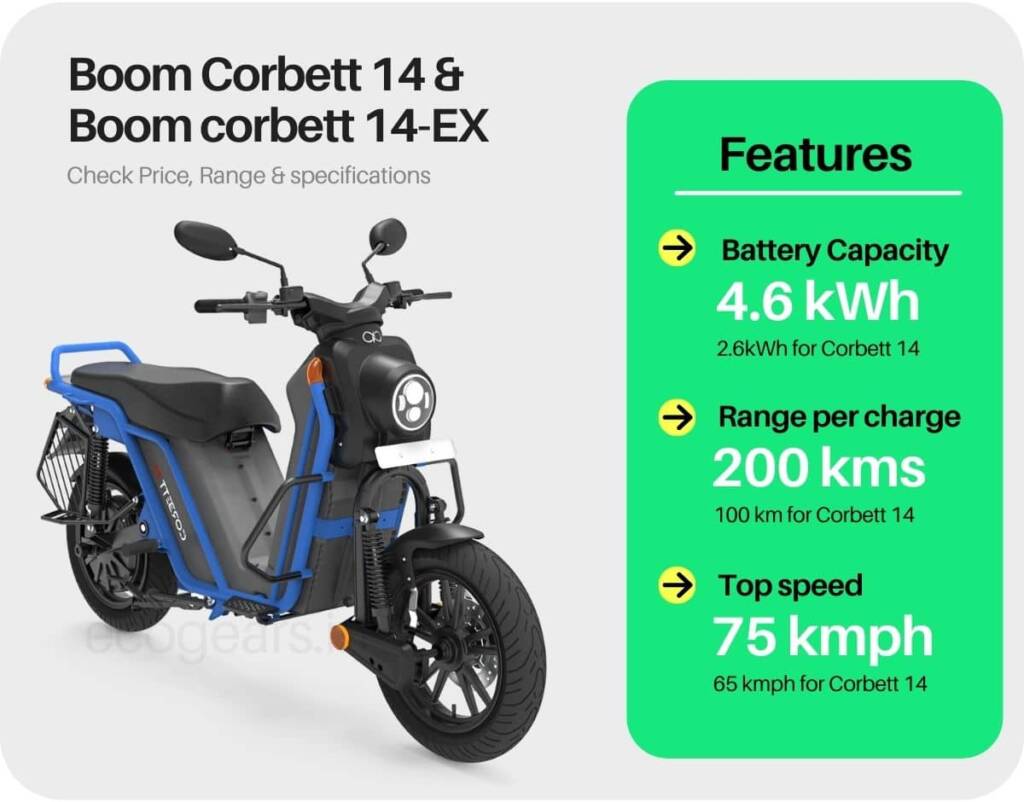 Boom Corbett: Specifications
The base model of the Corbett, with its 2.3 kWh battery, promises a range of 100 km on a full charge, while Corbett 14-EX promises a spectacular 200 km range with a fully charged 4.6 kWh battery. Boom Motors claims both vehicles require less than 3 hours to get fully charged using a fast charger and 4 hours by a standard charger. With a top speed of 75 kmph on the EX and 65 kmph on the base variant, the Corbett can support a load up to 200kg. The storage under the seat comes just short of 30 liters.
Boom Corbett: Performance
With the claim of best durability, the company is offering a 7-year warranty on the chassis and a 5-year warranty on the battery. Giving the scooter and exo-skeletal moped-like look, the Corbett has all its elements integrated into the chassis. Both front and rear tires sport disc brakes with a 4-way dual suspension at both ends. Another highlight of this EV is that batteries in both models are removable and can be charged separately. Some of the additional features include mobile connectivity through an app and also various parental modes. The Boom Corbett electric is also the first scooter in its segment to be providing EMI options, with EMI rates coming down to as low as Rs. 1,699. Boom Motors also stated that they have already set up 24,000 service centers across India and are still expanding their reach.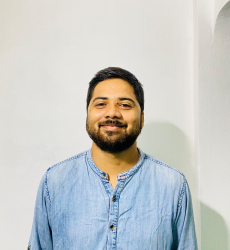 Latest posts by Himalaya Dhungel
(see all)