Here we have curated a list of the 10 best electric car apps for EV owners to locate nearby EV charging spots and to initiate charging.
In today's world, where we don't step out without mobile phones, a perfect electric car app is the most important tool every EV owner should install in their phones.
To locate EV charging stations or to pay for the charging services, we have curated a list of the best electric car apps for EV owners.
These electric car charging apps help EV owners to locate nearby electric car charging stations, plan their routes beforehand, and to pay for the charging services in any public charging station.
After going through all the features in different electric car apps, we have made a list of the best electric car apps that come in handy during trips, regular urban commutes, or pre-buy research for EV chargers nearby.
Here is a list of the best electric car apps for EV owners:
Charge Point
Plug Share
Charge Hub
EV Go
Chargeway
ChargeMap
Greenlots
Tesla App
EV Hotels
Open Charge Maps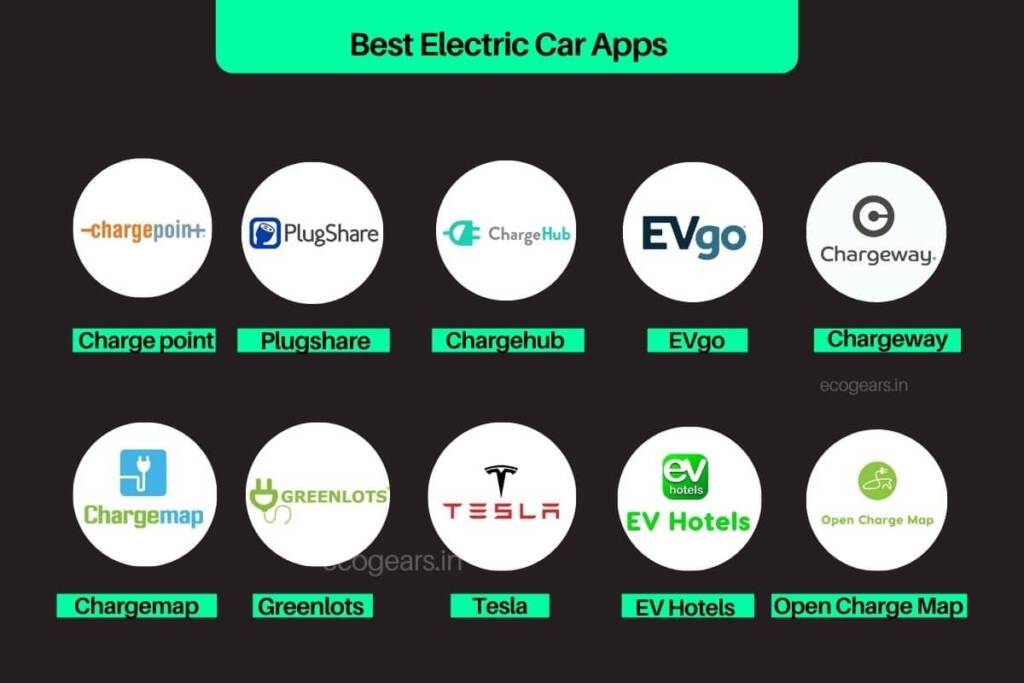 Have a look at the features and preferred payments options in these best electric car apps that fits your needs and electric car model.
1. Charge Point
Price: Free
Platform: Android/IOS

Chargepoint app provides a real-time map of the nearby public charging stations and lets filter chargers by type, price, and many more options. Inbuilt features in the app allow users to check nearby EV charging stations, calculate charging costs, view charge status, mark favorite chargers, and view charging history.
The Charge Point charging app is being counted as the favorite charging app among most EV owners.
Features:
More than 108,500 charging spots are marked in the app.
Real Time update shows busy and open charging stations.
Option to pull up only the compatible chargers list.
Automatic billing and Auto top-off feature.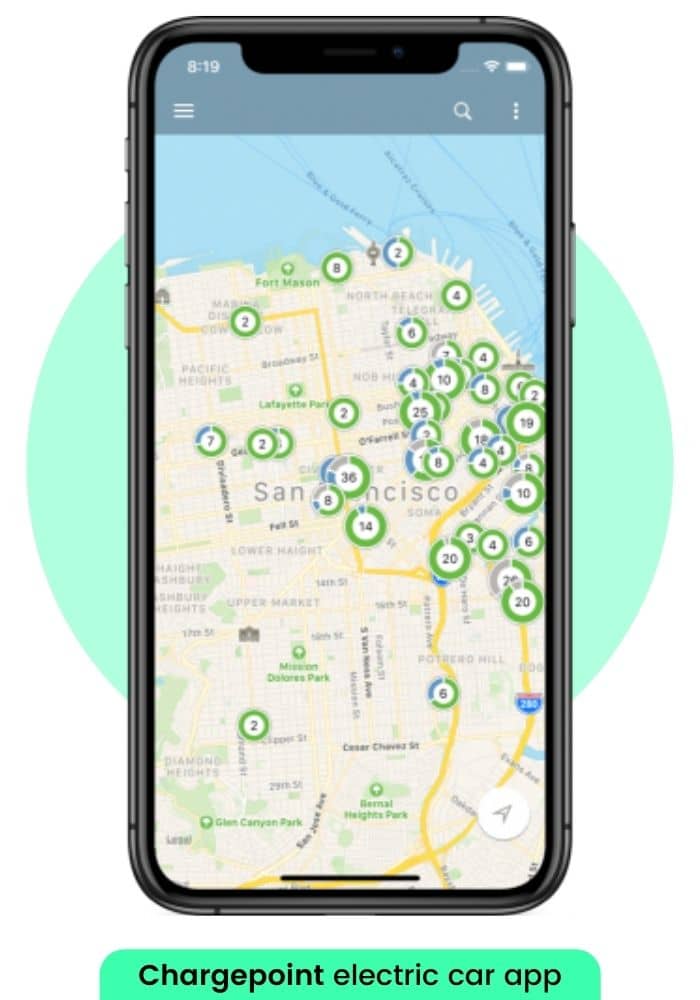 Official Website: ChargePoint
READ MORE:
Top electric car accessories you never knew about
2. Plug Share
Price: Free
Platform: Android/IOS
Based on a self-report charging status model, Plugshare is one of the top EV charging station locator apps, hosts over 230,000 electric car charging stations worldwide.
User-reported updates in the app are one of the shiny factors that provide a real-time update of the charging stations.
In-App filter provides an option to filter chargers by the public, residential, or by network providers.
Features:
Crowdsourced report for real time updates on the stations.
Shows the last minute residential commercial chargers in case if emergency.
Trip planner feature allows to plan trips beforehand.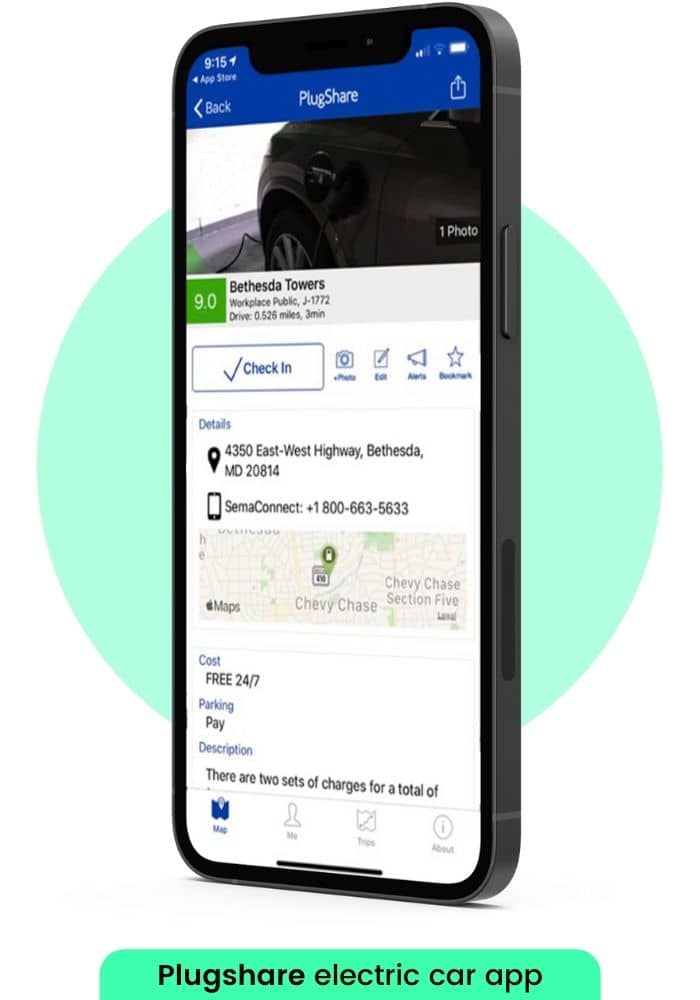 Official Website: PlugShare
3. Charge Hub
Price: Free
Platform: Android/IOS

Charge Hub can be a very handy tool to locate nearby electric car charging stations with options to filter chargers by connector type and charging cost.
Charge Hub comes with a unique feature to share experiences about a particular charger. In-app features allow users to share photos of charging stations and share their reviews.
The chat option in the app allows users to connect with nearby EV owners via chat messaging in case of an emergency.
Features:
Strong community of more than 100,000 EV users using the app.
User generated reviews and tips of charging stations.
Red and Green icons in the app indicated the busy an idle station of a charger.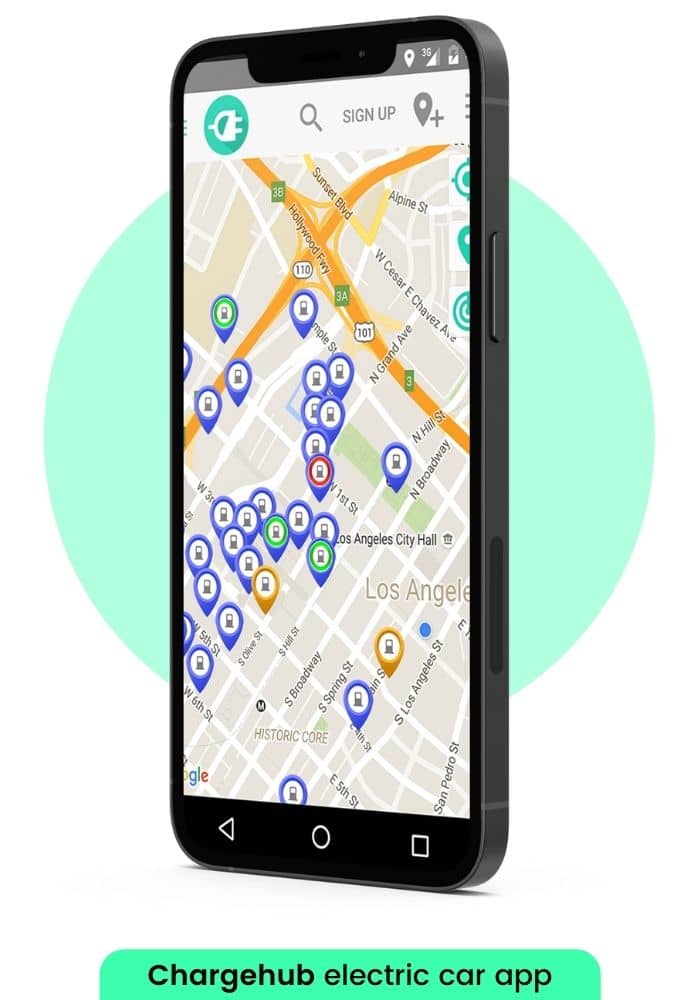 Official Website: ChargeHub
4. EVgo
Price: $10
Platform: Android/IOS

With over 1090 EV charging spots, EVgo helps locate nearby EV charging stations in over 34 American states. Along with the charger detection, users can initiate charging and pay for charging through the EVgo app.
While most of the app offers real-time update features, EVgo goes the extra mile to provide turn-by-turn navigation in the app itself and a highly interactive user interface to be used easily by EV owners of any age group.
With a 10$ subscription, one can avail the 24X7 customer service option to assist while searching for a nearby EV charger.
Features:
Updates about the next electric car charger en-route.
24X7 live customer service option.
Turn-by-turn enroute navigation in the app without the need to swipe apps.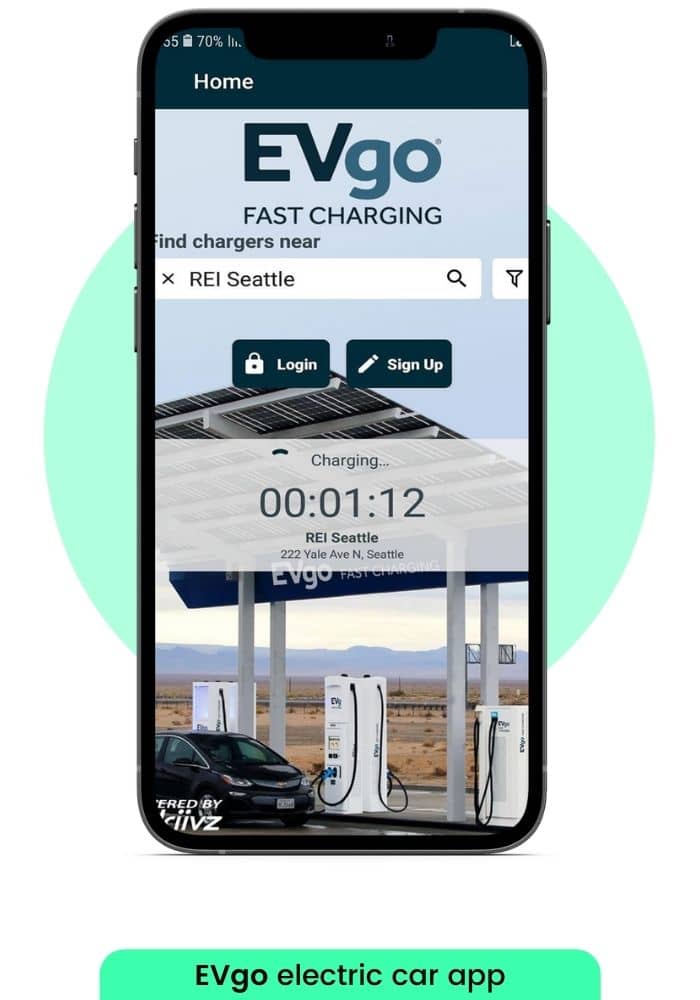 Official Website: Evgo
5. Chargeway
Price: free
Platform: Android/IOS

With a robust EV charger network, Chargeway hosts a unique feature that shows only the chargers which are compatible with the user's vehicle type and charging level.
The app focuses on the utilization of time used for charging electric cars by showing nearby restaurants and shops in the app itself.
Features:
Color coded markers for different charger levels and charger types.
Goes beyond normalcy by focussing on compatible charger type.
Provides in app estimation for the battery to get fully charged.
Route planner and end-to-end navigation.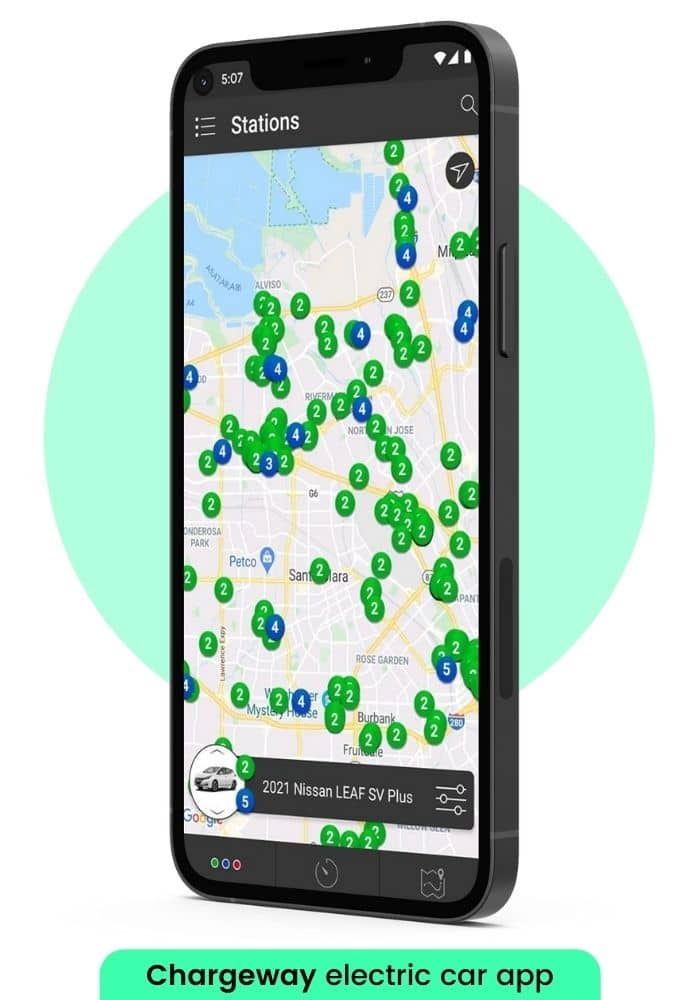 Official Website: Chargeway
6. Chargemap
Price: Partially Free
Platform: Android/IOS

With over 170,000 EV charging spots, Chargemap is the most sought-after electric car app by American and Canadian EV owners. The color-coded station identifiers provide a clean user interface to spot the EV charging stations which are updated in real-time.
Chargemap provides in-app monitoring of charging history and energy consumption. The feature to view the user-generated comments and reviews of a particular charging station comes in handy while choosing a station en route.
Features:
Automated billing process eases the onroad complexity of manual payments.
User generated feedback allows user to check station prior booking.
Faster server response time allows quick connectivity.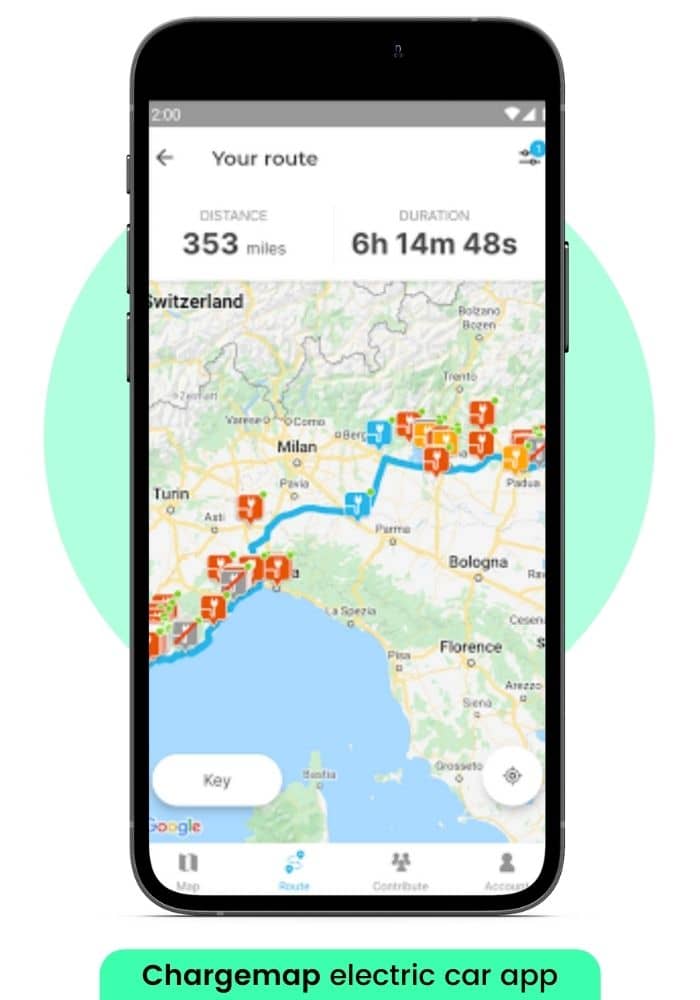 Official Website: Chargemap
7. Greenlots
Price: Free
Platform: Android/IOS

The Greenlots app is most loved by EV users because of its robust network of charge points and real-time database. Greenlots with its charger identifiers allow users to check whether a station is idle or busy beforehand. The corporate Shell Group developed the app for a wide range of users from Singapore and Thailand to the US and Canada.
Greenlots hosts the regular features like charging status, charging history, locate the nearby public charging spots.
Features:
In App real-time charging status.
RFID and QR functionality for easy connectivity.
App provides 24X7 live Customer care to solve the queries in case of emergency.
Shows the overall charging stations network instead of particular compatible chargers.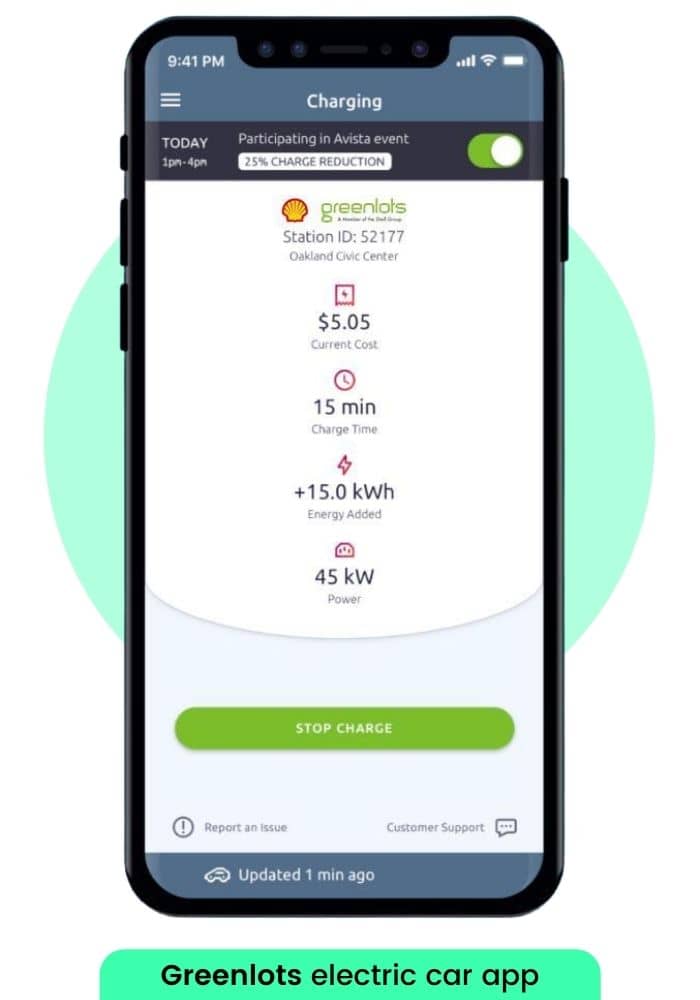 Official Website: Greenlots
8. Tesla
Price: Free
Platform: Android/IOS
If you are a Tesla owner, you need to install the official Tesla electric car app to enjoy the In-App benefits and to wirelessly control some features of Tesla electric car like Lock/Unlock, climate control, or open the electric sunroof.
With over 11,700 Tesla super-fast charging spots available across 1,390 locations globally, Tesla's electric car app is the one-in-all app for Tesla owners. The Tesla app allows users to locate nearby EV chargers, start charging, and allows In-App monitoring of vehicle charging status, trunk access, and ample other features.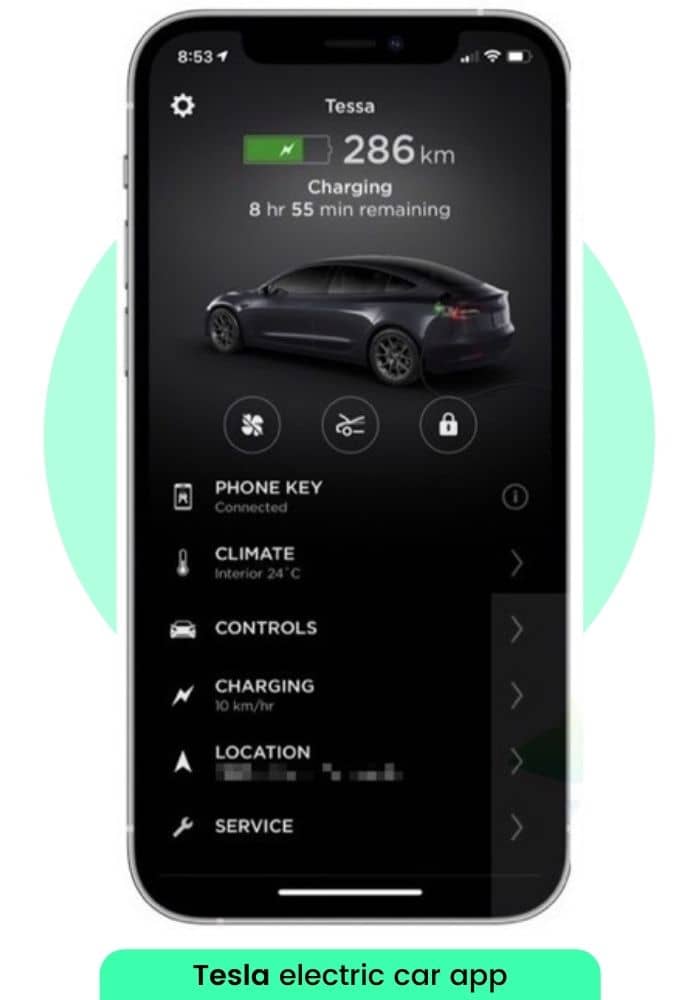 Official Website: Tesla app
9. EV hotels
Price: Free
Platform: Android/IOS

Developed with a vision to locate hotels with EV charging facilities, EV hotels currently spot over 260,000 hotels worldwide for EV owners to plan their route before any trips.
As the name suggests, EV hotels let the EV owner search for hotels and reserve rooms with chargers compatible with your car.
One out-of-the-box feature in the EV hotels electric car app is the "walk range" feature that allows users to locate and turn-by-turn navigates to EV hotels within walking distance.
Features:
Rewards points for using the app which can be redeemed while charging.
24X7 live customer support and user generated reviews of hotels.
Specific features for tesla drivers- nearby Tesla superfast charger from the hotel.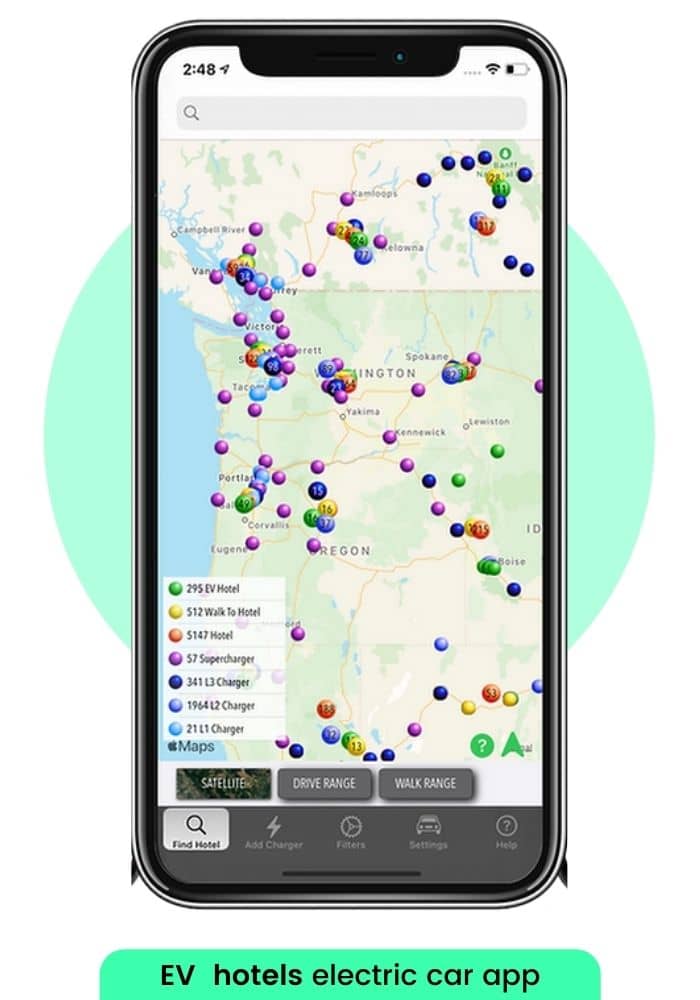 Official Website: EV Hotel
10. Open Charge Map

Open charge map is a global EV charger search tool, developed and maintained by developers and businesses around the world by mutually enriching the database which currently spots over 137,000 EV charging spots across 68,500 locations. Open charge map allows users to filter chargers by distance, locations, and charging network.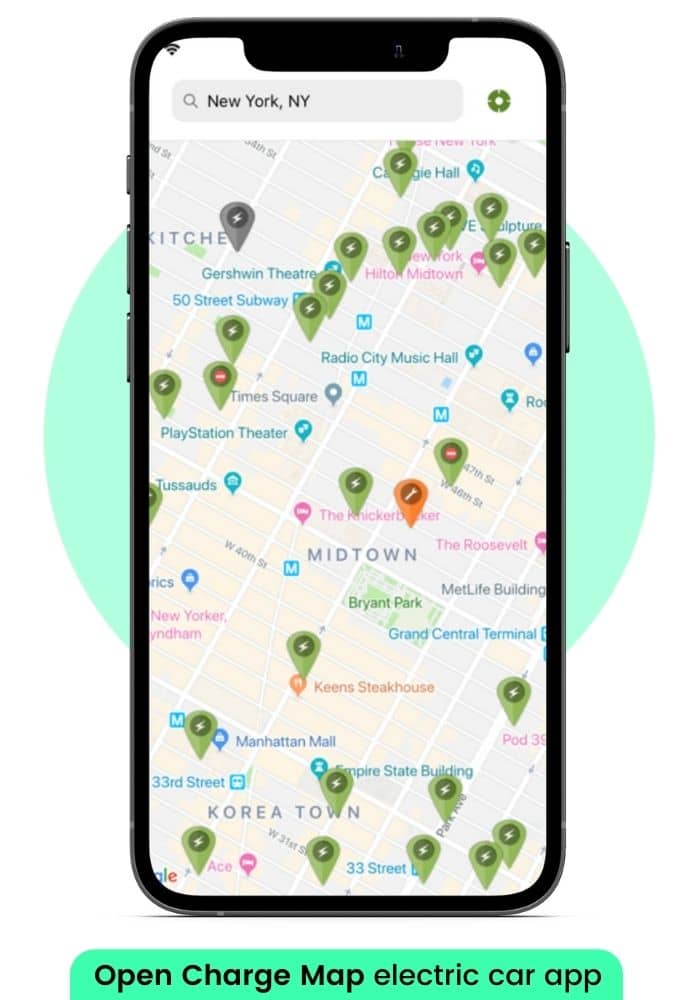 Official Website: Open Charge Map
Best way to find charging station for your EV:
Some of the best ways to find nearby EV charging stations from mobile are:
Manufacturer app
Third Party Services
Individual Charging Network
What is the best EV charging app?
Considering the number of features, Charge point is the best electric car app, as it provides a real-time database of chargers along with user reviews.
What apps do I need for an electric car?
To smoothy operate an electric car one needs an app from the car manufacturer and one for locating nearby public EV chargers.
What is the best EV charging app?
As of now, ChargePoint is the best electric vehicle charging app considering the number of charging point databases and features.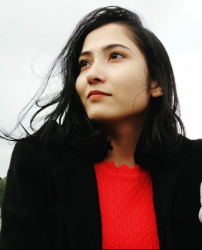 Latest posts by Mamta Upadhaya
(see all)