Electric vehicles are an integral part of the transition from the use of fossil fuels to sustainable clean mobility. Post lockdown the interest in electric vehicles and Tesla electric car accessories has tremendously increased as people started to realize the need for a cleaner environment and sustainable mobility.
Since you just got an electric car you are contributing heavily to a greener environment in many ways as EVs curtail greenhouse gas emissions, make less noise, and reduce the global share of environmental pollution.
With the evolution of electric cars, the electric vehicle accessories market evolved very rapidly as well with a focus to further comfort the EV drive for consumers.
Here we will discuss :
Best tesla model 3 accessories
Best tesla model s accessories
Must have tesla model y and model x accessories
If you own an electric vehicle or planning to get one, you should definitely check out these must-have accessories for your electric vehicle.
Some of the must buy electric car accessories include:
Home charger for your EV
Electric car blanket
Extra electric car cables
Charging station holder
Road signs & EV station branding
Electric car jack
Electric car floor mat
Make sure to check out these electric car accessories to increase the overall driving experience of your latest high-end electric car.
Top electric car accessories
To comfort your electric vehicle driving experience many branded third party accessories are available today in the market, some of which are:
Home charger for your EV
Nothing can beat the joy of charging your EV while you are asleep with a dedicated home electric vehicle charger. An electric car charger for a home is a must-have accessory for proud EV owners.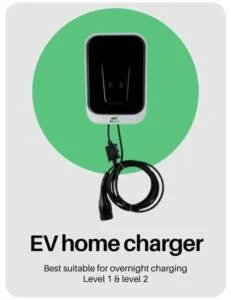 Charging an EV overnight results in hassle-free mornings with no worries of finding spots for a vacant charging station. Home charging is convenient and inexpensive, most electric vehicle (Battery electric vehicles and hybrid electric vehicles) owners do more than 70% of their charging at home before starting their day.
The cost to charge your electric vehicles at home is low due to stable and low household electricity rates.
There are two main types of home chargers for electric cars: Level 1 and Level 2 home chargers. Level 1 is a slow charger compared to level 2 which is the faster alternative. Level 1 chargers can be plugged into household power sockets, whereas level 2 chargers require dedicated installation.
Here are some of the tested EV chargers for home:
One can also go for the solar electric car charger to make the most use of renewable resources.
Electric car blanket
A heated car blanket keeps you warm during harsh cold weather. A very important accessory one should include in their electric car accessories list to protect yourself from getting chilly during traveling. These electric car blankets are quite more powerful than the car's heater and plugs in easily in the Tesla 12V power outlet.
It will keep you warm if your car breaks down on chilly winter mornings and you have to wait for on-road assistance for your electric vehicle. This electric car blanket gets warm pretty quickly compared to a car heater during winters. Many brands in the market include automatic shut-off after 30 mins and indicators to prevent any accident.
Roadpro and audew beat the rest in our test
Extra electric car charging cables
There can be times when the dedicated car charger that came with your car stops working or malfunctions. At such times an extra charging cable can be the biggest savior. These extra charging station cables come with a long-extended rubber tube that prevents the electric vehicle charging cable from Buckling.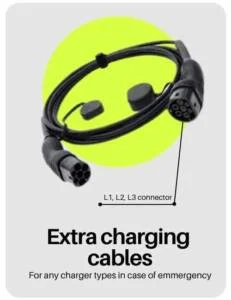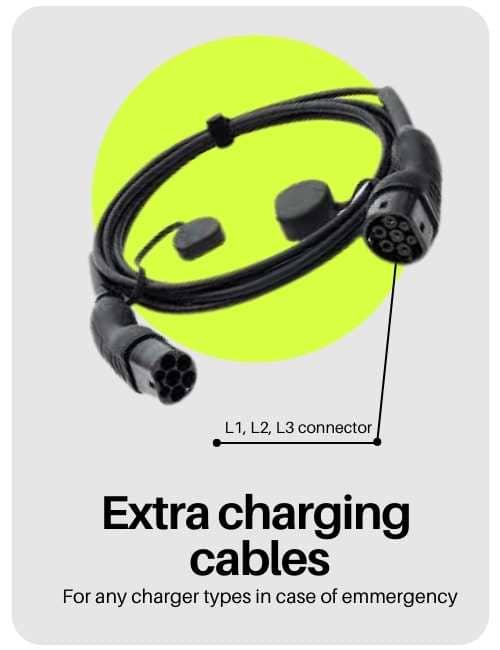 This cable is made up of heat-resistant materials that prevent spoilage during overheating and prolonged use, experienced normally with public charging station cables.
We found some cables really useless as extensions to provided cable length. Check out here
Check out the specifications above.
Extra electric car charging cables are easy to use and maintain and can fit into small spaces in your car.
Charging station holder/ charging station poles.
If you recently bought an electric car charger this is a very necessary accessory for your electric car. Suitable for both electric vehicles charging station in home and business purpose charging stations, these car charging station holder holds the EV home charger in-wall, foot, and concrete installations.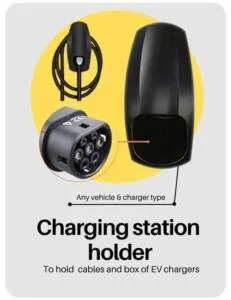 These are made of stainless steel and a majority of them are rustproof, so you can install one in your open parking area worry-free. The installation process is quite easy and it fits most of the home chargers available in the market. The charging station holder comes in various lengths and models, so you can purchase one as per your need.
Some of our tested electric car charger holders are stainless less and rustproof.
Checkout:
Road signs and EV charging station brandings
If you own an electric car charging station, these are going to boost your business next level.
One can customize and white label the charging station with a new brand identity solution.
Perfect for business and charging station fleets to have their own logo and branded charge cards with RFID inbuilt to start/stop charging.
CONTACT US FOR EV CHARGING STATION BRANDING
Parking and road signs can be useful for both EV charging station owners and electric car owners to make people aware of the alternative technologies in your sustainable mobility car.
Electric car jack
This automotive tool will come in most handy in the situation if your car breaks down or you have a flat tire in the middle of nowhere.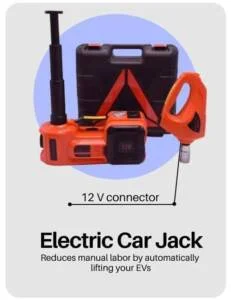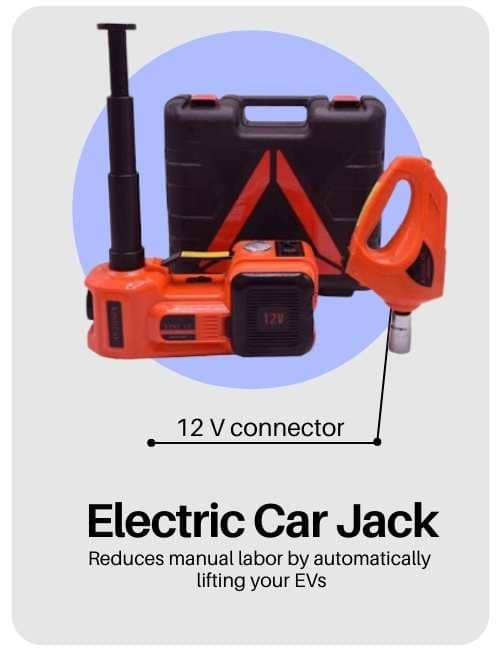 These electric car jacks reduce the amount of sprain and manual work in case of an emergency tire replacement situation. Electric car jacks are powered by your car's 12V power outlet and will be your most useful tool if you ever get stuck with a flat tire waiting for assistance.
These electric car jacks lift your car under two to three minutes, drastically reducing the manual work and repair time. These electric hydraulic jacks are mostly hydraulic powered and can lift your EVs very easily. Being compact and portable one can easily carry an electric car jack in the back of the car for emergency use.
We tested the automatic jacks to lift the car just by a push of a button.
Check prices
Electric car floor mats
All-weather mats are the most useful accessories that you must buy for your electric vehicles, unlike the one that comes with the car which is too bulky or unable to absorb the moisture and mess.
Providing a barrier between your car floor and the mess, these electric car floor mats protect your cars from bad smells if food falls off and remains. Car floor mats protect your car floor against mud and dirt especially in the rainy season, as the mat can be easily detached and washed.
The all-new anti-skidding mats in the market make sure that the mats remain attached while driving. It is a great buy especially if you have a pet or you live in places that experience frequent weather changes.
Also one of all weather Tesla electric car mats which strike us the most is:
MAXPIDER ALL-WEATHER FLOOR MATS
Best Tesla electric car model accessories
The super luxurious Tesla cars are fully equipped but still need some extra accessories to increase the overall comfort ness while driving an EV.
Here you will find the best model 3 accessories and model y accessories. Check out
must have tesla model 3 accessories
must have tesla model y accessories
must have tesla model s accessories
With the evolution of electric cars and new upcoming models, many Tesla accessories and Tesla aftermarket accessories are out in the market to enrich your driving experience and make use of such a high-end vehicle to the next level.
Some of the best Tesla electric car accessories are:
Tesla touchscreen protector
Tesla center console wrap kit
Tesla wireless phone charger
Tesla sentry mode accessories
Tesla USB/SSD storage drives
USB Hub for Tesla electric car
Tesla cup holder inserts and liners
Tesla center console organizer tray
Tesla heatshields or sunshades
Tesla floor mats
Compact tesla air compressor pump
Tesla waterless car wash and cleaning kit
Tesla touchscreen protector
Touchscreen being the most important and interacted part of your Tesla electric car, it is very susceptible to scratches and fingerprints. The glare from the glossy Tesla touchscreen can be problematic for owners while driving in both model s and model 3.
A Tesla car touchscreen protector is a must-buy to protect the screen from permanent scratches and fingerprints.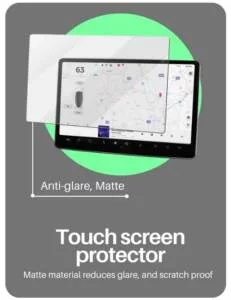 We tested some of Spigen's tempered touchscreen protectors for Tesla, which gave pretty good results.
SPIGENS touchscreen protector for Tesla. CHECKOUT
There are two types of touchscreen protectors for Tesla electric cars: Glossy and matte. The matte one is comparatively better as it eliminates fingerprints and has anti-glare functionality.
A matte Tesla screen protected diffuses the incident light and thus significantly reducing the reflection. We tried and tested both types of screen protectors to come to this conclusion to find the best of tesla model 3 and model y accessories.
Anti-glare and anti-reflective touchscreen protector: Innosure all condition & scratch-resistant screen protector
Tesla center console wrap kit
By now you have experienced the fingerprint marks over the glossy black interior of your favorite Tesla electric car. The shiny plastic material can be a big turn-off for the aesthetic ones. Meanwhile, a matte center console wrap can level up the interior of your electric car.
The fingerprint stains can be a bit irritating to wipe off every time you place your hand over your console. A lot of Tesla center console wraps are available nowadays gives a minimalist lean look to your car. Apart from the aesthetic point of view, it prevents your car interior from permanent scratches.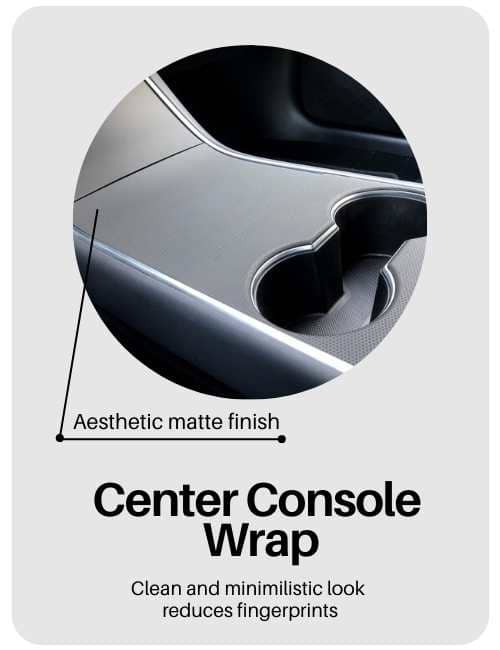 We tried a few of them which instantly enriched the interior of the car.
We highly recommend this one from amazon. They also come in different colors to fit your needs.
Tesla wireless phone charger
Removing your phone's case every time to charge your phone using the inbuilt wired tesla phone charger can be irritating. Though the company has updated this in the newer models with a wireless tesla phone charger, it still remains a hectic task for earlier variants.
Thankfully there are numerous manufacturers who build electric car accessories to convert a wired charging connection into a wireless charging pad. These charging pads fit perfectly in the charging dock area of your Tesla and can charge multiple devices at a time.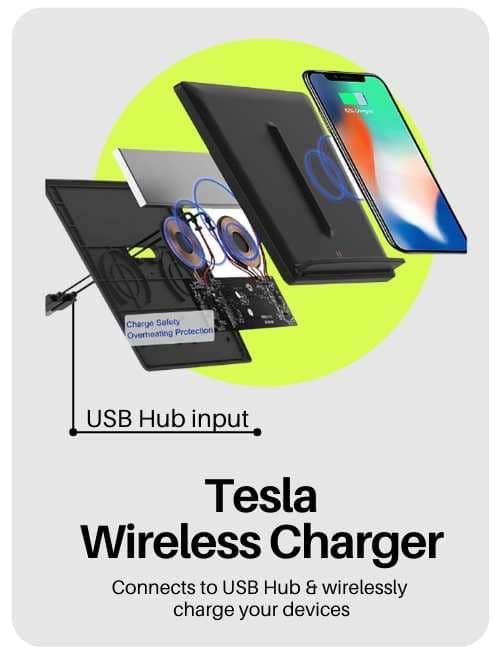 The anti-slip design ensures that the phone stays in place while driving.
Wireless chargers allow you to charge your phone without having to deal with the mess of cables while driving.
We tested some of the most reviewed Tesla wireless chargers on the web and selected a few:
Tesla sentry mode accessories
In order to fully utilize the Sentry mode features for Tesla electric cars, one might need some extra electric car accessories like a USB storage drive and a USB hub for seamless integration of flash drives and phone chargers.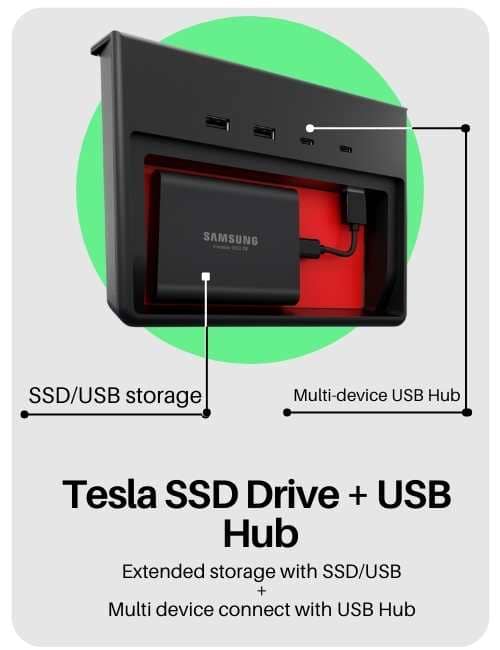 USB/SSD storage for Tesla
Because of limited storage capacity in the car, it is highly advised to get a USB flash drive in order to make full use of sentry mode for a longer duration and to keep your electric car safe. It eliminates the hectic process of cleaning up storage space quite often.
This Tesla SSD/USB storage flash drive fits perfectly in the USB hubs that we discuss below, giving a cleaner and minimalistic look to your Tesla electric car.
USB Hub for Tesla electric car
If you plan to add several USB devices to your Tesla like a USB flash drive or a wireless phone charger, a USB hub can be a very important tool for your Tesla.
With multiple ports in the USB hub, one can connect many accessories like a flash drive and wireless charger at the same time.
Best Tesla model s, model y, and model 3 usb ports
Tesla should consider adding multiple USB ports in future vehicles, until then these USB hubs will ease the process of connecting multiple accessories to the car.
Tesla cup holder inserts and liners
The fear of spilling beverages on a bumpy ride can be mitigated with a rubberized cub holder for Tesla electric car. The default ones seem to be extra-large; a rubber cup holder insert will give a proper grip to mugs and cups while driving.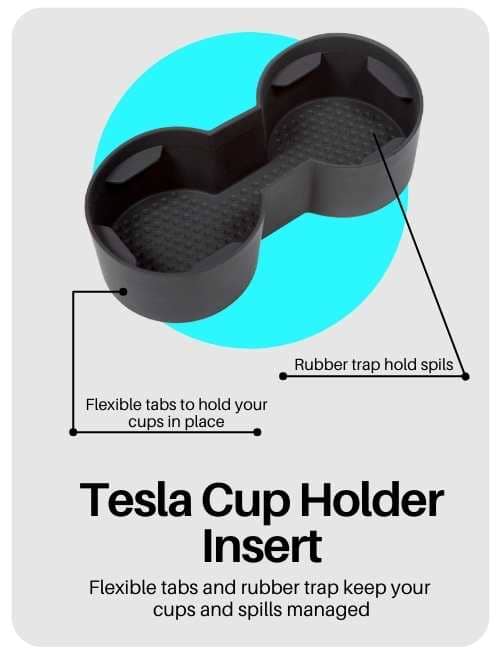 It will drastically reduce the efforts to clean if anything gets spilled over cup holders or center console. These extra Tesla cup holder inserts keep your car from smell and dirt.
These Tesla cupholder inserts come in different colors and are set to match the aesthetic of your Tesla car.
We liked this one with an odorless rubber and flexible material.
Tesla center console organizer tray
Tesla electric cars sometimes miss the most basic conveniences like a Tesla model center console organizer to easily organize small items in one place and neatly. Without which the center console turns messy ruining the interior of the car.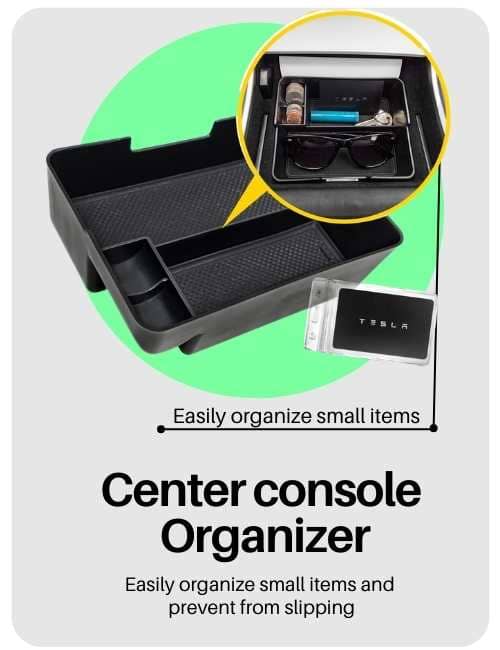 This turns a boxy deep space into a useable space where you can keep your daily-use items visible and organized. And space underneath can still store things not needed readily.
The Center console organizer prevents items from sliding while driving. Check out below:
These organizers fit perfectly in the center console and really make things more convenient and handier while driving.
Tesla electric car heatshields or sunshades
The huge glass roof on some Tesla electric cars can be problematic, specifically if you live in warmer climatic conditions. The vehicle gets heated up, which will take extra time to chill down with the AC, thus affecting the battery and range.
Heatshield/Sunshades are important accessories for your Tesla electric car to protect its interiors and gadgets inside from direct sunlight, thereby increasing its longevity.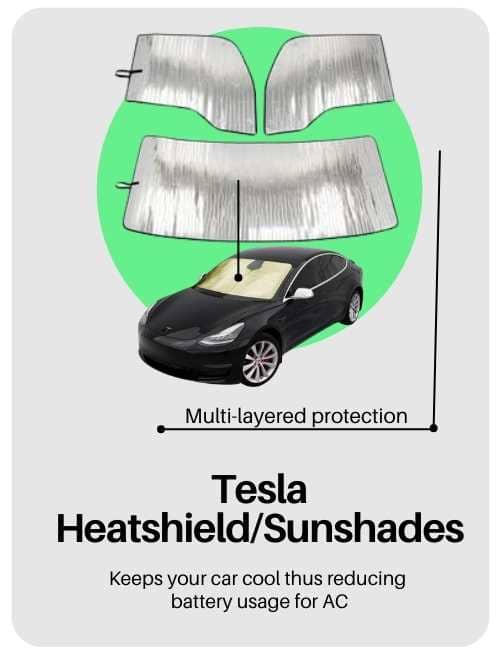 We tried and tested several Heatshields and sunshades for electric cars, out of which some of the multi-layered ones performed quite well.
Tesla floor mats
Tesla electric car floor mats are important accessories to keep your electric car clean and tidy during harsh weather conditions from dirt and mud and the stains from food spills.
These floor mats soak the moisture which would otherwise create a pungent smell and discomfort for driving during rainy seasons. It saves a lot of time in cleaning to just detach the mat and cleaning instead of cleaning the entire car carpet.
Some of the tested floor mats for electric cars are highly durable and block out vibrations from the floor of the car.
Compact tesla air compressor pump:
These fast, efficient, and quiet portable inflators are a must-buy for maintaining optimal air pressure for the extended range of your Tesla. These portable air compressor pumps are designed to pull power from your 12V power outlet in case of onroad emergency repair.
Some of which we tested can automatically inflate the tire to the desired pressure and shut it down automatically, without having to visit the nearest gas station for the same.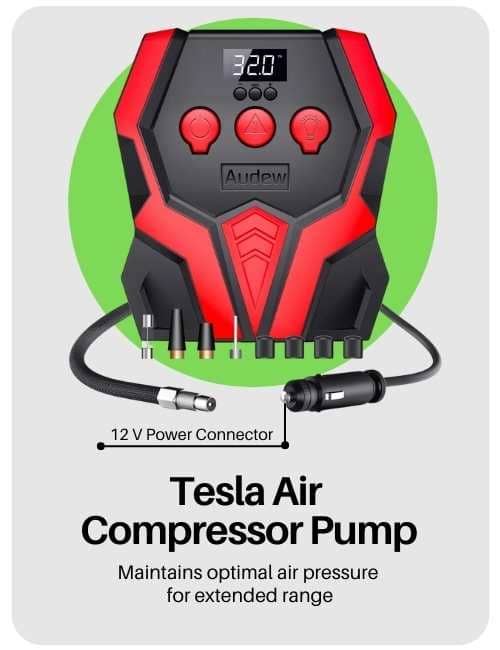 It works well from the console 12V, is fast, and durable. It's also quite small and can be carried in the trunk while traveling.
Tesla waterless car wash and cleaning kit
Waterless car wash works great in cold climates when washing with water becomes really difficult during chilly mornings. These Tesla car washes and cleaners clean without leaving streaks which would otherwise be very frustrating to wipe off.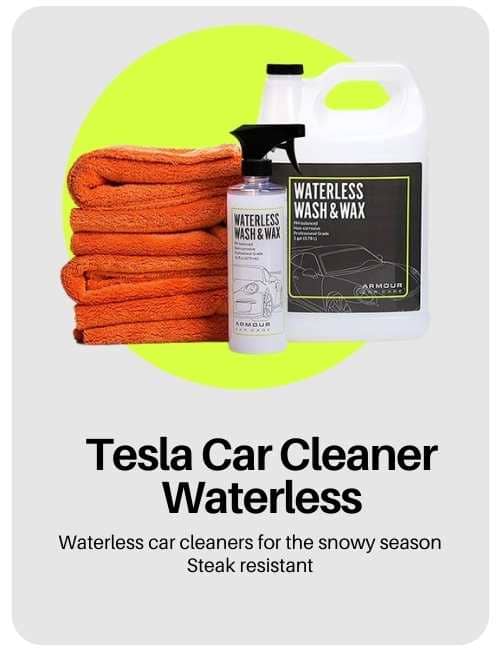 Just like any other vehicle you need to keep your new Tesla clean to retain its resale value.
We mostly suggest these tesla car cleaners to members of our tesla car community.
These come in several types and for different climatic conditions, some with water and some waterless
Ecogears take
Your Tesla electric car comes inbuilt with state-of-the-art technology and latest accessories but still, there are some which Tesla might have missed and expected to add in the future updates. Until then these 3rd party Tesla aftermarket accessories are for rescue and add to the comfort of driving a world-class electric vehicle.
FAQ
Do tesla service centers sell accessories?
Yes, the Tesla service center sells some of the basic Tesla accessories like Tesla floor mats, compressor pumps, and wireless chargers in old variants of Tesla.
Can you buy tesla accessories in-store?
Yes, a lot of third-party accessory stores are already selling Tesla accessories in their stores and through online stores.
Where to buy tesla accessories?
One can buy Tesla accessories in any of the Tesla accessory stores like Tesmanian, shops, or ecogears
Do I need a screen protector for the tesla screen?
Yes, you might need a screen protector for Tesla as the screen itself is a fingerprint magnet and it reflects the incident light, which makes it really uncomfortable for driving.
What are the best tesla model 3 after-market accessories?
Best Tesla Model 3 aftermarket accessories are wireless charger, air compressor, Carjack,
Should I charge my electric car every night?
Yes, it is very common to charge electric vehicles overnight with the home charger that came with your car. It has an inbuilt auto-shutdown feature to prevent overcharging.
What are some must-have Tesla accessories?
Apart from the default accessories that come factory-made, some useful accessories are a USB hub, heatshields, wireless phone charger, touchscreen protectors, electric car blanket, and all-weather floor mats
What are the must-have accessories for Tesla model 3?
Updated tesla model 3 comes with abundant inbuilt features and accessories but despite that, some accessories like USB hubs, Tesla floor mats, Tesla touchscreen protectors, electric car jack, and Tesla air compressor pump can be really useful.
What are the must-have tesla model y accessories?
Some of the must-have tesla model y accessories are a wireless charging pad, air inflator, touchscreen protector, and waterless car cleaner.
Most important tesla model X accessories
The most useful tesla model X accessories are USB hubs, center console wraps, cup holder inserts and sun shields.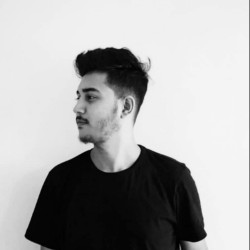 Latest posts by Abhishek Gautam
(see all)