Ola electric is likely to provide an Over The Air(OTA) update for the announced MoveOS 2.0 firmware upgrade by the end of April. The price of the Ola S1 pro electric scooters is likely to be increased after the third purchase window.
Highlights:
Ola Electric launched a new Holi edition gerua color while reopening the purchase window for 17th and 18th March.
Users are likely to get OTA update of the MoveOS 2.0 with added features.
CEO announced a hike in the price of Ola S1 pro post the latest purchase window.
Likely to become the largest EV manufacturer in the country, Ola electric has ramped up the production level to manufacture 1000 electric scooters a day.
In order to cater to the huge demand for S1 pro electric scooters, Ola periodically rolls out purchase windows.
MoveOS 2.0 Update
On top of available features, Ola electric made a promise to deliver additional features in the S1 pro electric scooter within six months of the launch. Finally a year after the launch, Ola electric's CEO, Bhavish Agarwal announced the introduction of additional features over a firmware upgrade called MoveOS 2.0. MoveOS 2.0 update is likely to be introduced by the end of April 2022 via Over The Air (OTA) update.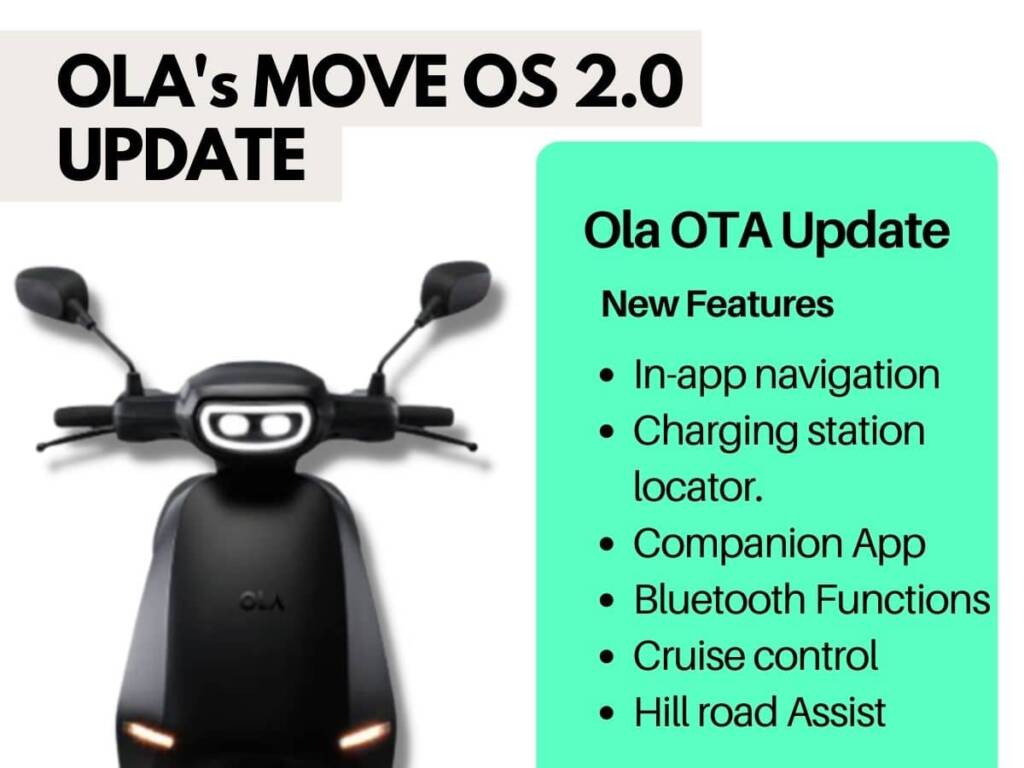 Ola S1 Pro electric's latest update is likely to introduce some of the most awaited features to resolve issues reported by users over time. MoveOS 2.0 update will include features like in-app navigation, a nearby charging station locator. Some other upcoming features include a much-awaited companion app, more Bluetooth-based functions, cruise control, and some performance improvements.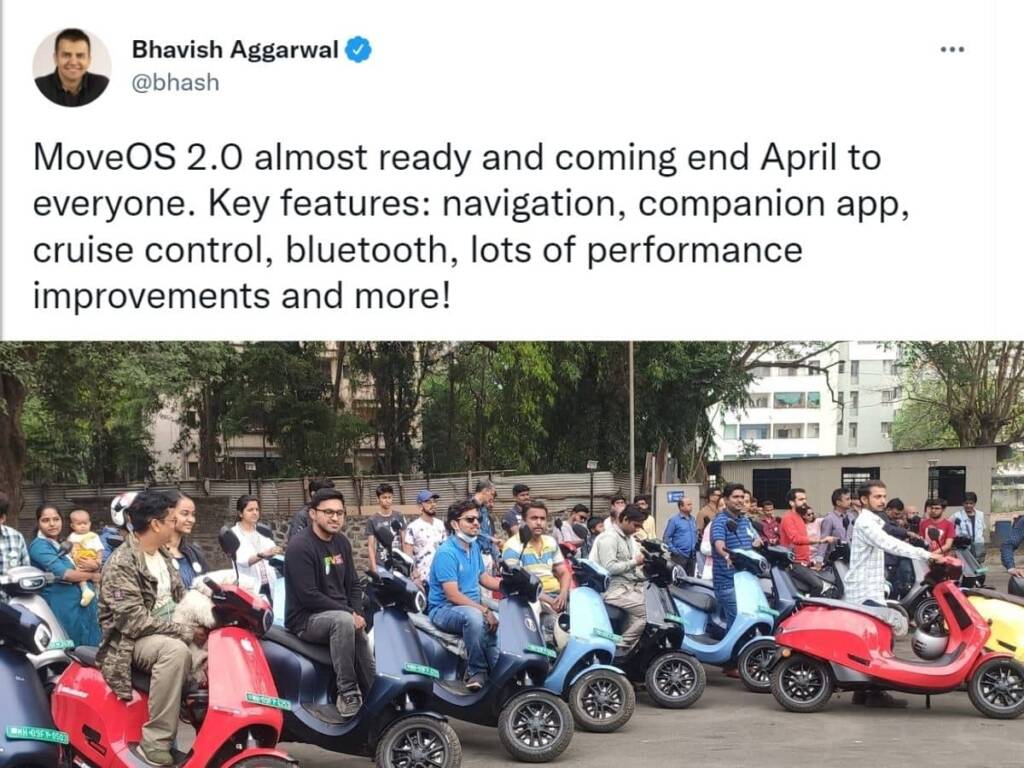 The company promised the additional features will be made available for both Ola S1 and Ola S1 Pro scooter, but since the base model S1's production is stopped, the OTA updates will be only for the Ola S1 Pro variant. However, nothing is mentioned yet about the promised Hill-Hold feature or Hyper mode for Ola S1 Pro.
Ola S1 Pro electrc scooter Price hike
CEO, Bhavish Agarwal announced a hike in the price of S1 pro electric scooters effective from the next purchase window, over a tweet. S1 pro electric scooter, currently priced at Rs 129,999, will likely see a surge of 4-5%.  
READ MORE: Ola S1 pro Owners review April 2022 | Ola produces 1000 electric scooters a day
The price of Ola S1 Pro varies in different states according to state wise subsidies. Till 18th of march, Ola S1 Pro used to cost Rs. 1,10,149 in Delhi, Rs. 1,24,999 in Maharashtra, Rs.1,09,999 in  Gujarat and Rs. 1,19,138 in Rajasthan. The new prices will be updated soon by the company over a tweet.
Thanks to all who've purchased S1 Pro already and special thanks to those who've bought their 2nd or 3rd S1 Pro!

Last chance to get it for 129,999. We'll be raising prices in the next window. This window ends 18th midnight!😊
Buy now, only on the Ola app! pic.twitter.com/I7FF0GlXQD

— Bhavish Aggarwal (@bhash) March 17, 2022
Ola Electric's Battery Plant
Ola electric is likely to set up a cell manufacturing plant to power its Lithium-ion battery with a capacity of up to 50 GWh. Ola electric currently imports battery cells from South Korea which in turn creates timeline delays in the manufacturing process.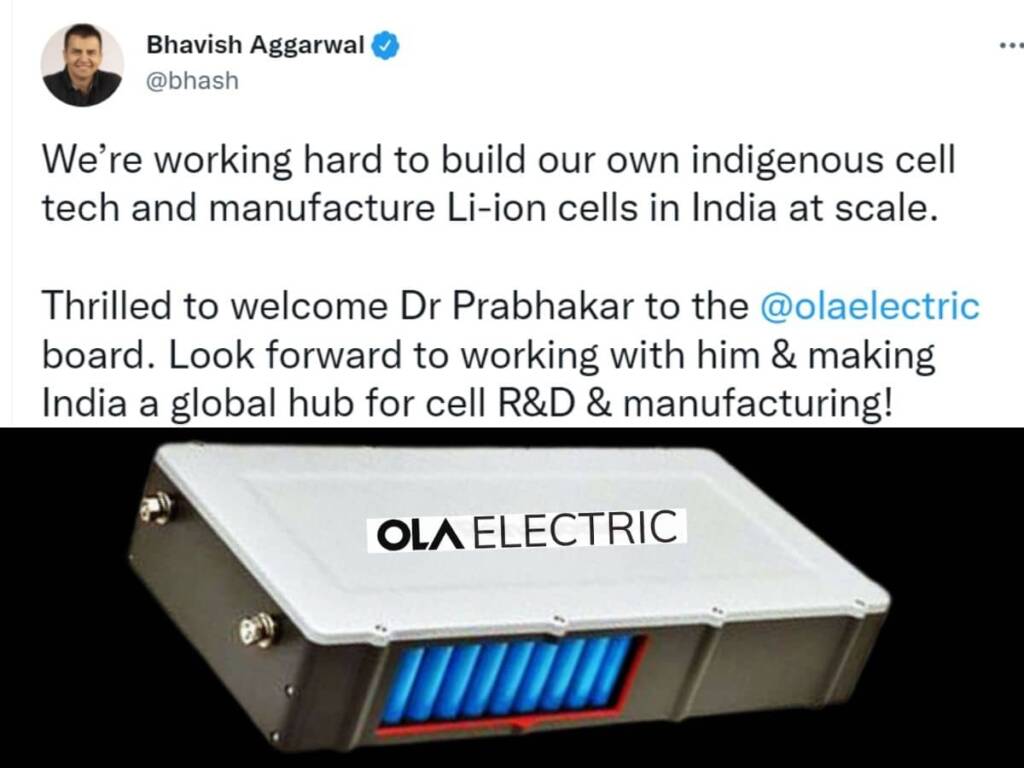 Ola electric is expected to set up a new plant in Bengaluru for battery manufacturing as well as electric scooters. Ola electric currently requires 40kWh of battery capacity to cater to its targeted 10 million electric scooters, and the rest 10 kWh is likely for Ola's upcoming electric cars.
This is a part of GOI's PLI scheme with $ 2.4 billion allocated funds. And as per reports, Ola's battery plant is likely to cost over a billion, so Ola is among the bidders for the scheme.
So what are your thoughts on Ola S1 Pro's price hike and the likely to be introduced battery plant? Let us know in the comment section.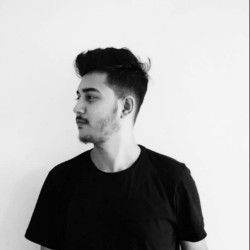 Latest posts by Abhishek Gautam
(see all)