Some of the major Electric vehicle manufacturers in India are Mahindra electric, tata motors, Hyundai Kona electric, Ashok Leyland, hero electric
FAME II and Niti Ayog aims to make India a major hub for electric vehicle production in the next five years.
The future of EVS in India is that the sales will jump to over 100 Million by 2030. A great time to invest in the electric vehicle sector is 2021 with electric vehicle manufacturers in India.
Major electric vehicle startups in India are Okinawa electric, Ather Energy, Tork Motors, Revolt Intellicorp, PuRE Energy, and SmartE, and some of the electric vehicle companies in India listed in nse.
The electric vehicle ecosystem is booming up lately in India on a very massive scale with the hands-on involvement of major automobile manufacturers from India. These alternative transport technologies are bringing a major shift in India from fossil-fueled cars to sustainable electric-powered cars. A reason which electric vehicle companies in Indian stock market are in trend.
Under the National Electric Mobility Mission Plan by the Government of India, the work on the make in India vision is at its fastest pace. It is a great opportunity for India to level up the EV game and boost the mass production of electric vehicles in India, as the world lost its interest in doing business with China to a great extent.
Are you wondering what are top 10 electric vehicle manufacturers in India by 2021?
Here is a list of top electric vehicle companies in india:
| Electric vehicle companies | Vehicles |
| --- | --- |
| Mahindra Electric | Mahindra e20 & e20 plus |
| Tata Motors | Nexon EV, Tigor EV |
| Hyundai Electric | Hyundai Kona Electric |
| Ashok Leyland Electric | iBus, Euro Bus, Hymus |
| Hero electric | Hero Photon, Hero nyx |
| BYD Olectra | Olectra bus |
| MG electric | MG ZS |
| Lohia Auto | E-Rickshaw |
Top electric vehicle manufacturers in India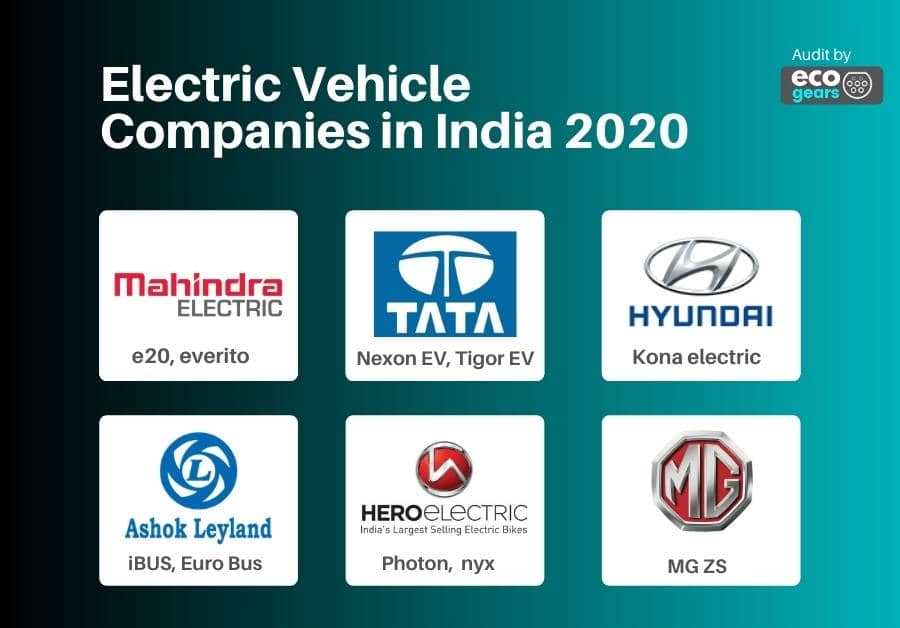 Future of electric vehicles in India.
The future of the electric vehicle sector in India is exponential as it is expected that sales will jump over 100 million by 2030. Electric car companies are booming due to this.
National electric mobility mission by the central government announced the FAME II (Faster Adoption and Manufacturing of (Hybrid) electric vehicle policy which aims at electrification of commercial vehicles by 60%, and 40% of private cars by the end of this decade.
Also the Government has decided the types of standard EV charger in India
Along with that the Electric Vehicle public charging stations business is de-licensed by the government of India, as an initiative of the Make in India scheme and subsidy on buying electric vehicles in India. Great time to invest in electric car companies stocks in India.
Government subsidy on electric vehicles
The government of India has set a subsidy of 1 lakh on buying an electric car in India. This was done with an aim to tackle the major barrier in owning an EV in India which was the Initial cost of buying. Specifically, in the state of Maharashtra after the subsidy was announced there was an exponential rise in the number of electric vehicle owners and electric car companies.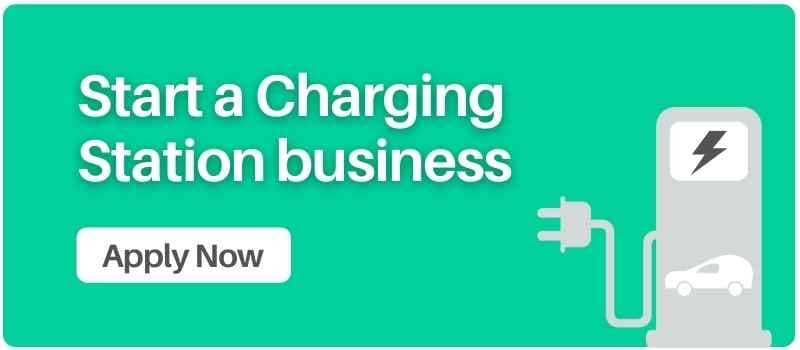 Along with that subsidies are allowed in the components of electric vehicle charging stations to improve the industry infrastructure. Electric vehicle companies share in the Indian stock market are finding their way in, and the electric vehicle company stocks in India are increasing.
Here is a list of top electric vehicle companies in India in 2021:
Electric vehicle companies in India:
1. Mahindra electric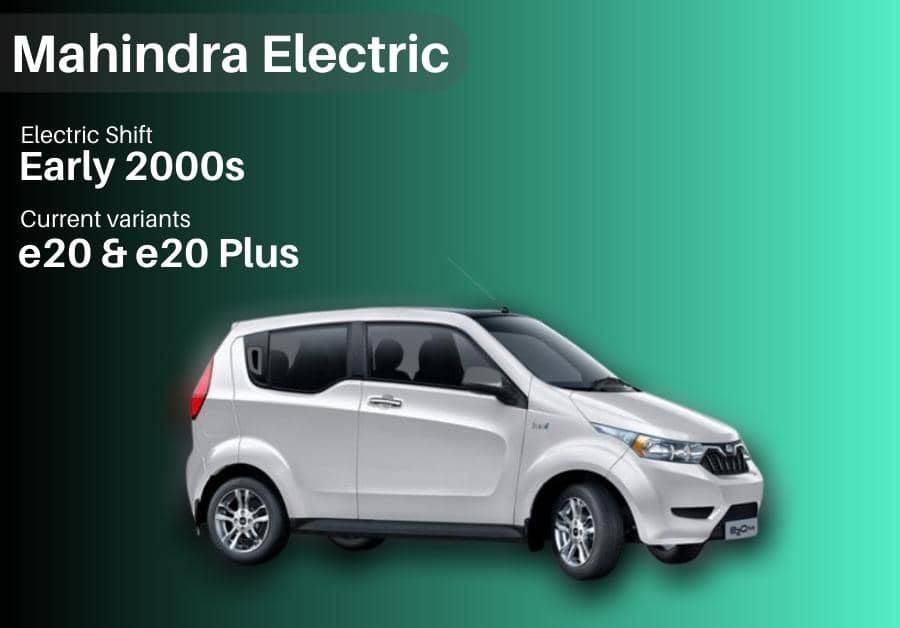 The first shift towards the electric vehicle ecosystem in India was initiated by Mahindra electric with the launch of India's first electric car Mahindra Reva in the early 2000s.
Over two decades Mahindra has differentiated into different electric commute segments like passengers and cargo. Offers different types of electric gears like e-rickshaw, electric vans. It operates its manufacturing unit in Bangalore producing enough electric gears to meet the ongoing surge of electric vehicles in India. Mahindra has made it's name in the top electric car companies list in India.
Mahindra recently tied up with different R&D sectors to start the manufacture of Electric car's batteries apart from electric vehicles. Mahindra launched its two new range of compact urban electric cars – Mahindra e2o and Mahindra e2o plus. Great opportunity for electric car companies stocks to invest in.
2. Tata motors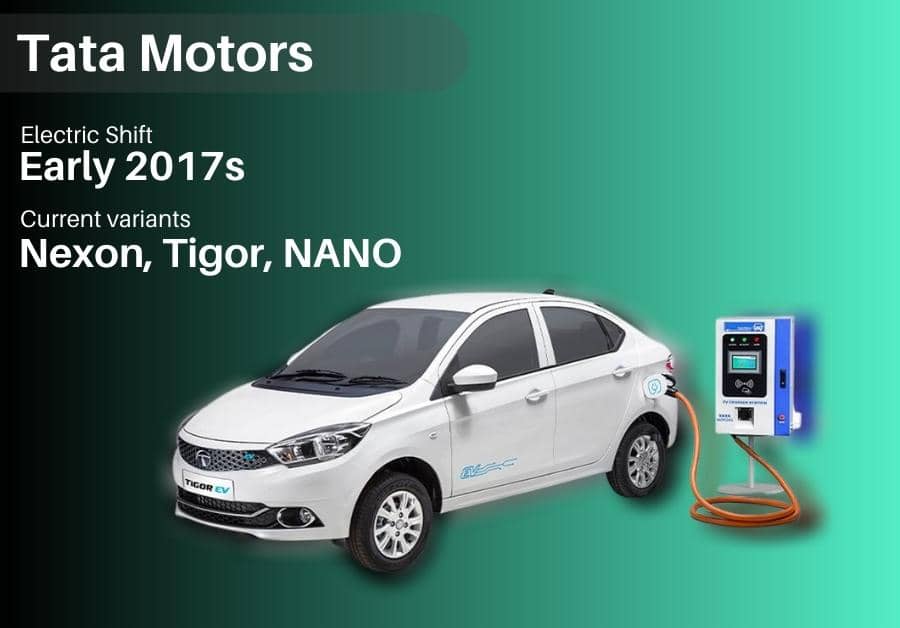 India's automotive giant tata motors has recently joined the race of sustainable mobility with its three electric cars, The Tigor EV, Nano EV, and the Tiago electric.
After the greatly loved Tata Nexon, the automobile giant has incorporated the state-of-the-art electric vehicle technology 'ZIPTRON', into a new electric vehicle of a kind, the Tata Nexon EV. The Tata EV comes with an ARAI approved range of 312 kms.
Tata is not just limited to the electric car company but some of the major electric utility vehicles, buses, trucks, and defense vehicles in India. Tata is continuously expanding its R&D in the electric vehicle sector not just in India but also across different countries. Launching EVs with highly advanced technologies like "ZIPTRON" and advanced BMS has taken the Indian EV space by storm.
Also, the electric car manufacturer has started the installation of electric vehicle charging station across India in order to develop the charging infrastructure and electric ecosystem.
Along with cars, TATA electric buses have dominated the market with high demands from the state transport unions, and the buses to be seen are expected to be around 300,000 by 2030. It makes tata a big player in the EV stocks list.
Some of the most run tata vehicles are Tata Tigor electric car, Ultra Electric bus, Starbus Hybrid Electric Buses.
3. Hyundai Kona electric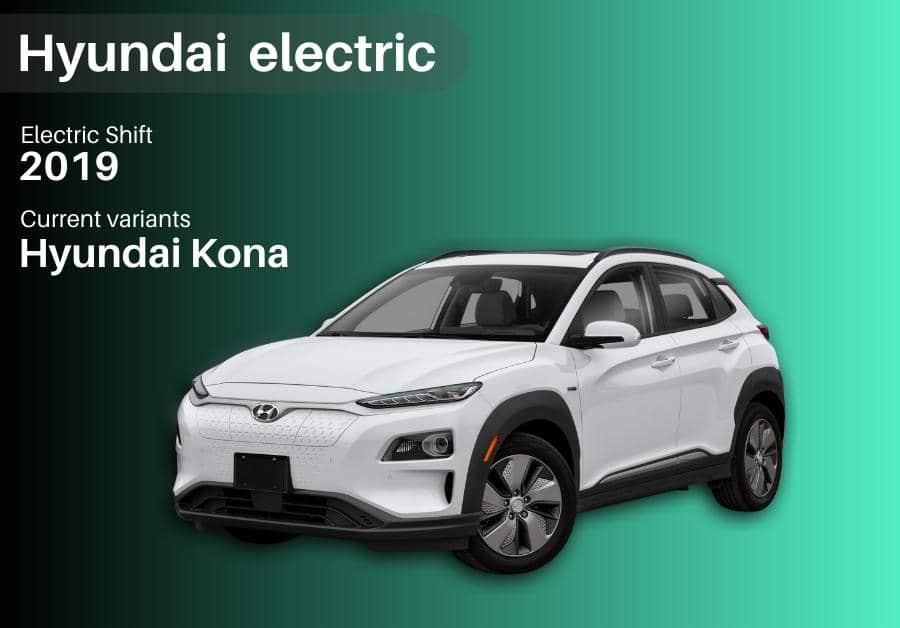 The new Hyundai Kona electric car in India is expected to be the best buying option in an Indian electric vehicle market that is susceptible to changes and pave its way towards the electric vehicle ecosystem in India.
The long-range electric car Hyundai Kona electric has made the dream of millions of Indians to travel between cities with zero emissions come true with a mileage range of 452kms making it one of the best electric cars 2020.
With an impressive kilometer range of 452 km in a single charge, fast charging can juice up the vehicle to an 80 percent charge in less than 57 minutes.
The company has set a Hyundai Kona Price at Rs 23.75 Lakhs Onwards (ex-showroom).
Currently, India doesn't have many EV charging stations. Hyundai just like other EV selling companies in India has promised an ecosystem of electric vehicles with widespread network electric vehicle charging stations across India. Also, the electric cars company aims at manufacturing electric vehicles according to Indian road conditions.
4. Ashok Leyland electric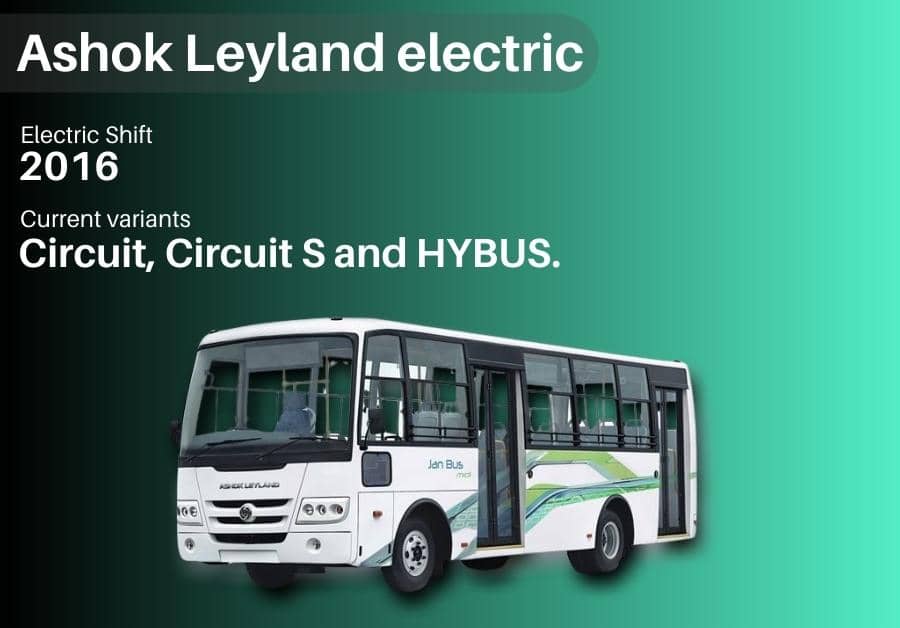 Being an industry leader in buses, trucks and defense vehicles in India, Ashok Leyland developed electric buses with flash-charge technology for faster charging while the passenger gets in and out of the vehicle.
The company launched several electric bus variants in India like the Circuit, Circuit S, and HYBUS.
Being ideal for Indian conditions Ashok Leyland electric has tied up its R&D with Sun mobility to develop vehicles with faster-charging technologies.
After introducing the battery swapping technology, Ashok Leyland electric bus now aims to tackle the problem of loading capacity and charging time of electric vehicles.
Ashok Leyland will manufacture electric buses with ABB's TOSA technology which flash-charges the buses in minutes. This is done with a view of expanding the greener electric bus ecosystem in India.
5. Hero electric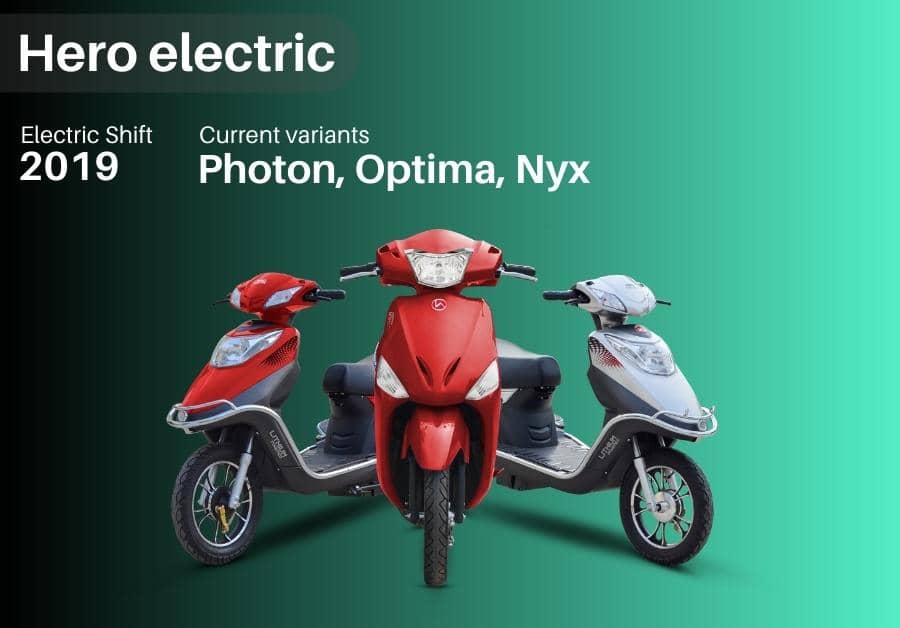 Hero Electric is the dominant in the electric vehicle sector in the two-wheeler segment with a wide range of electric scooters such as Hero electric Photon, Hero flash la, Hero optima, and hero electric Nyx.
Hero electric has lead the sector in both electric two-wheelers and electric three-wheelers. Hero aims at transforming the city commute in a sustainable way with affordable electric scooters.
Hero electric price starts at 39,990 and further depends on the 5 model types it offers and range.
Hero Electric has tied up with e-mobility startup eBikeGO to deliver vehicles with high-end technologies and wider support availability pan India.
6. BYD Olectra electric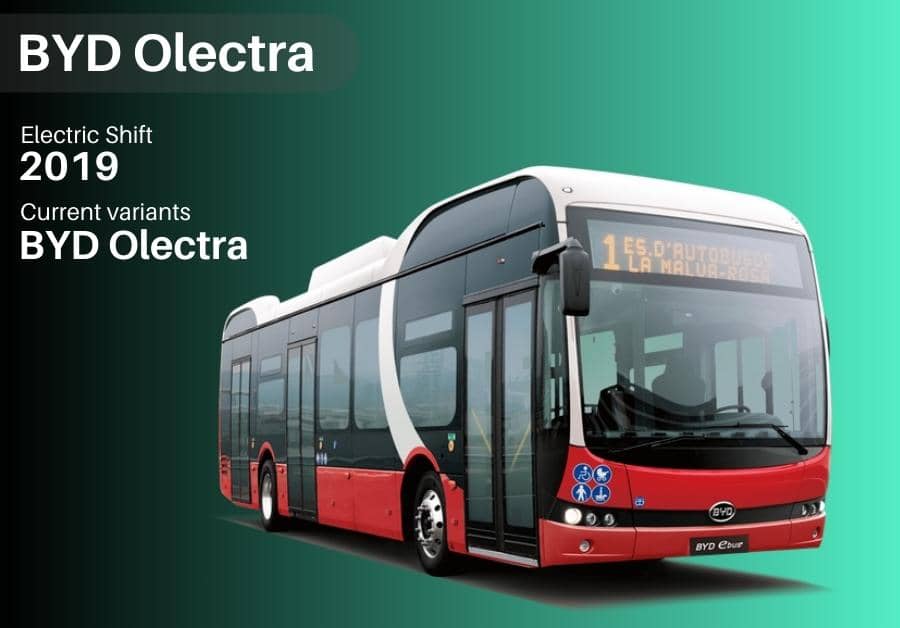 BYD, the largest electric bus manufacturer worldwide, has formed a strategic partnership with Olectra Greentech to increase the production of electric buses in India to 5,000 vehicles a year from the 2,000 that are now built. Currently, there are no BYD electric cars in India.
Currently, there are roughly 200 BYD – Olectra bus units in operation in India today.
Nearly 40 electric buses are currently running in Telangana state which are supplied by BYD Olectra. Expanding its electric bus lineup in Hyderabad, Pune, Telangana and Delhi the company aims to develop sustainable electric mobility across India.
7. Lohia Auto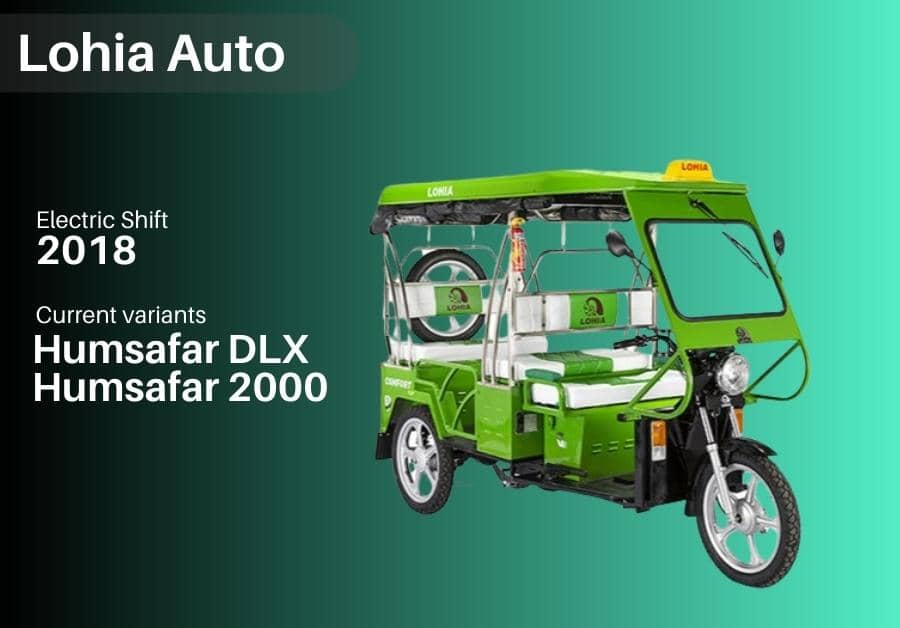 Lohia Auto is the market leader in the electric rickshaw segment in India. E-rickshaw was the first form of sustainable vehicle to dominate the electric vehicle sector in India, the reason why there are ample electric vehicle manufacturers in India.
Some of the notable names include ather energies, Okinawa electric, and TVS electric. Lohia auto expanded its electric vehicle segment to electric scooters and Lohia auto 3 wheelers with better load capacity and range when compared to others in the market.
The company kept the Lohia auto price affordable and due to which the Lohia auto sales have skyrocketed in recent years.
8. MG Motors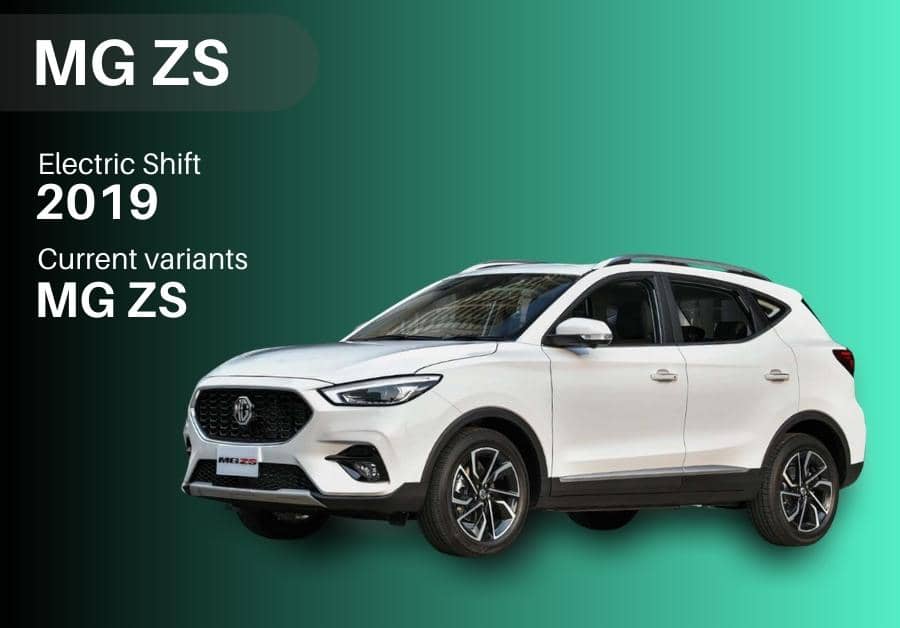 After the launch of hector, the brand MG ZS, has set itself a standard and any vehicle they launch is expected to have great features.
Also seeing that the number of vehicles being sold ZS is told as one of the best electric cars to buy in India with a jaw-dropping range of 343 km in a full charge. Cars from MG Motors have a price range of 20-23 lakhs.
It is the first electric car from the brand MG in India, which received a great response in a very short span of time.
MG Motors claims to offer a free charger installed at the customer's desired location by eChargeBays.
WANT TO INSTALL A CHARGING STATION ? See guide here:
Electric vehicle startup companies in India
It is very high time for us to go green and adopt sustainable ways of mobility. The transition from fossil-fueled vehicles to clean electric vehicles is the prime demand of the decade.
READ MORE: Top 10 electric cars in India 2021
Seeing the ongoing rollout of electric vehicles by bigger EV giants, many startups have come up to support the wise cause and create an electric ecosystem in India. This surge in EVs has skyrocketed the EV stocks list in India.
Some of the electric vehicle startup companies in India are :
| Electric vehicle startup India | Model name |
| --- | --- |
| Okinawa electric | Okinawa praise |
| Tork Motors | TX6 electric bike |
| Ather energy | Ather 340 & 450X |
| Revolt Intellicorp | Revolt scooter |
| PURE Energy | PURE EV |
| SmartE | SmartE 3-wheelers |
| Ultraviolette Automotive | F77 electric bike |
| Yulu Bikes | Electric rental scooters |
Top electric vehicle startups in India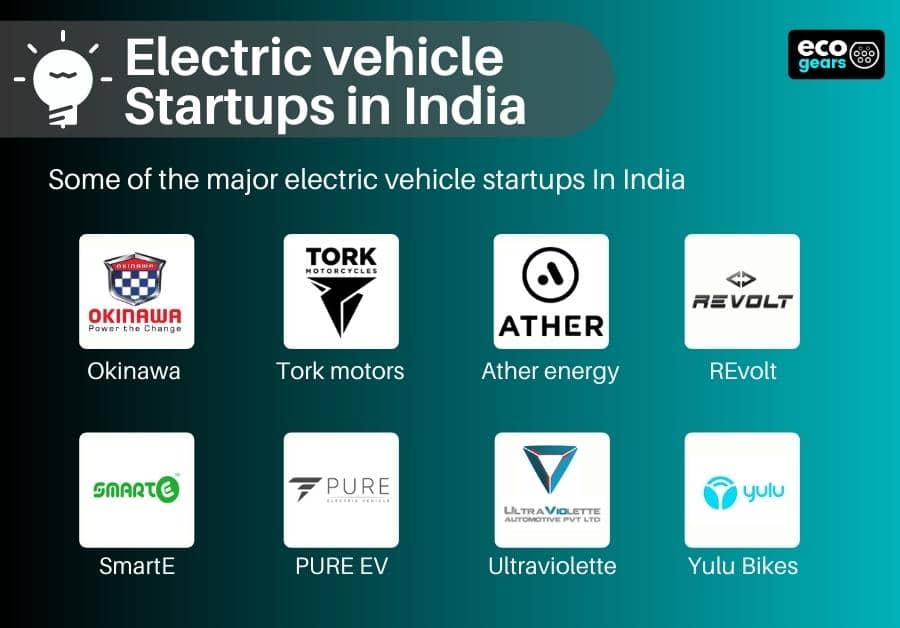 Future of electric vehicles in India is in safe hands with highly advanced EV startups.
As per the FAME II and Niti Ayog, the EV industry is expected to reach around 3 billion by 2030, for which startups are taking the opportunity to get into the race.
As per the government officials forecasted the potential of India in becoming the fourth-largest EV market over the next decade many EV startups are booming up recently in the electric vehicle sector. We discuss here the list of electric vehicle startups in India making a big name in EV industry.
Here are some of the electric vehicle startups in India making their mark in the Indian electric ecosystem:
1. Okinawa electric
Okinawa electric is one of the biggest Indian electric two-wheeler manufacturing companies in India. Okinawa was founded in 2015 by Jeetender Sharma and Rupali Sharma which has its manufacturing unit in Bhiwadi, Rajasthan.
Okinawa Electric aims to bring forth a sustainable electric commute in India with its wide range of electric scooter variants like Okinawa I praise, Okinawa lite, Okinawa praise pro, and Okinawa ridge.
Okinawa electric scooter price in India starts from Rs 38,990 to 1.17 lakh.
The Most economical Okinawa bike available in India is Okinawa R30 which is priced at ₹ 58,089.
2. Tork motors
Tork motors is the very first Indian electric bike startup founded by Kapil Shelke in September 2016. The startup first rolled out a prototype that could not fit the Indian market. It tops in the list of electric vehicle startups in India.
The startup recently launched its TX6 electric motorcycle And the Tork motors electric bike price is set at 1.25 lakhs.
After raising electric vehicle startup funding from major automobile giants of India, now Ratan Tata has decided to invest in the startup to boost the entrepreneurial spirit towards the EV sector in India.
After knowing the industrial and personal affinity of major investor Rata Tata towards the EV sector, one can expect to see a major lineup of advanced electric bikes from the startup and a lot of Tork motors careers.
3. Ather energy
Ather Energy is an Indian-based electric vehicle startup founded by Tarun Mehta and Swapnil Jain in 2013. The startup aims at developing high end Ather electric scooters for city usage to bust most of the myths towards EVs in India.
The company launched its 340 & 450X Ather electric scooters. The Ather electric scooter's priced at Rs 1.2 lakhs for the Ather 340 variant and Rs 1.46 lakhs for the 450X variant.
Ather also introduced its electric vehicle charging infrastructure called Athergrid, which offers ONE PLAN with free access to charging stations and maintenance. EV stocks list of Ather is rising as well.
4. Revolt intellicorp
Revolt IntelliCorp is an electric bike company founded by Rahul Sharma in April 2019. Revolt electric bikes have several hi-tech features for rider safety and comfortability like a digital display and Bluetooth connectivity.
The manufacturing facility in Maneswar has a production capacity of 1.4 lakhs units per year.
5. PURE Energy EV
Pure energy is an electric scooter startup by Dr. Nishant Dongari and Rohit Vadera-IIT Bombay graduates who took the electric scooter segment by storm.
Apart from being a manufacturer of high-performance electric scooters the company also provides high-performance Lithium-Ion battery packs. The electric vehicle battery manufacturer in India is on its way to make a mark.
Presently there is almost 12 Pure EV showroom in India, and the Pure EV company aims to expand it to more than 200 dealerships by the end of 2021.
6. SmartE
SmartE is India's largest electric three-wheeler startup company based in Delhi. SmartE IS an affordable means of shared transportation for the short urban commute while reducing the carbon footprint and shared responsibility towards the environment.
SmartE EV claims to have successfully completed more than 40 million green rides across India with more than 1000+ Electric three-wheelers.
SmartE EV company is expected to expand its services across 50 metro stations in the near future.
7. Ultraviolette Automotive
Ultraviolette Automotive is a high-performance electric bike manufacturer founded in the year 2016 is leading the market with electric vehicles aiming to minimize the range anxiety of EVs in India.
Ultraviolette Automotive launched its first F77 electric bike in October 2020. The Ultraviolette Electric bike is priced at Rs 3 lakhs.
8. Yulu Bikes
Yulu bike is a rental basis electric vehicle startup for short urban trips. The company aims to solve the traffic congestion and pollution in cities with a wide network of electric two-wheelers for rent and proper charging infrastructure. Major electric vehicle startups in Bangalore
Yulu bikes have extended its services in Major metros like New Delhi, Bengaluru, Mumbai, Pune, and Bhubaneswar.
In this blog, we have discussed the top electric vehicle companies in India and a major list of electric vehicle startups in India who are making a way into the electric vehicle ecosystem in India. The forecasted number in the sale of the electric vehicle raised exponentially post-pandemic, which clearly states the urge of Indians towards battery electric vehicles and alternative fuel vehicles.
Ecogears take
Seeing the ongoing surge in battery electric vehicles and major hybrid electric vehicles in India is a great reason to invest in the electric vehicle sector for both the government and individuals. The growth of electric vehicle startups in India and electric vehicle battery startups shows the entrepreneurial spirit towards the EV sector in India. The government currently is highly interested in developing the infrastructure and standards for the electric vehicle sector in India.
What are your thoughts on the rapidly booming electric ecosystem in India, do let us know in the comment section.
Which companies are making electric cars in India?
Some of the major electric car companies in India are Mahindra electric, Tata motors, Hero electric, Ashok leyland, BYD and Hyundai electric.
Which is the best electric car available in India?
Tata nexon EV is by far the best electric car in India.
Which EV companies listed in Indian stock exchanges?
Some EV companies listed in Indian share market are Mahindra electric, Hyundai, hero electric, Ashok leyland and some major EV startups.
Who will be making the electric cars in India?
Currently, electric vehicles are made by major automotive companies like Mahindra, hero, Tata motors and some of the startups like Okinawa, Tork motors, Ather energy
What is the investment for electric cars dealerships in India?
Investment for electric car dealership in India will be around 30-40 lakhs based on the company one wants to choose.
What are some of the electric vehicle startups in India?
The major electric vehicle startup in India are Ather energy, Okinawa electric, Tork motors, PURE EV, Ultraviolette Automotive and Yulu bikes
What are electric vehicle penny stocks?
Best electric vehicle penny stocks right now is from Maruti Suzuki and Exide batteries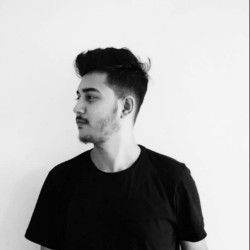 Latest posts by Abhishek Gautam
(see all)