A masterstroke of sorts developed and hosted by NITI Aayog, the Indian government launched E-Amrit, an EV awareness portal under a collaborative knowledge exchange program with the UK government.
Highlights:
Taking a major step to encourage a transition towards electric vehicles, India launched its first government-run EV awareness portal, E-Amrit, at the United Nations Conference of Parties (COP26) summit held in Glasgow on November 10, 2021.
The portal is developed and hosted by NITI Aayog, a public policy think tank of the Indian government, which was established aiming to achieve sustainable development goals. NITI Aayog Adviser Sudhendu Jyoti Sinha and the UK High-Level Climate Action Champion Nigel Topping attended the launch of E-Amrit.
According to the statement by the NITI Aayog, E-Amrit (Accelerated e-Mobility Revolution for India's Transportation) s a one-stop destination for all information on electric vehicles–busting myths around the adoption of EVs, their purchase, investment opportunities, policies, and subsidies. Also, E-Amrit will run in balance with the other initiatives taken up by the Centre to raise awareness pertaining to electric vehicles and further educating consumers on the benefits of the adoption of EVs.
On the launch, NITI AAYOG CEO, Amitabh Kant tweeted, "It was a pleasure to be part of a panel discussion on Decarbonizing Transport at COP26 alongside the Transport Ministers of Colombia and Uganda, the heads of the German Federal Ministries of Economic Cooperation and Environment as well as colleagues from ITF, Agora and GIZ."
The web portal is accessible through different devices such as PCs, mobile phones, tablets, screen readers. NITI Aayog is also working on adding more features and innovative tools to make the E-Amrit portal more interactive and user-friendly.
Links to Indian Electric Vehicles Website
Significance of E-Amrit Portal
E-Amrit was launched with an aim to accelerate the government's initiatives to educate and sensitize consumers on the benefits of adopting electric vehicles. It aims to change and influence millions of users and stakeholders by educating them on the benefits of decarbonization of transport in order to achieve the creation of an ecosystem for the early adoption of electric vehicles. E-Amrit has been built to address the needs and priorities of future electric vehicle users, early electric vehicle adopters, academia, government, industry, research community, and businesses.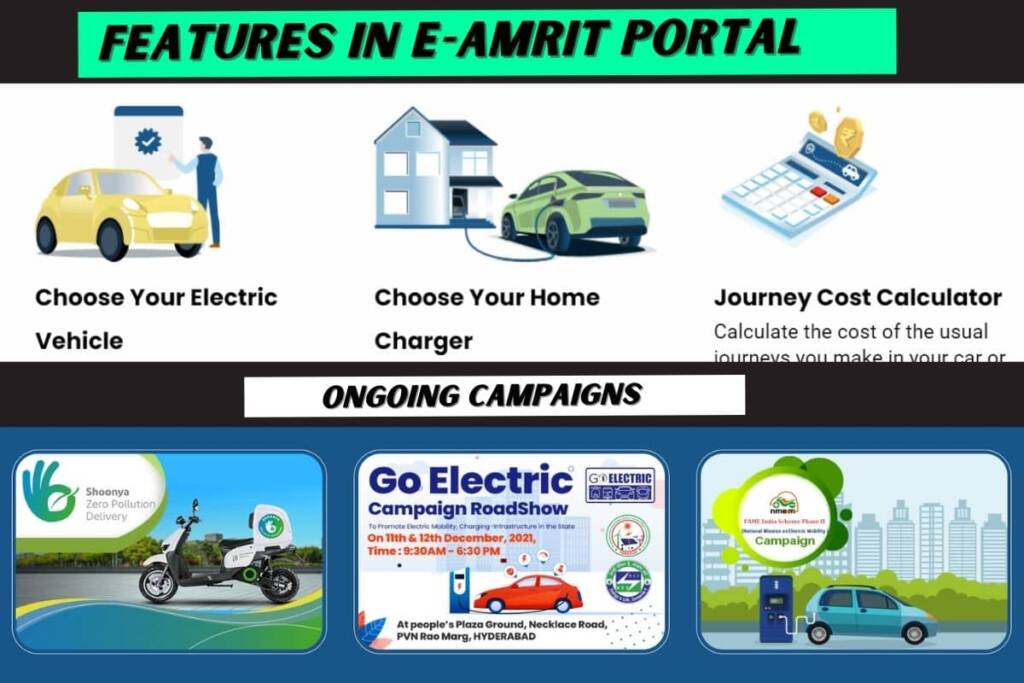 The E-Amrit portal aims to assist electric vehicle users or electric vehicle adopters to understand the benefits of shifting from fuel-based vehicles to electric vehicles. Some of the highlights of the portal are:
Switching to electric vehicles by offering insights on electric vehicle technologies, insurance options, types of electric vehicles, and financing options.
Setting up the electric vehicle or associated enterprise by means of providing details on key initiatives taken by central and state governments.
Assessing benefits of electric vehicles with designed tools for determining users' savings with electric vehicles as compared to petrol or diesel vehicles.
Getting all information regarding the Indian electric vehicle market and industry.
Features of E-Amrit Portal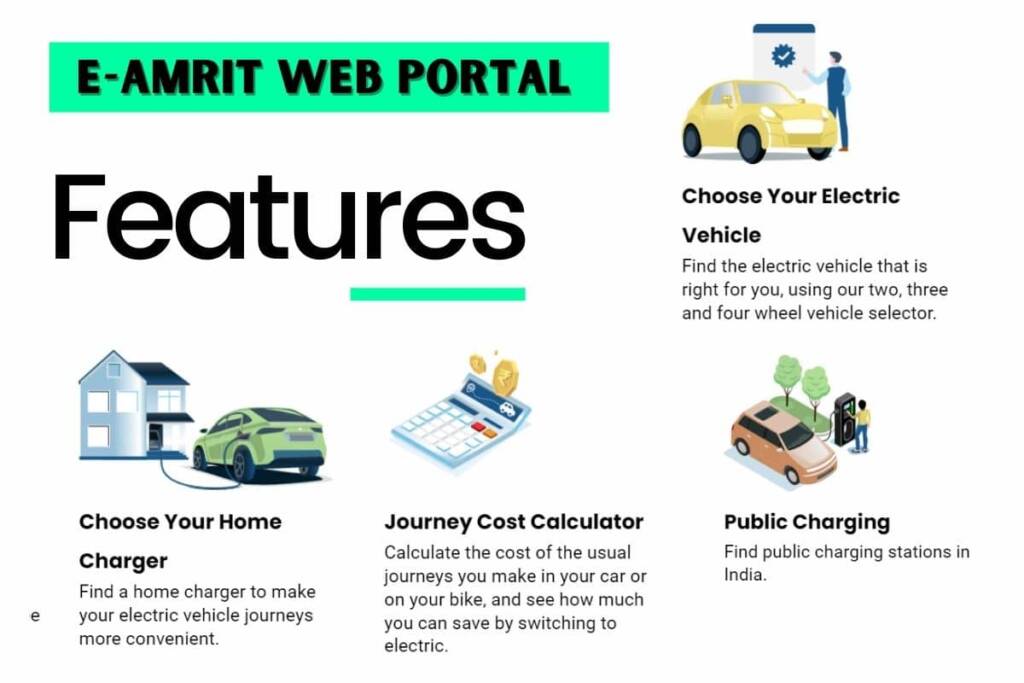 The E-Amrit portal aims to assist electric vehicle users or people willing to adopt electric vehicles by offering access to information about electric vehicles. Some key features of the portal are:
Feasibility research on switching to EV – Switching to electric vehicles by offering insights about electric vehicle technologies, types of electric vehicles, insurance options, and financing options.
Knowledge repository on EV – Set up the electric vehicle or associated enterprise by providing insights on the key initiatives taken by central and state governments.
Tools to calculate EV experience – Assess the benefits of electric vehicles with uniquely designed tools to determine the users' savings with electric vehicles compared to petrol/diesel vehicles.
Information about EV businesses – Providing business models for manufacturers, EV charging station locator, cost, and the key developments driving the e-mobility ecosystem forward.
E-Amrit: Information & Awareness
There is no doubt that there is plenty of information on the internet, but relying on various news sources, vague information and varied reviews is not a clean way of obtaining details. The E-Amrit portal comes into play here – by providing a one-stop destination for all information required on the electronic vehicle industry. India, a country where a large portion of oil consumption goes to the transport industry, E-Amrit's education campaign on the benefits of EV has a chance on making a big change in adopting a cleaner and better alternative.
Though the portal is a bit bare, with sparse information on safety issues, battery systems, or the challenges around battery replacement and recycling, E-Amrit is still a good start. Despite global adoption and campaigns to promote EV visibility, a huge hurdle has been a lack of public awareness. The COP26 summit has shown the world that relying on summits and policymakers for a clean environment is no longer reliable. Consumers have to get involved. E-Amrit was launched with an aim to do just that – getting the consumers involved.
E-Amrit and India's Revolution Aspirations
Recently, the Indian government has been taking proactive measures for the promotion of EVs. Schemes like FAME (Faster Adoption and Manufacturing of (Hybrid &) Electric Vehicles) and PLI (Production-Linked Incentive) are also playing an important role in helping the transition to EVs from fuel-based vehicles.
Though India has been lagging behind in achieving its climate goals, think tank NITI Aayog has underlined its aspirations that 70 percent of all commercial cars, 30 percent of private cars, 40 percent of buses, and 80 percent of two-wheeler and three-wheeler sales would be electric by the year 2030. A study by CEEW Centre for Energy Finance stated that this EV ambition is expected to create a market worth Rs. 14.42 lakh crore by 2030. In addition to this, they also added that an investment of Rs. 12.5 lakh crore would be required to achieve this goal.
Prime Minister Narendra Modi presented his 5 Amrit-Tatva values at the COP26 summit with a promise of reducing carbon emissions by the year 2030. The five values entail:
Net-zero by 2070
500GW of non-fossil fuels by 2030
Cutting carbon emissions by 1 billion tones
Reducing carbon intensity by 45%
Climate finance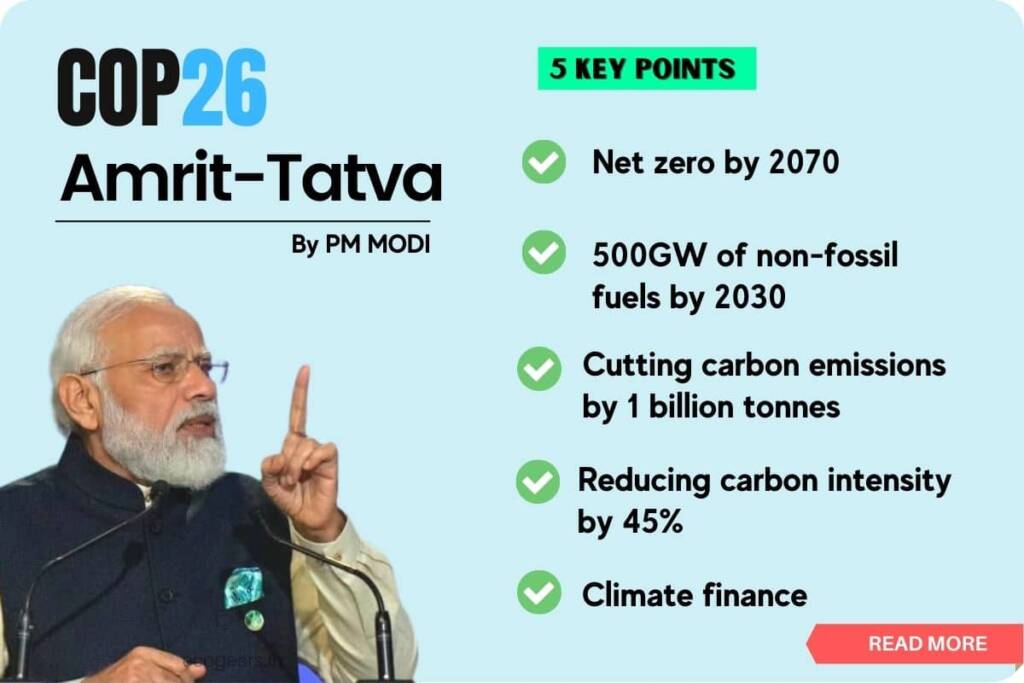 India aspires to have 175 GW of installed Renewable Energy (RE) capacity by 2022 and up to 450 GW by 2030. Grid infrastructure is currently present in India for the next 2-3 years for EV to be adopted. They will eventually need to be upgraded and monitored by smart IoT-enabled equipment, such as EV charging.
India has been driving transformative mobility through schemes like FAME, PLI for advanced chemistry cell ACC battery storage, dedicated freight corridors, high-speed regional rails, and e-highways. The future of mobility should be shared, clean, convenient, connected and cutting-edge centered on public transport & clean vehicles.
READ MORE: Financial analysis of electric vehicle market in India | State-wise electric vehicle subsidies in India
Challenges for the EV Dynamics
After having fought to maintain coal use at the COP26 summit, India has been setting faraway targets for cutting emissions. But the launch of E-Amrit shows that the government is on the right path to an e-mobility revolution, which it aims to achieve by building awareness and boosting consumer knowledge.
Consumers should know more about their options, and providing them with necessary information on the efficiency of EVs, fossil-fuel-driven habits could be considered on the decline in the foreseeable future. Availability of technology is no longer a big hindrance, but getting potential buyers equipped with tools to make informed decisions can prove to be a hurdle that the government has to jump across.
To achieve the vision of a transition to e-mobility, India's has to also focus on a robust EV charging infrastructure. One of the setbacks for the EV industry is that consumers face range anxiety, the fear of the battery running out before reaching the destination. To ensure a seamless EV ownership experience, a widespread network of EV charging networks is necessary to get rid of range anxiety for the consumers. EV charging infrastructure can be set up at private residences, public utilities such as petrol and CNG pumps, and in the parking facilities of commercial establishments.
In revised guidelines for charging infrastructure, the Ministry of Power has advised that a charging station must be present in a grid of 3 km and at every 25 km on both sides of highways. A collaboration of power distribution companies (DISCOMs), urban development authorities, transport departments, and the charging station operations is necessary to ensure a strong public charging infrastructure.
Another possible setback that has to be taken into account is the significant load on the power grids due to the increase in the number of EV charging stations. This may require an upgrade of the existing infrastructure. A recycling ecosystem for the management of battery waste will be required. Current e-waste policies are needed to be strengthened to ensure that cities would not turn into a dumping ground for e-waste.
In India, EVs are still at an emerging stage, so once you decide to make a move to an electric vehicle, make sure to ask the appropriate questions. This e-mobility revolution has the potential to reduce carbon emissions significantly, improving the health of the ecosystem and helping India transform into one of the greener and cleaner nations.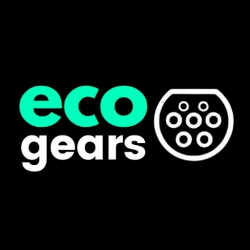 Latest posts by ecogears Desk
(see all)