While unveiling Bounce Infinity E1, the first electric scooter of the company, the CEO talked about raising funds of $200 million to scale up the electric vehicle production in India.
Highlights:
Bounce to raise $200 to lift up EV business in India.
The company aims to sell 1-2 million EVs yearly with a vision of EV market domination by 2030.
With the recent partnership with NoBroker.com, the company aims to get over a million NoBroker.com locations for battery swapping.
Bengaluru, 14th December 2021: During the launch of the first electric vehicle, Bounce Infinity E1, the Bengaluru-based mobility firm talked about its plans to raise funds of $200 Million to lift up its electric vehicle business. 
CEO and  Co-founder, Vivekananda Hallekare said, "Fortunately, we are well-funded. We have the backing of our investors. We are also talking to new investors. But our vision is to make EV mainstream in India, This business will need at least a couple of billion dollars to take it to the scale we have in mind."
Founded in 2014, Bounce became the world's fastest-growing bike-sharing firm after five years in 2019. But with the recent increase of competition in the Indian market with the electric mobility giants like Hero Electric, Ola electric, Ather energy, etc. it's tough for any firm to sustain itself in the market, hence an amount of two hundred Million dollars will help the enterprise to scale up its electric mobility business and produce some versatile Bonce infinity scooter.
While talking about its plans for the next few years, Mr. Hallekare said, "In the next few years, if we can have a battery-swapping infrastructure for 2 million scooters and if we can sell at least 1-2 million scooters on an annual basis, it's a good success story for us."
READ MORE: Top electric scooters in India to buy in 2022.
Top upcoming electric scooters in India
With the rise of electric vehicles in the Indian market, the company is currently in discussion to make another plant in South India. The primary focus of the company is to have a capacity of around 500,000 bounce infinity scooters in the plant.
With an aim of accessing over 1 lakh NoBroker.com locations across India for bounce infinity swapping batteries, Bounce recently partnered with NoBroker.com to develop the battery swapping infrastructure in India. While talking about the partnership Mr. Hallekare said, "We are excited to partner with NoBroker, on our mission to enable swapping infra for a million scooters in India. This partnership will offer a seamless swapping experience for consumers and enable us to reach our goals faster."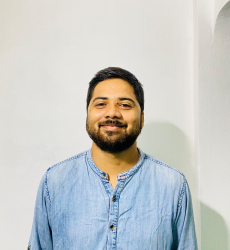 Latest posts by Himalaya Dhungel
(see all)