If you want to fully utilize the two main features of Tesla – DashCam and Sentry mode, going with a regular USB stick can be very limiting. Tesla's Sentry mode fills up storage pretty fast, while regularly cleaning up space can be very tedious work. So if you plan to use Sentry mode and DashCam regularly you need to plug in some external storage like SSD for Tesla models to take full advantage of the provided features. 
Now the question arises, how much external storage do you need for Tesla sentry cam and DashCam?
By calculation, With an SSD higher than 512 GB, one can fully utilize the provided features of Tesla.
Here we have listed some of the best SSD/USB storage for various Tesla models' DashCam and Sentry mode.
Best SSD/USB drive for Tesla model Sentry mode and DashCam:
Samsung T7 Portable SSD 500GB
SanDisk 500GB extreme PRO Portable external SSD
WD 512GB My Passport SSD Portable Storage
Crucial X8 1TB Portable SSD
UGreen SD reader
SanDisk microSD reader
Samsung PRO Endurance 128GB
Samsung BAR Plus 64GB USB Drive
Kingston 128GB DataTraveler Elite
Transcend 128GB JetFlash
1. Samsung T7 Portable SSD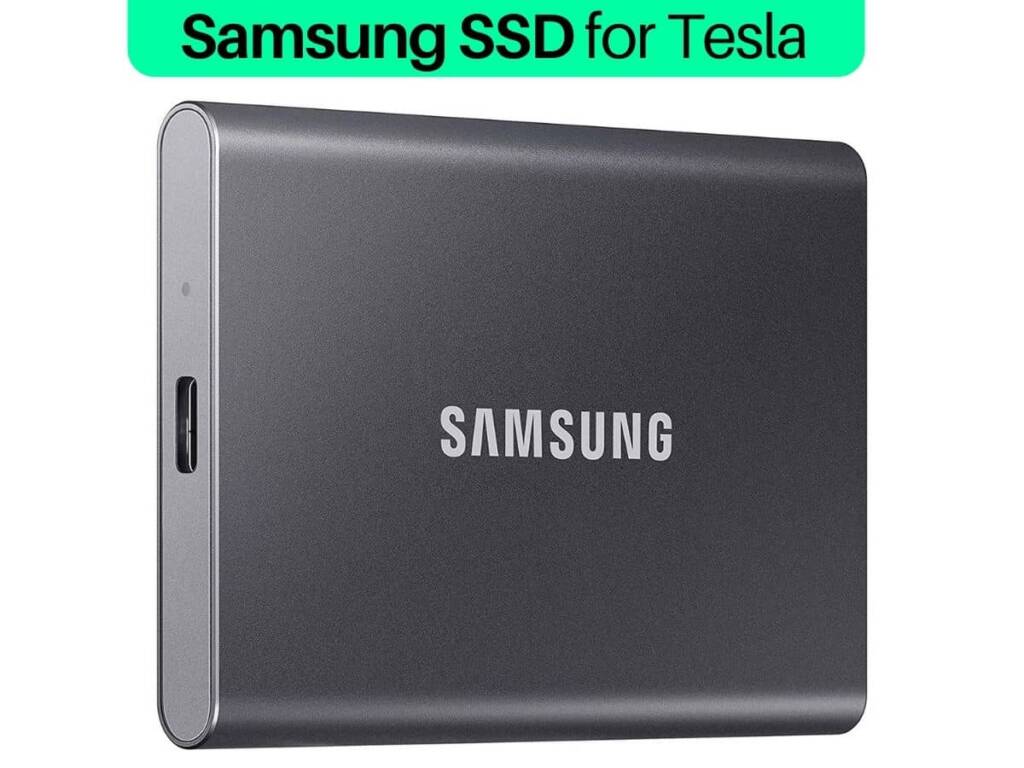 Ecogears highly recommends Samsung T7 Portable SSD for Tesla considering its incredible read and write speed of enhanced second-generation USB 3.2. The Samsung's T7 SSD has no moving parts like HDD, so it is more resistant to shock and a perfect fit for your electric car. 
With ePCM technology, the SSD features unique dynamic heat control functionality for fast speed transfers, so that the SSD stays at an optimal temperature. The size of the SSD fits perfectly in any of the third-party Tesla USB hubs making it the best SSD for Tesla model 3 and Model Y.
You can purchase it from amazon(Great reviews) by checking the price below:
2. SanDisk PRO Portable external SSD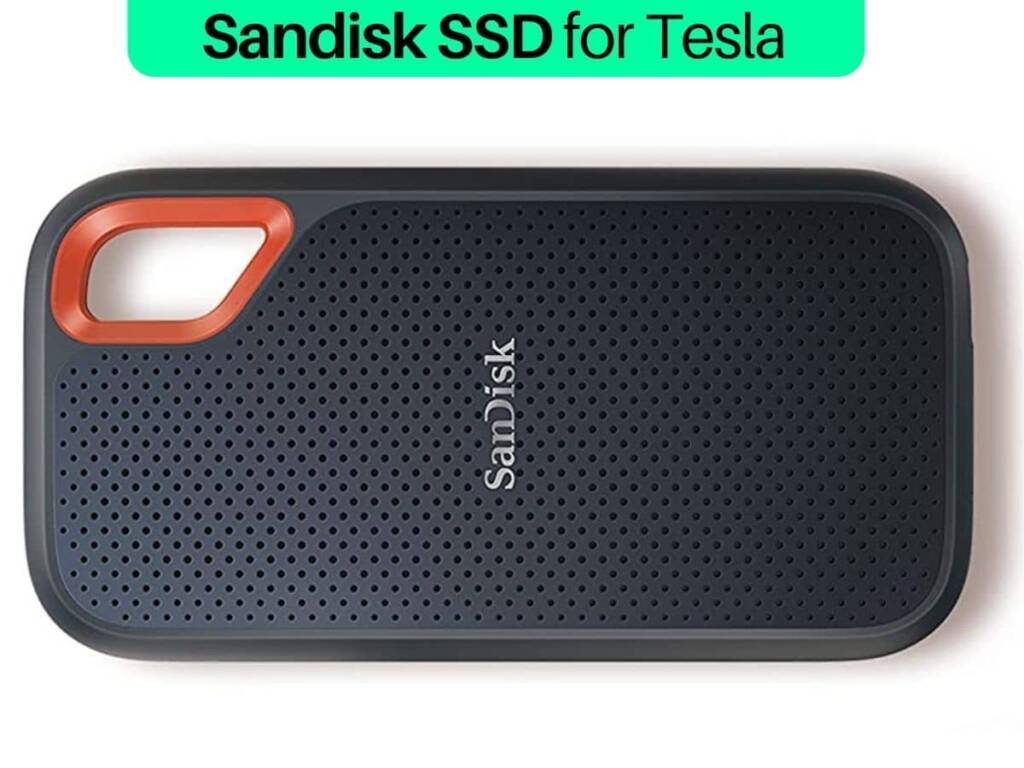 Another great option to go for, The SanDisk 500GB portable SSD is a great pick for your Tesla model. With shock, drop water, and dust resistance, the SSD for Tesla is perfect to be plugged into Tesla electric car to fully enjoy the features of Sentry mode. Built with NVMe solid-state performance, the SSD for Tesla offers 1050MB/s read and 1000MB/s write speed. 
The aluminum body is built for shockproof and heat control as it dissipates heat to keep the SSD for Tesla Sentry mode intact during extreme conditions.
3. WD 512GB My Passport SSD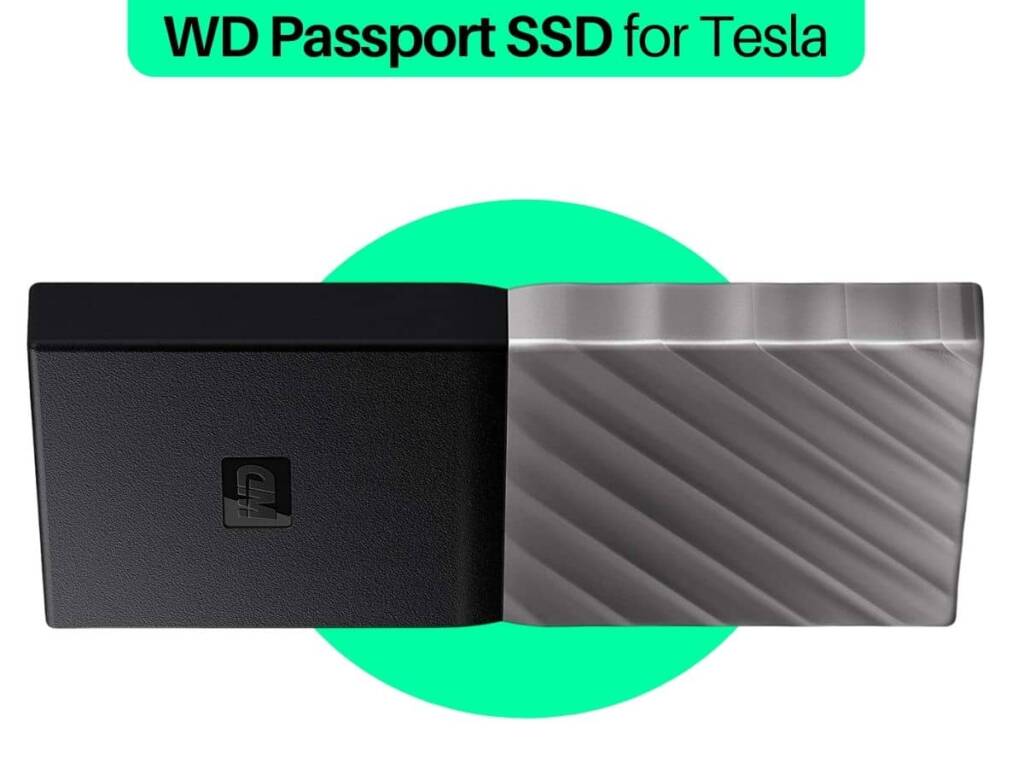 A pioneer in Solid State Drives, Western DIgital's SSD storage is a perfect fit as SSD for Sentry mode and DasCam feature in various Tesla models. The WD 512GB passport SSD is a perfect fit for Tesla Model 3 and Model Y because of its blazing fast read speed of 540MB/s. 
The feature of Password protection also makes it alluring for a Tesla owner with a relief of Data protection. The WD 512GB SSD Portable Storage comes with a unique feature of Automatic backup, which states that with the WD reliability one can easily restore the important files and documents which were either lost or deleted.
4. Crucial X8 1TB Portable SSD for Tesla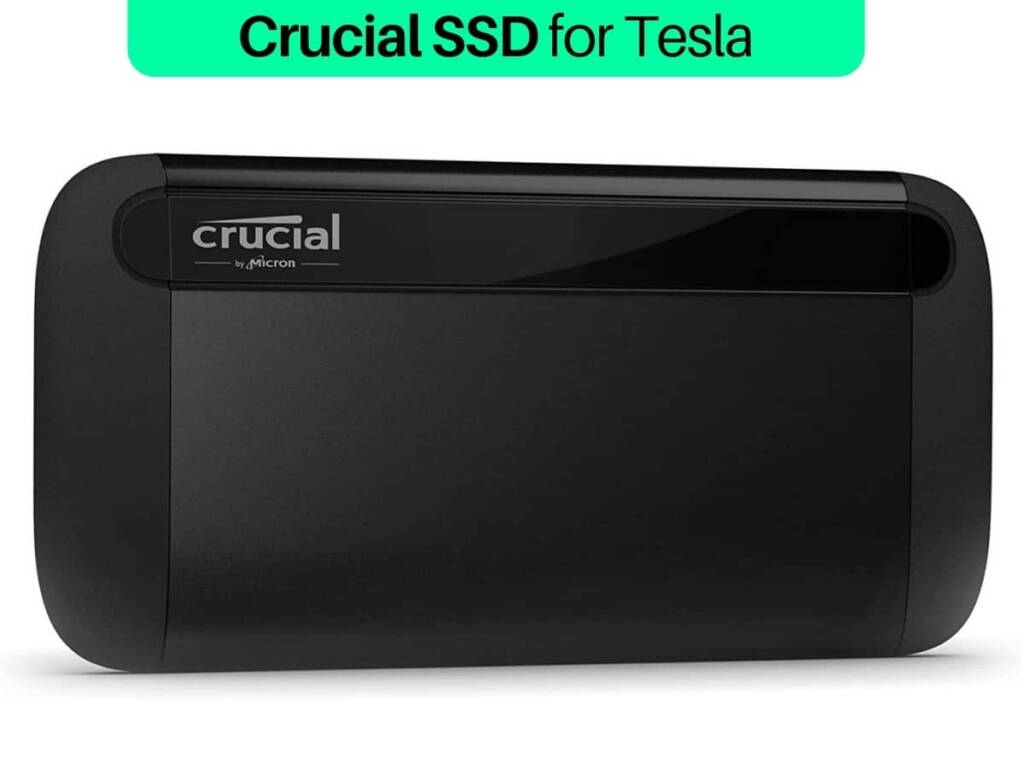 One of the best picks in SSD for TeslaCam and Sentry Mode, the Crucial X8 portable SSD comes with a bigger 1 TB storage at the same price range as others offering 512GB. It offers an incredible reading speed of 1050MB/s for faster transfer and usage. The aluminum exterior provides excellent drop-proof, shock and vibration proof, perfect fit to be used in any compatible Tesla models for expanding the storage.
After tests, we found the Crucial X8 Portable SSD to be 1.8x faster than other best SSDs for Tesla and 7.5x faster than other portable HDDs.
Best adapter – microSD card for Tesla Models
Another popular way to expand storage in your Tesla for Sentry and DashCam is to get a micro SD card for Tesla and Card reader. There are many options in SD card readers ranging from cheaper ones to multi-port options with micro USB, Type-C, or lightning port on one end, making it easy to connect to a smartphone.
For this combo to work, you will definitely need an SD card with MLC flash and "high endurance' branding. 
Below we have listed some of the best options for you to create this combo.
5. UGREEN USB Type-C SD Card reader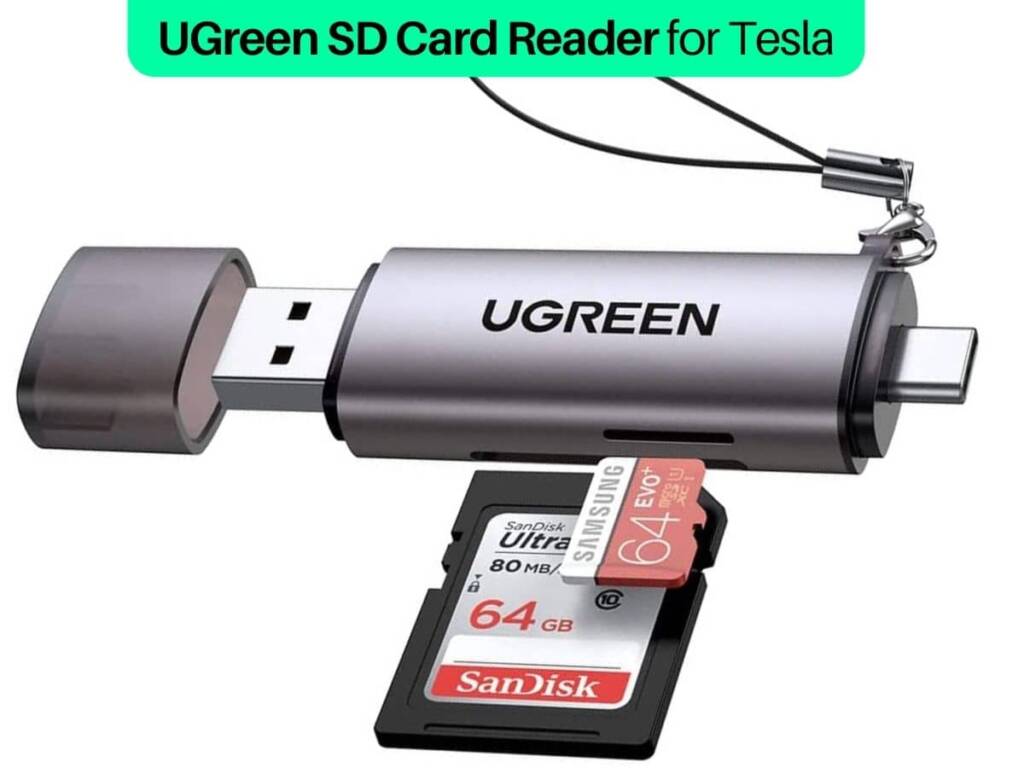 Compatible with most of the Tesla models UGREEN USB SD card reader comes with USB 3.0 and Type-C ports. The dual card functionality saves time by avoiding repeated plugging and unplugging. This particular microSD card for Tesla can be a great buy as an alternative to SSD for Tesla Sentry mode as it comes with a lightning-fast transmission Speed of 5GB/s. 
6. SanDisk MobileMate USB microSD reader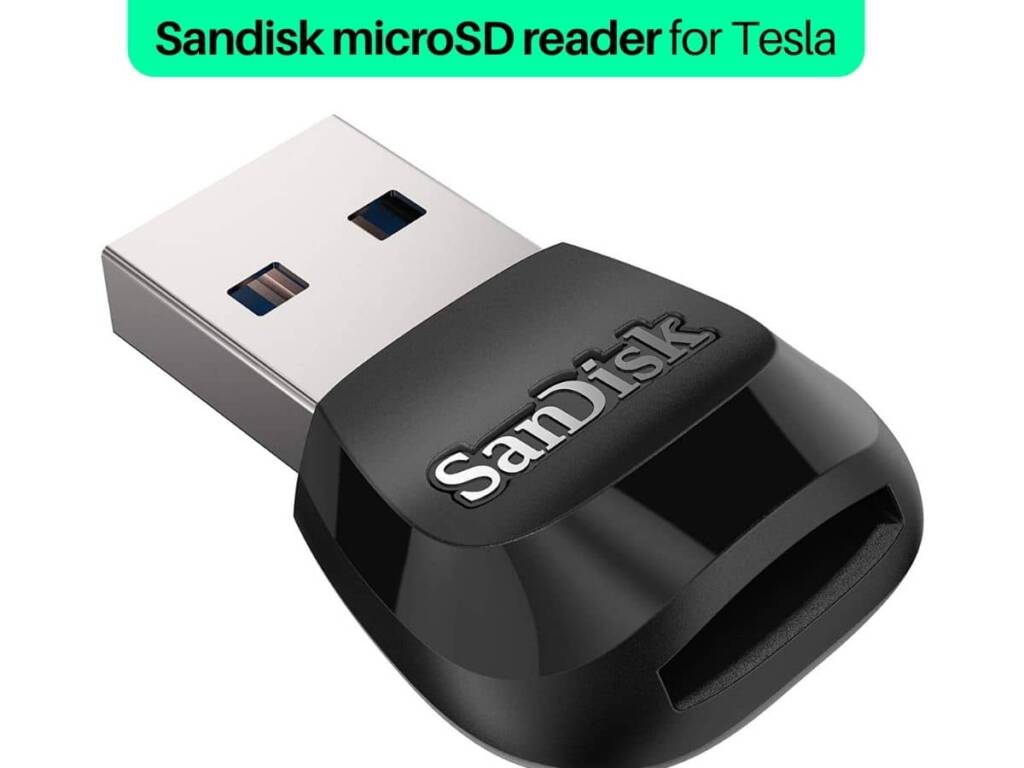 Another best pick for the best tesla USB storage is the compact and durable microSD card reader from SanDisk. Complete the combo with a high endurance microSD card to enjoy the fast UHS-I transfer speed of 170MB/s. The hard design makes it a perfect fit to be used in Tesla electric cars. 
Check out the best High endurance MicroSD cards
7. Samsung PRO Endurance 128GB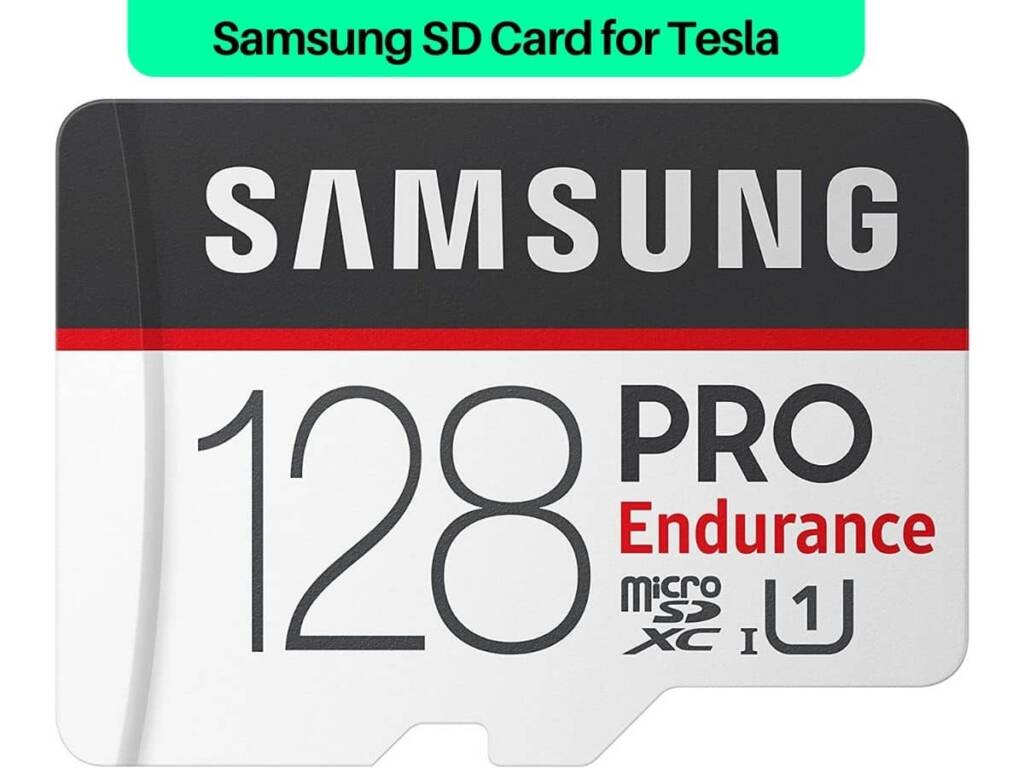 A larger SD card means more space for TeslaCams to record footage, so we recommend going for Samsung's "High Endurance" microSD card for Tesla to pair it with an SD card reader to form the Tesla USB storage combo. With a transfer speed of 100MB/s, the SD card is temperature-proof and magnetic proof. 
Best USB flash drive for Tesla Models
USB Flash drive is another cheaper alternative to SSD as a storage solution for TeslaCams and Sentry mode. We have recommended some of the compatible USB flash drives for Tesla below:
8. Samsung BAR Plus 64GB USB Drive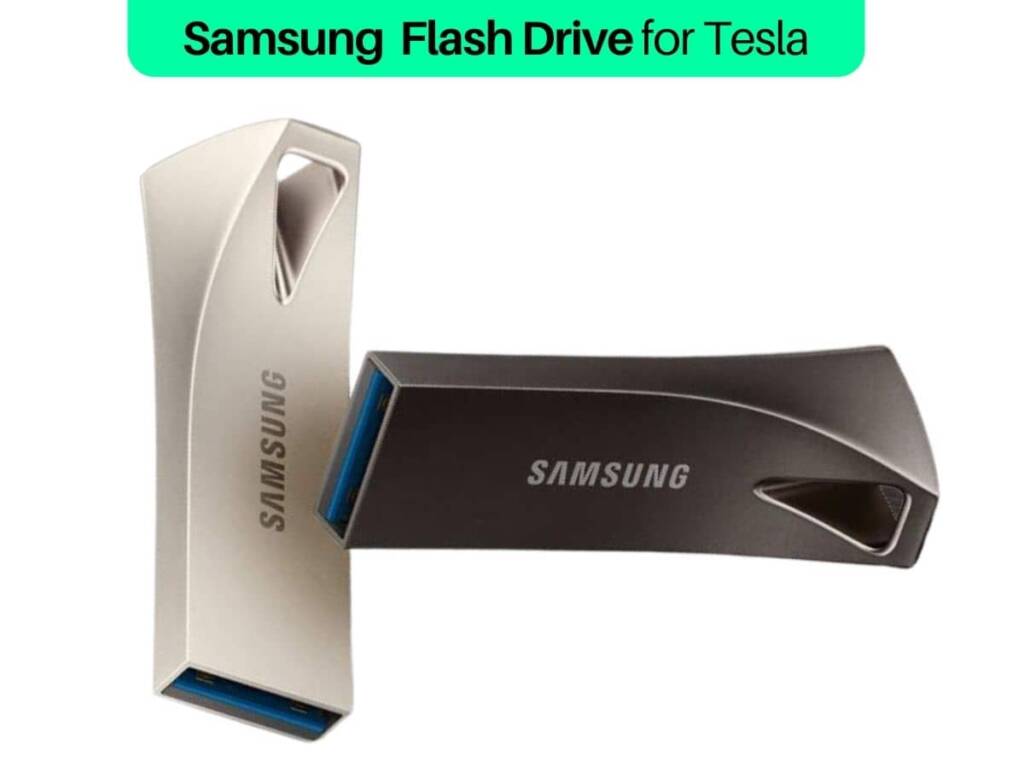 Most of the USB flash drives are not the ideal storage solution for your Tesla Sentry mode or DashCam because of the limitations in the read and write speed. But with an incredible transfer speed of 300MB/s, the Samsung Bar Plus USB flash drive will work fine for TeslaCam. The durable metal casing makes the USB drive a perfect storage solution for Tesla. 
9. Kingston 128GB DataTraveler Elite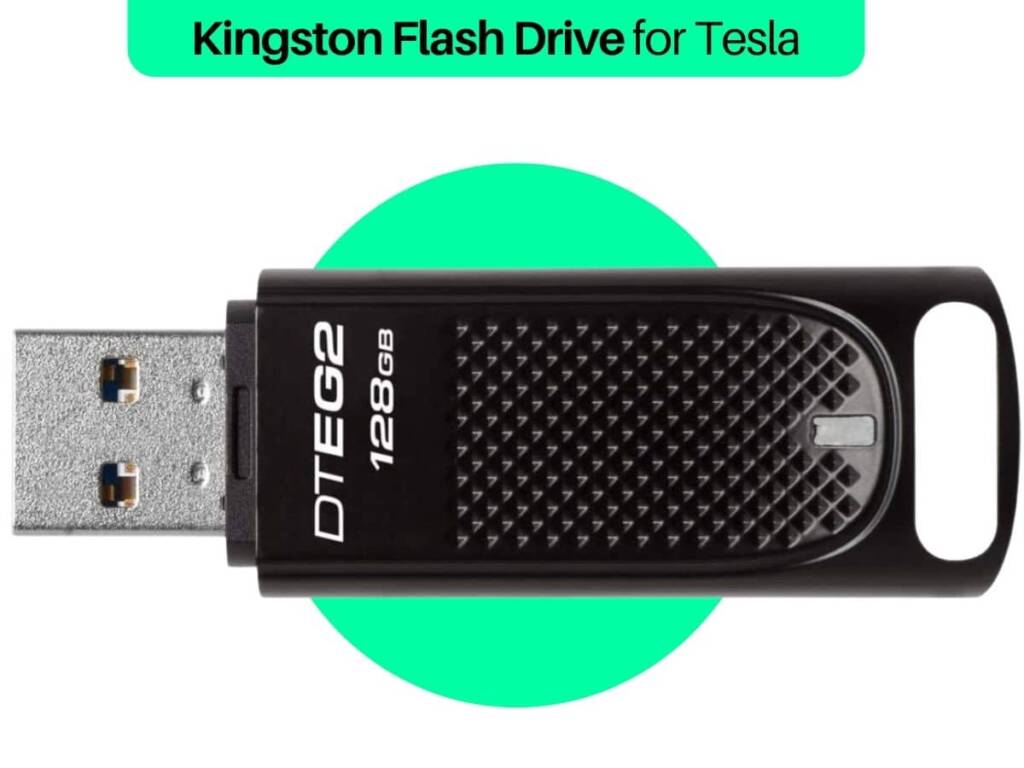 Another pick in the Tesla USB flash drive option, Kingston Data traveler elite works perfectly for TeslaCam and Sentry Mode in all Tesla models. Fitted in a durable metal casing, the USB drive has smart LED indicators to update the activity status.
Compared to the earlier USB 3.1 and USB 2.0 devices, Kingston Data Traveler Elite offers great read/write speed suitable for Tesla.
10. Transcend 128GB JetFlash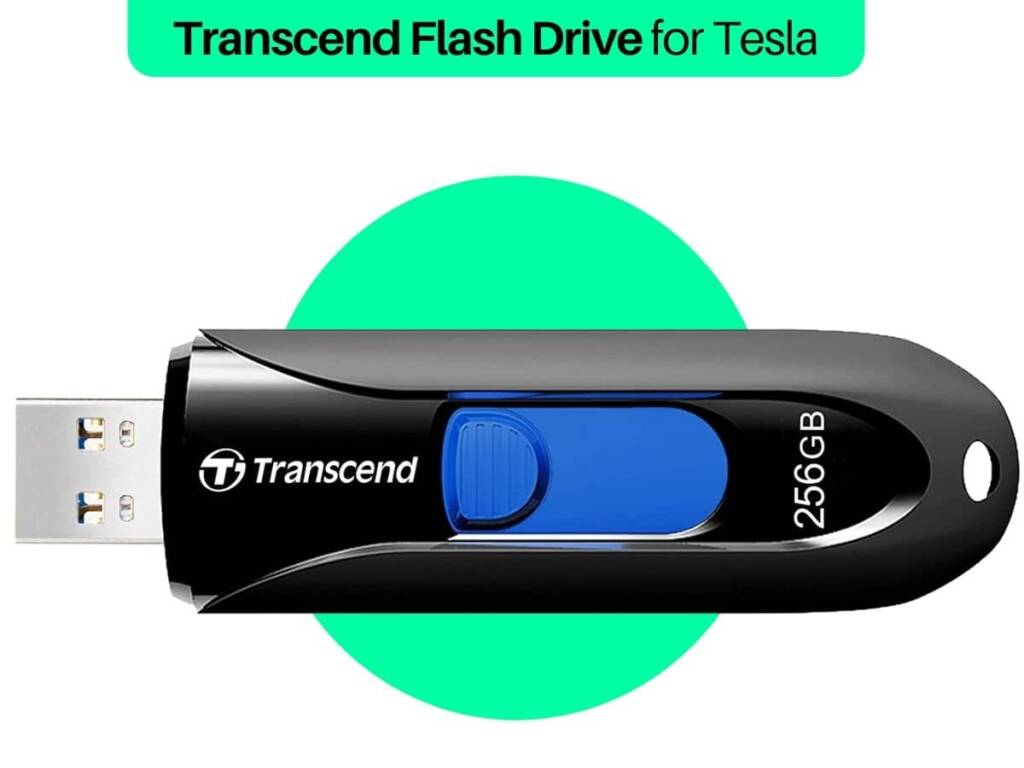 With more storage and read/write speed, the Transcend Jetflash works almost similar to an SSD fit for Tesla. If you find it hectic to use a combo of SD card reader and micro SD, transcend Jetflash USB flash drive for Tesla is the perfect storage solution for your TeslaCam and Sentry mode.
FAQ
Do I need an SSD for Tesla?
Considering the lower storage capacity in Tesla, one might need an external SSD to store Tesla cam recording. SSD is a must to fully enjoy the features of Tesla Sentry mode and DashCam.
Which is the best SSD for Tesla model 3?
For Tesla Model 3, the SSD from Samsung and SanDisk are best considering their read and write speed of 1050MB/s and 512GB of storage to record DashCam footage.
Does Tesla come with an SSD?
No, Tesla does not come with an inbuilt SSD. One needs to install an external SSD to record Tesla Sentry mode and DasCam footage for longer durations.
What size SSD do I need for Tesla Models?
The size of the SSD depends on your record duration requirements. One hour of Dashcam footage requires 8GB storage and almost 10 GB for Sentry mode. Going by the calculation, 512GB of SSD will be enough to utilize the features of Sentry mode and Dashcam.
What is Tesla Sentry Mode?
Tesla Sentry Mode is a revolutionary feature that utilizes all the cameras in the car to act as an alarm system, that notifies the owner via app about any theft and can be used later to view the footage.
Can I use a USB flash drive in my Tesla?
USB with high read/write speed can be used in Tesla to store Dashcam footage. Flash drive higher than 128 GB can be used to record footage in Tesla.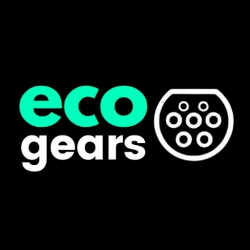 Latest posts by ecogears Desk
(see all)