The state-of-the-art Ather grid 2.0 power grid features wireless upgrades – OTA (Over The Air) for debugging & repairing software-related issues.
Highlights:
Ather launched their new Ather grid 2.0 Dc Fast charging Station Network.
Industry level standard for durability.
24X7 remote diagnostics and monitoring.
OTA Updates for software debugging and repair.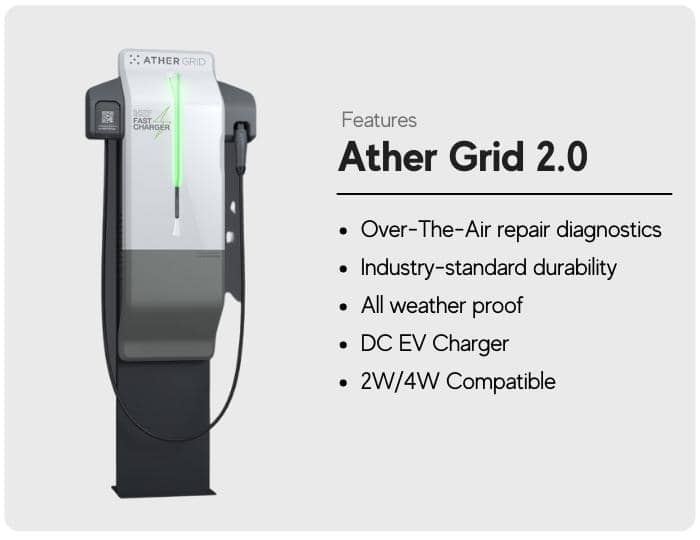 With the installation being already started in Bangalore and Chennai, Ather Energy has confirmed that the Ather Grid 2.0 charging station will be available all across India.
Ather Grid 2.0 is a technologically advanced charging station that has the capability to support future fast-charging capacity.
The Indian EV charging station startup has claimed the upgrade of the previous PCS and durability has also been increased along with the faster bug resolution.
With advanced innovation and R&D, Ather aims to create a robust network of smart and highly scalable EV charging infrastructure in India. The company has promised that even the harsh environmental condition won't affect Grid 2.0 as it is manufactured in Industry Level standard.
The company also claims to provide 24X7 support with the inbuilt remote monitoring feature in their latest charging stations.
To provide real-time availability of all the charging stations, Grid 2.0 will be connected to the internet all the time.
With over 20 cities and 200 locations, the Ather Grid network has covered the most important part of the country where electric vehicles are increasing in rapid numbers.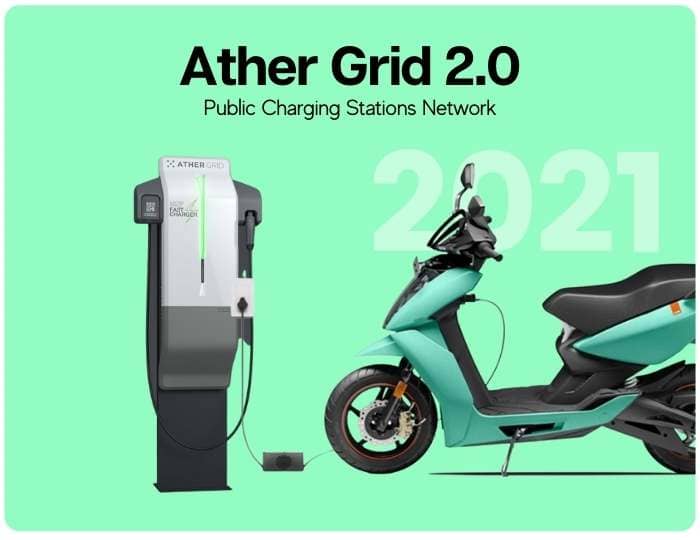 In regards to the launch of Ather Grid 2.0 for the deployment of charging infrastructure across the Nation, Nilay Chandra, VP – Charging Infrastructure and Marketing, Ather Energy said "At Ather Energy, we have been continuously focusing on evolving and providing the best customer charging station experience. With the introduction of Ather Grid 2.0, we will be able to fast-track our ambition of setting up 500 fast-charging infrastructure by the end of this year. Our charging infrastructure will be available to all players who adopt the connector standard and we are in the advanced stages of conversation with multiple partners for the same. For us, this is the beginning of the Ather Grid network's expansion, and it is critical to make charging infrastructure convenient and easily accessible to consumers in order to boost the adoption of electric vehicles."
Install DC fast charging station in your locality: APPLY FOR EV CHARGING STATION
Ather Grid over the past couple of years made a name for itself in the EV sector, with innovation and mass level deployment of EV chargers. Surprisingly, they still allow the charging of electric two-wheelers and four-wheelers for free. The company aims to install more than 700 EV chargers across the nation by the end of this year.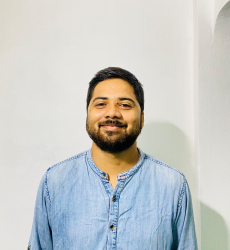 Latest posts by Himalaya Dhungel
(see all)