MINI: General Motors Corporation (GMC) has finally uncovered the GMC Hummer EV SUV set to launch by 2023. The advanced electric SUV offers a balance between on-road and off-road driving experience.
Highlights:
GMC to launch e-SUV after the pickup variant, deliveries to start from early 2023.
Hummer EV Features ground-breaking technology like Crabwalk, Extract mode, and Power station.
GMC Hummer EV SUV likely to offer extreme off-road package with customised EV accessories kit.
Based on a Ultium-battery platform, the SUV offers impressive range and driving efficiency.
Post the halt in production back in 2009, GMC has finally announced the launch of the Hummer EV SUV, after unveiling the hummer EV pickup last year. Reviving the iconic "hummer" brand name, the Hummer electric SUV is set to launch by early 2023, also the first new SUV after 12 years.
Built on GM's advanced three Ultium drive platform and 20 moduled double-stacked batteries, the GMC hummer EV SUV will be available in four variants- 2, 2X, 3X, and Edition 1.
The three-motor powertrain produces 818 bhp of power in the "Edition 1" sprints from 0-100 kmph in 3.5 seconds. Likely to offer 482 km of range, GM's advanced electric SUV offers max driving efficiency and off-road capability.
Hummer EV: Battery, Power and Range:
The GMC Hummer EV SUV is likely to have GM's Ultium battery platform to store power in a 20-cell, double-stack large battery pack. Nothing much is revealed yet about the battery, but the new electric SUV will have an 800V system with charging rates up to 300kW. This fast-charging system will charge the SUV enough to cover the 170 km range with 10 mins of DC charging.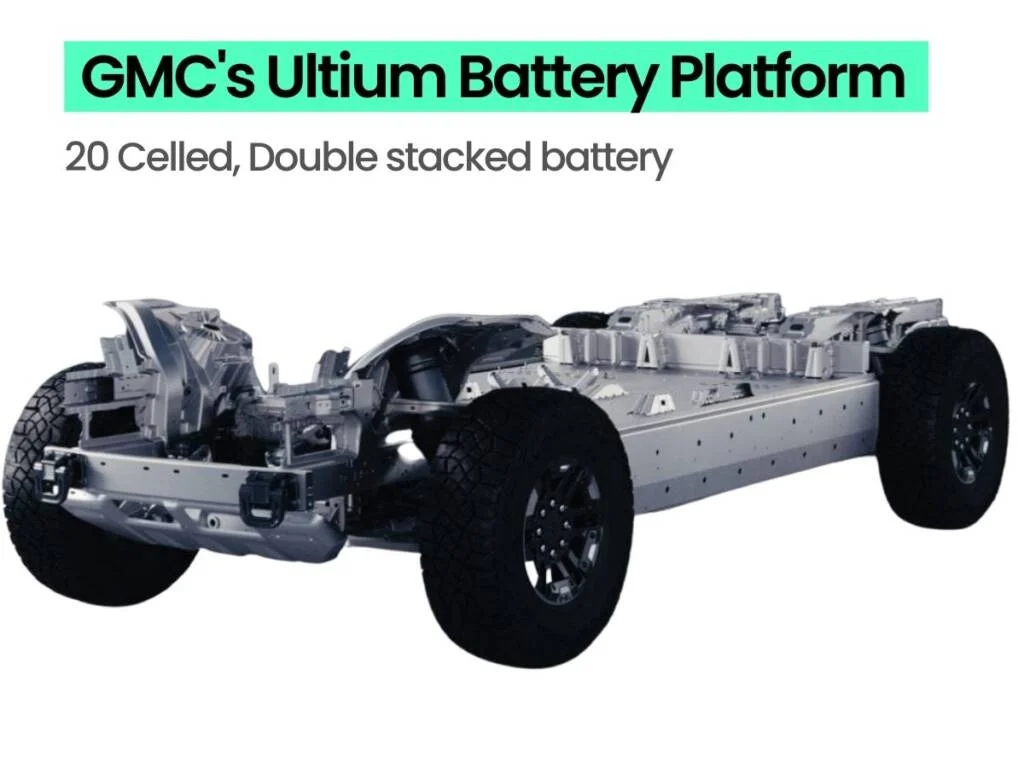 Based on a three-ultium drive system, the GMC Hummer EV SUV is likely to deliver a peak power of 870bhp and a claimed wheel torque of 15,591Nm. Power combinations in the Hummer EV SUV sprint the car from 0-100kmph in less than 3.5 seconds.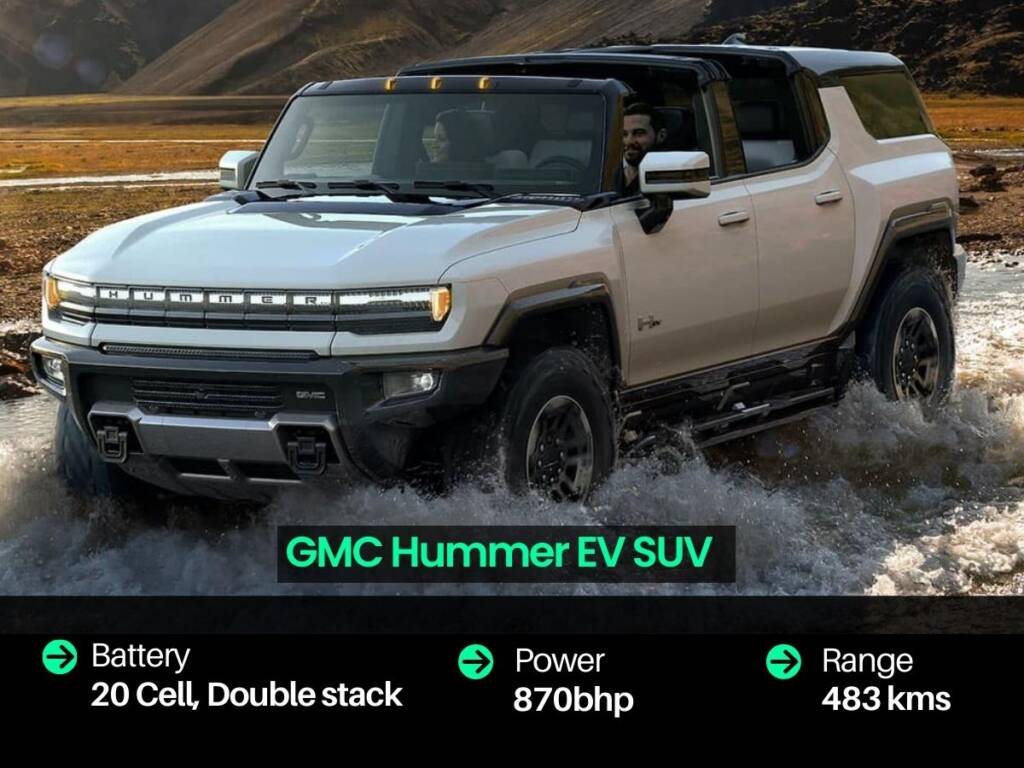 The company is offering the SUV in two or three motor setups with a power range from 620bhp-820bhp offering a torque range of 10,033Nm to 15,591Nm respectively.
Depending on the specification, the "Edition 1" variant offers a driving range of 483 km, while the off-roading variant offers a range of 450 km. A much more affordable variant is likely to be launched later, which will offer a range of 404 km on a single charge.
Hummer EV SUV : Exterior
With a slightly shorter wheelbase made for extreme off-roading, the Hummer electric SUV shares similar exterior styling to the Hummer EV pickup launched earlier this year. Wide LED bars in the front grille and rugged styling are some of the major design elements on the hummer EV are derived from Hummer H2 and H3.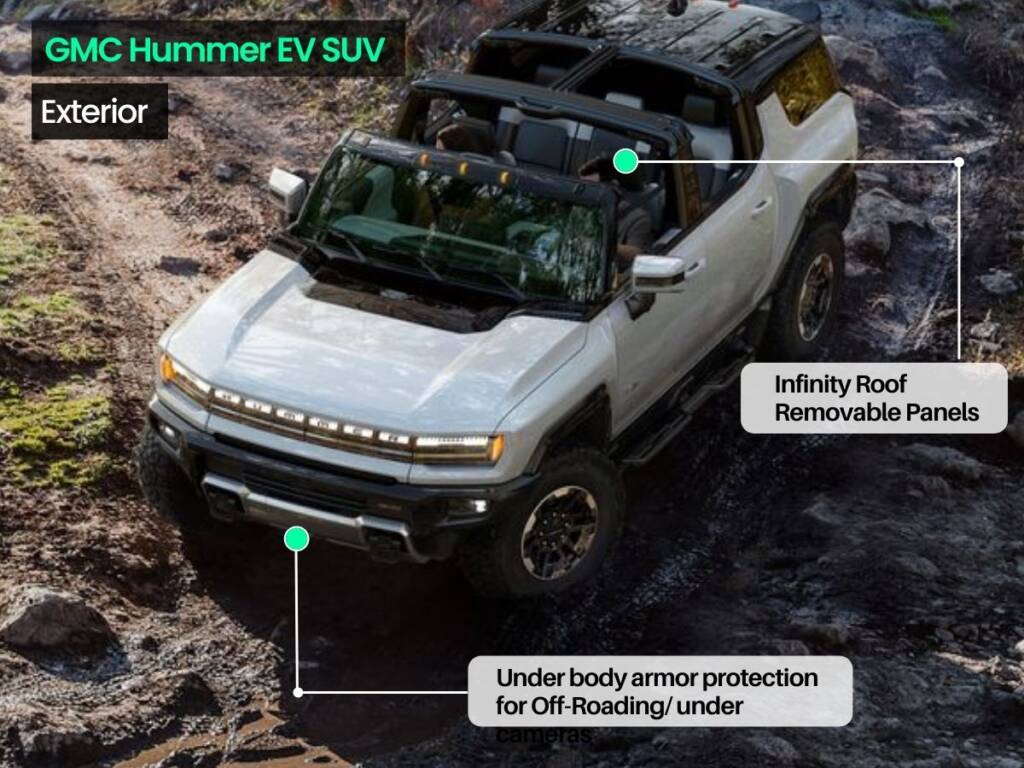 Charging graphics enriched headlamps, massive rear boot space, spare tyre on the tailgate are some notable exterior features. Measuring 4,999 mm in length, the electric SUV has a wheelbase spanning 3,218 mm.
The off-road package variant features 35-inch tyres, heavy-duty shafts, rock sliders, rear differential lockers, and underbody cameras, all meant to take the rugged electric vehicle to extreme conditions.
GMC Hummer EV: Interior Design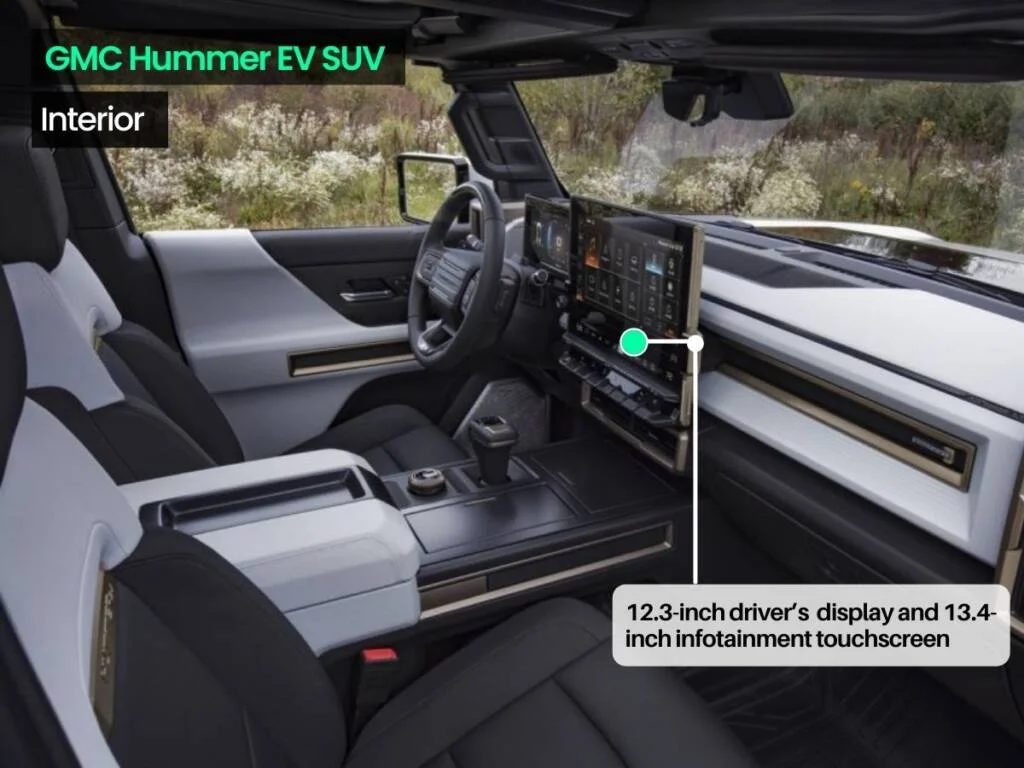 On the inside, the Hummer EV features two displays – a 12.3-inch driver's digital display and a 13.4-inch infotainment touchscreen, which can be programmed to desired figures and readings, through the provided myGMC app connected to the infotainment system.
It hubs the same convertible-like features with removal infinity roof panels like the Hummer EV pickup truck. It has been reported that GMC collaborated with Marvel Studios for designing the interior of the car to provide a cinematic in-cabin experience.
READ MORE: Electric Car sales in India in 2022 | MG Motors E230 Price & Range
GMC Hummer EV SUV: Top Breakthrough Technology
The GMC Hummer EV SUV comes equipped with "Crabwalk" feature to move the vehicle diagonally by steering the rear axle. This will likely help in parking in limited space or some close on-road lane shift situations.
The Hummer EV SUV can be used to charge other cars and devices with the inbuilt "Power Station" function. It charges other nearby cars at upto 6kW DC charging.
Being based on GMC Ultium platform, the hummer EV has shorter wheelbase which enables greater break-over angles and manoeuvrability and a turning cycle of 10.8 metres.
Hummer EV SUV comes with an "Extract mode" which raises the height of the car by 6 inches to cross extreme terrain situations.
The myGMC app provides satellite rendered trail mapping to discover off-road trails, which would otherwise be a matter of guess in extreme situations.
Hummer EV offers "extreme off-road" package with 35-inch off-roading tyres, extreme under body armour protection, heavy duty shafts, off-road focussed under body cameras.
GMC Hummer EV: Pricing and launch Plans
The price of Hummer SUVs is always welcomed throughout, considering the features and functionalities in the car. The hummer electric SUV "Edition 1" variant is likely to be launched in 2023, priced at $88,898 (Rs 65.2 lakh) to $131,898 (Rs 96.8 lakh) in the USA. The other two variants EV2X and EV3X are likely to be launched at a price of $89,995 and $99,995 respectively by 2024.
Available in four variants- Edition 1, 3X, 2X, and Entry-2, the hummer EV SUV will make a global debut in 2023. Post the handover of its facility in Maharashtra to a Chinese company, it is hard to comment on the launch of the GMC EV SUV in India pretty soon.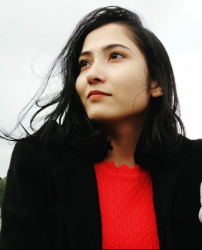 Latest posts by Mamta Upadhaya
(see all)