Fill out the form to send us an enquiry for EV charging Card, we will call back for more details: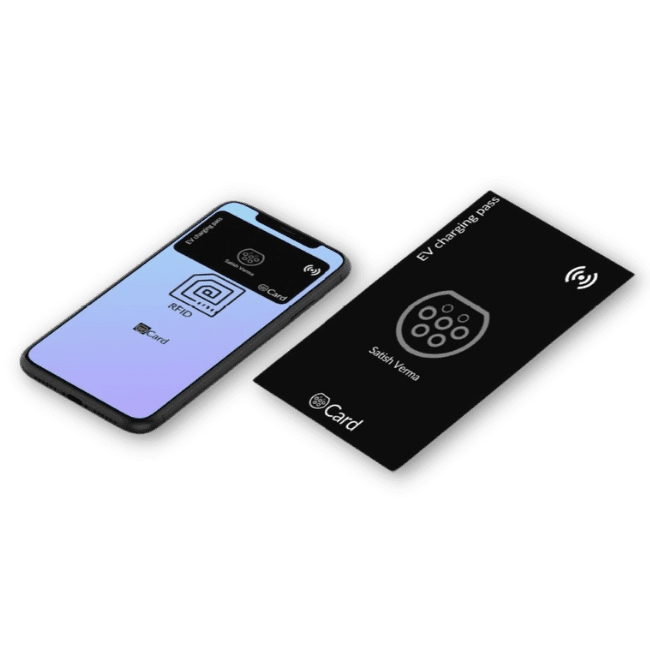 Ecopass- Electric Car charge Card features
Access to more than 2000 Electric car charging points in India with EV charge card India.
Online insight into charging points availability in India and per kW charging cost.
No hidden charging cost.
Fast charging feature at no extra cost.
Supports major EV charging station providers.
24X7 EV Charging station helpdesk in India.
How does the EV charge card work?
Locate the EV charger by scanning the QR.
Plug the connector to the charging port.
Swipe the RFID card in the reader and select units.
Wait till charged then unplug the connector.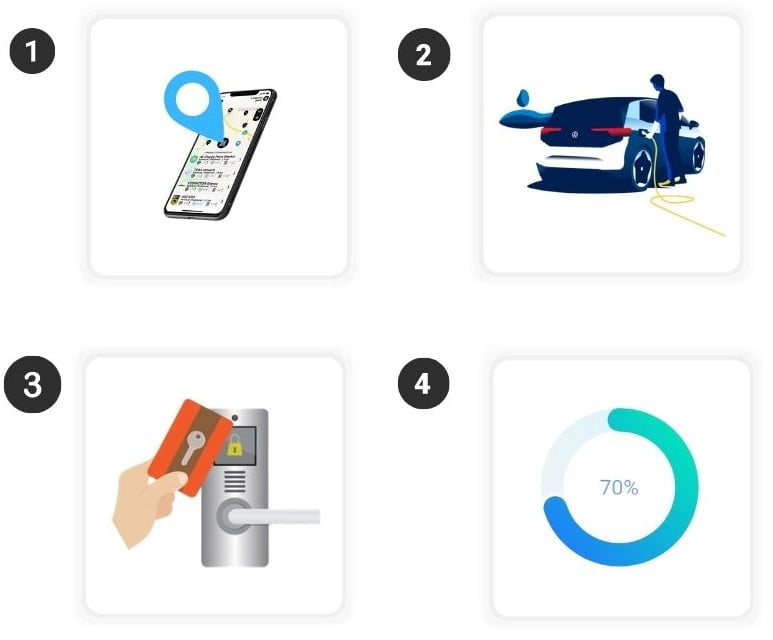 More Features
The electric vehicle charging card helps users to start and end charging and find the nearest electric vehicle charging station via the QR scanner
The RFID card can be scanned in any of the major Electric Car chargers across India for a seamless charging experience.
The card is valid for three years, after it expires users can re-apply for the same in the ecogears dashboard.
Ecopass has a unified wallet payment gateway that allows users to pay for charging without any hassle.
Ecopass EV charging cards come in 7 different color options: Black, grey, matte black, yellow, green, rose gold, and blue.
One can find electric car charging stations in India across many locations like malls, gas stations, or public EV chargers. Check the ecomaps to locate EV chargers near you.
If you apply for the card today, you can expect the delivery across India within 7-8 working days depending on your location.
EV chargers are quite limited for now in India, and seeing the situation it is very crucial to have a charge card so as to access all the benefits from being an exclusive eco card member.
Ecocard holders get quick and prior location-based information on which charging port is open for charging and the one that is occupied.
What is Ecopass?
Ecopass is an RFID-enabled electric car charging card that scans and charges electric cars without having to install any additional mobile application. Ecopass gives access to the Ecomap network to instantly locate and navigate to the nearby EV chargers via a web app along with an option to make quick wallet payments.
Is there a universal EV Charging Card?
Several EV charging companies in India have collaborated so that users can use the same EV charge across all the EV charging stations in India. Ecopass EV charging card is an example of universal card,
How long does it take to deliver an EV Charging Card?
Electric Vehicle Charging card takes around 7 days to get delivered to your doorsteps. However, additional customizations on the card may slightly delay the delivery by 1-2 days.
How to find nearby EV charging stations in India?
Nearest EV chargers can be located by using any kind of EV charging station location aggregator services like ecomaps, Tata EZ, E-Amrit portal, and many more. Simply allow the location access to the portal and it will show all the EV chargers around you.
How to order an EV charging Card?
1. Visit Ecopass. Visit the ecopass website to know the details of the EV charging card.
2. Order EV Card. Fill out the application form and select the vehicle type and make the payment.
3. Activate Card. Once delivered, activate the card by entering details in the app and swiping in any charging station.
How do I get an EV Card to charge my electric car?
EV charging cards can be ordered by choosing the vehicle type and monthly charging requirements. Once delivered, the EV card needs to be activated by recharging the wallet balance and swiping it at any nearby EV charging station.
Do you need an RFID card for charging electric vehicles?
No, you do not need an EV charging card to charge electric vehicles. However, EV cards make the charging process hassle-free because of their swipe, start, and pay features.
How do you use EV charging cards?
Simply swipe the card over the reader in the charging machine to select units, payment is automatically deducted based on the energy consumption. Swipe again to end the charging session.
What is an RFID card for EV charging?
EV Charging cards are RFID-enabled cards that act as an offline wallet system to pay for charging electric vehicles. EV charge card providers have collaborated with several EV charging companies, so that same card can be used in all stations.